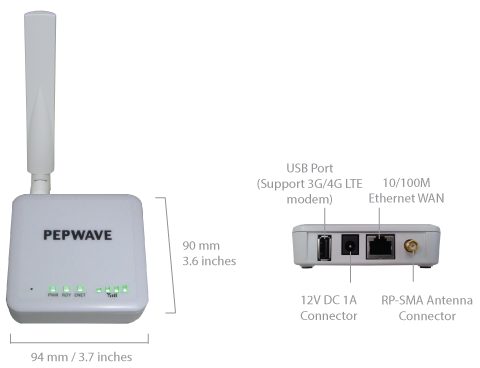 Peplink is a large and well respected company in the mobile networking space - primarily focused on high end applications covering everything from providing cellular connectivity to fleets of vehicles to enabling whole-building network installations for hotels and offices.
But Peplink has not forgotten about individual consumers, and some of the lower end offerings in the product line are very well suited to the RV market.
We've long been particular fans of the Pepwave Surf On-The-Go, a tiny and incredibly versatile travel router that packs a lot of capabilities into a small and very affordable package.
This tiny router is meant to help travelers of all sorts get online wherever they roam - whether traveling by suitcase to a hotel, boat to a marina, or RV to a campground. The Surf OTG does this by sharing a cellular connection (via USB tethering), a Wi-Fi connection (via WiFi-as-WAN), or a wired ethernet connection (via a single switchable LAN/WAN ethernet port).
That adds up to a lot of functionality in a very small box at a great price.
What the OTG lacks in performance and higher-end features it makes up for in simplicity, affordability, and portability.
UPDATE (July 2018): We've been able to confirm that the latest (version 3A) firmware update to the Verizon Jetpack 7730L hotspot (our current Verizon top pick) breaks USB tethering with the Pepwave Surf On-The-Go.
The Surf On-The-Go is very rarely updated by Pepwave, so we are not sure when (or if) there will ever be an update released that fixes this incompatibility. Since this firmware update on the hotspot is mandatory, if you rely on this combination it might be time to consider upgrading to a more capable mobile-friendly router.
Because the Surf On-The-Go has not been updated in so long and is beginning to have compatibility issues, we no longer consider this device a Top Pick - particularly considering that the much more capable Surf SOHO is not all that much more expensive.
UPDATE #2 (November 2018): Based upon our testing, the new Verizon flagship MiFi 8800L mobile hotspot also does NOT support USB tethering with the Pepwave Surf On-The-Go. Since it has been over a year since the last minor software update to the Surf On-The-Go, and since the incompatibility with the 7730L has still not been fixed, we do not hold out hope that this issue will ever be addressed.
3G Store now lists the Surf On-The-Go as discontinued, and this device has become very hard to find online and we no longer consider it to be a recommended option. Our original review continues below.
Specifications
Wi-Fi Router:

Yes - Selectable Dual Band (Only One Band Active)

2.4GHz Wi-Fi:

802.11 b/g/n - 150Mbps Max, 17dBm Transmit Power (50mW)

5GHz Wi-Fi

: 802.11 a/n - 150Mbps Max

Wi-Fi Antenna:

External via RP-SMA/Female Antenna Port - 5dBi Antenna Included

Wi-Fi as WAN:

Yes

Guest Wi-Fi Network:

No

Cellular Tethering via USB:

Yes - Most USB modems & hotspots supported.

Integrated Cellular Modem:

No

Ethernet Ports:

1x 100Mbps Fast Ethernet - LAN/WAN Switchable

Special Features:

Simplified User Interface, Suction Cup Mount

Power Source:

110V AC Adapter Included, Optional 12V Power Supply

Dimensions:

3.5" x 3.5" x 1.0"

Outdoor Rated:

No

Retail Price:

$119.00
Other Models & Variations
The original Pepwave Surf On-The-Go featured a USB 1.0 port that was only suitable for tethering to slower 3G USB hotspots and modems. That version was replaced in 2012 with the current model with a USB 2.0 port that better supports LTE speed tethering.
TIP: To make sure you have the faster version of the Surf On-The-Go, check via the control panel for hardware version 2.1, or send in your serial number to Pepwave support.
The older version will be too slow to effectively tether LTE devices.
---
Review & Testing Status
We have had the Pepwave Surf On-The-Go as part of our testing arsenal for years, and have found it to be a versatile tool for a range of situations.
We share our more detailed analysis, hands-on thoughts, and a video overview with our members below.
And members can view our field testing and range results here:
Mobile Router & Wi-Fi Gear Testing (Winter 2016/2017)
---
For other popular mobile routers on the market we are tracking - here are our featured options:
---
This Review Contains Additional Member Exclusive Content!
We are Honored to be Member Funded!
No ads, no sponsors, no selling (but may contain affiliate links)
Our members fund our in-depth independent reviews.
This entry may contain additional member exclusive content such as testing notes, field testing data, user interface tours, comparisons to alternatives, analysis, tips, videos and discounts.
Members also get interactive guidance, alerts, classroom and more. 
Purchasing Options
Related News Center Articles
Routers can serve as a central conductor of your local area network in your RV and boat. Mobile routers are different from residential routers in that they typically support multiple internet sources like cellular and Wi-Fi, can be powered off of 12v or AC and support external antenna for better receiving signal. 
But you might not need a router in your setup. Here's a quick video overview the variety that routers come in:
For more on learning about mobile routers and how they might fit in your setup, follow up with our educational resources: