Peplink is a large and respected company in the high-end mobile networking space, particularly well known for providing cellular connectivity for everything from fleets of vehicles to cruise ships to dispersed corporate offices.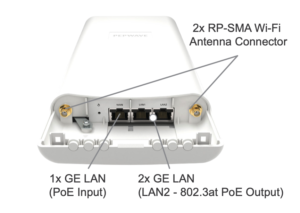 While many of Peplink's products are not specifically designed with individual mobile users in mind, Peplink products are solid, well-supported, and reliable. Many advanced users have grown to rely on them.
The "Device Connector" line by Peplink are not stand-alone routers - they are independent Wi-Fi Bridges & CPEs that are packed full of additional features that can expand the Wi-Fi capabilities of a Peplink or any generic router.
In particular - the Device Connector line can be used to add additional long-range Wi-Fi-as-WAN capabilities to a Pepwave router installation or connect distant devices to a Wi-Fi network.
There are currently two versions of the Device Connector:
Device Connector Rugged - Designed for mounting indoors, with 3x antenna ports that can be connected to a separate external antenna.
Device Connector IP55 - Designed for mounting outdoors, with an integrated directional antenna. This version replaced an older version with the same model number. The older version is still available for $299 and is 2.4GHz only.
---
Specifications
---
News, Videos, & Status
We have received a Device Connector IP555 courtesy of MobileMustHave, we tested along with other Wi-Fi options in the summer of 2022. We will be utilizing it for future testing rounds as well.
Testing Notes:
News Stories:
---
---
---
Purchasing Options