Peplink is a large and respected company in the high-end mobile networking space, particularly well known for providing cellular connectivity for everything from fleets of vehicles to cruise ships to dispersed corporate offices.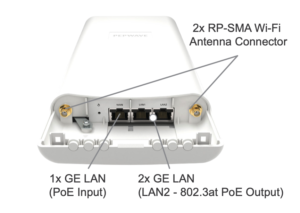 While many of Peplink's products are not specifically designed with individual mobile users in mind, Peplink products are solid, well-supported, and reliable. Many advanced users have grown to rely on them.
The "Device Connector" line by Peplink are not stand alone routers - they are independent Wi-Fi Bridges & CPEs that are packed full of additional features that can expand the Wi-Fi capabilities of a Peplink or any generic router.
In particular - the Device Connector line can be used to add additional long-range Wi-Fi-as-WAN capabilities to a Pepwave router installation.
There are currently two versions of the Device Connector:
---
Specifications
Model: DCS-GN-IP55

Base Technology:

Peplink
Wi-Fi Router:
Integrated Cellular Modem: No
Ethernet Ports: 3 x Gigabit Ethernet

Special Features:

Vendor Neutral Bridge
Long Range Wireless Bridge
Bonding (2.4GHz, 5GHz, & Wired Ethernet)
Remote Ethernet port

Power Source:

PoE Input: Universal input: Passive PoE 24v, 1A or PoE+
PoE Output: PoE+ enabled with ACW-109 Peplink Power supply

Dimensions:

11.8 x 4.9 x 1.2 inches (300 x 124 x 31 mm)

Outdoor Rated:

Yes IP55 Rated

Retail Price:

$399.00
---
News, Videos, & Status
We have received a Device Connector IP555 courtesy of Mobile Must Have, which we will be testing with our Pepwave routers.
News Stories:
---
Potential Alternatives to Consider:
For other featured Long Range Wi-Fi extending gear on the market we are tracking - here are our featured options:
Learn More About Wi-Fi Extending Gear
---
---
Purchasing Options