Cradlepoint is a well respected mobile router manufacturer focused on enterprise and fleet deployments, competing primarily with Peplink's Pepwave router lineup.
Cradlepoint used to also have options for "average" users, all of which have been discontinued over the years as Cradlepoint has focused exclusively on the higher end segments of the market.
Individuals with particularly demanding needs though are often drawn to Cradlepoint hardware - and in particular Cradlepoint's COR Series of mobile routers (read our gear guide page) have earned many nomadic fans.
The Cradlepoint AER routers though are also worth a look - packing similar functionality into a less rugged package.
ALERT: In June 2019 Cradlepoint announced a new policy where an active $180/year NetCloud subscription would be required to maintain access to basic firmware security updates. Everyone considering purchasing a Cradlepoint router should keep this new requirement in mind.
Table of Contents
---
Cradlepoint AER1600 Series
The AER1600 is an enterprise-level solution in Cradlepoint's AER (Advanced Edge Routing) line.
It comes in several different configurations with embedded and plug-in modems available. The model with the LP6 modem is the one of most interest - it features an LTE-A Cat 6 capable modem with support for most North American carriers.
Do however keep an eye out in the future for an even more advanced 600M model with 600Mbps LTE support to match the AER2200 and COR IBR900.
NOTE: Be aware - the AER1650 series does not include any Wi-Fi support. The AER1600, however, does - pay attention to the "50" in the model number.
Specifications:
---
Cradlepoint AER2200
The Cradlepoint AER2200 is the 'big brother' of the AER1600. It is a physically large, has a more advanced LTE-A modem, has internal space to add an optional second LTE modem, and has many more ethernet ports - including some which support power-over-ethernet for providing both power and data to supported remote devices with just a single cable.
If you need to provide wired networking and powerful Wi-Fi to an entire remote office, or you need a second dedicated cellular modem for instant failover or load-balancing - the AER2200 might be worth a look.
But for all but the most demanding users, this device is likely overkill.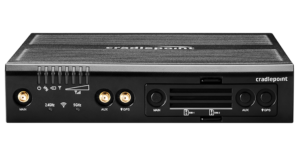 Specifications: AER2200
---
Comparison of Cradlepoint's two most popular AER Routers: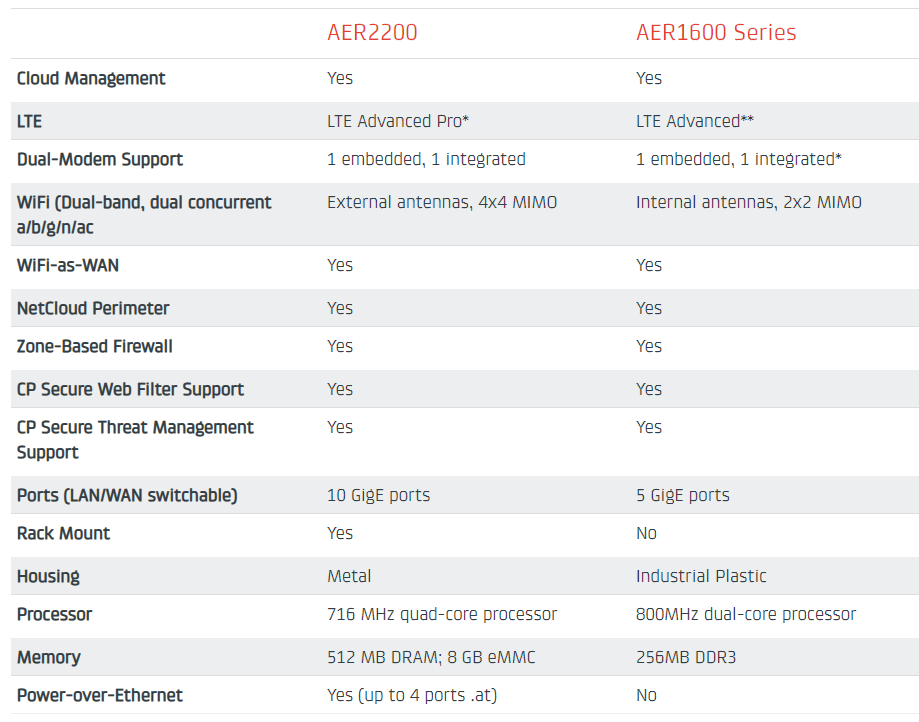 ---
Review & Testing Status
We do not currently have plans to do any hands-on testing with the AER series, but we have completed an in-depth look at the Cradlepoint COR IBR900. We've also have a full dive into the user interface and various Cradlepoint quirks in our Product Lineup entry.
Related News Center Articles
---
Potential Alternatives to Consider:
For other popular mobile routers on the market we are tracking - here are our featured options:
Learn More About Selecting Mobile Routers
---
This Review Contains Additional Member Exclusive Content

We are honored to be able to present the above overview for free without 3rd party advertising or sponsorships. We are not paid by the manufacturer of this product to provide this listing or review, and nor are we selling this equipment or plan (purchasing links are provided below as a courtesy and some may be affiliates).
Our members have funded this resource center and any extensive hands on time
we have spent with the product to review it.
The in-depth portions of this review are made available to them which might contain: hands on testing notes, field testing data, user interface tour, product analysis, comparison to alternatives, setup tips, video tutorial, insider tips, vendor discounts and fellow member experiences.
If you're a member, please log in to continue with this review.
If you're not a member.. please consider joining us!
Purchasing Options
NOTE: Cradlepoint includes one year of access to its "NetCloud" service which provides for remote management, GPS tracking, and ongoing 24/7 support. Extending beyond the first year, however, requires an expensive service contract - so don't get too hooked on any of these features. More worrying - in June 2019 Cradlepoint announced a new policy where an active $180/year NetCloud subscription would be required to even maintain access to basic firmware security updates.
The guides below have been hand-picked to help further your education about selecting & using mobile routers.