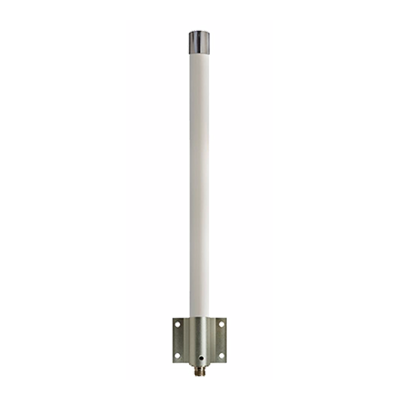 C.Crane's Outdoor WiFi Antenna is WiFi receiver designed to bring in semi-distant WiFi signals. It is designed for use on RVs, boats, and other mobile entities.
C.Crane advertises that it "works great in open areas up to 3/4 of a mile."
It's mounts with a cast-aluminum mount with "U" bolts to a flat surface or pipe.
It is meant to be swapped with the existing antenna on your router, although you will probably need to order special fittings from C.Crane to make it work with your router.
The C.Crane Vertical Outdoor WiFi Antenna is omni-directional and designed for the 2.4 GHz WiFi band only.
Specifications -
Wi-Fi Router: No

2.4GHz Wi-Fi: 802.11n
5GHz Wi-Fi: No
Wi-Fi Antenna: 8 dBi gain Omni antenna
Wi-Fi as WAN: No

Frequency Range: 2400 ~ 2500 MHz
Impedance: 500
Connector Type: N-Female
Mounting: cast-aluminum mount with "U" bolts to a flat surface or pipe
Size: 1"x 22"
Retail Price: $34.99
Testing Status: We do not intend to test this product.
The Rest of this Review is:
Member Only Content
We are thrilled & honored to be primarily member & reader funded - allowing us to present unbiased content. The in-depth review section of this product listing is part of the premium membership benefits of joining. Members can also leave their own reviews on products.
If you're a member, please log in above to read the in-depth review for this product and/or leave your own review. If you've not joined yet, learn more about membership at:
Your Member Exclusive Content:

Member Exclusive Content Below
Please don't share the details below outside of member spaces. But please DO SHARE A LINK to this page - non members will get a free preview.
Don't Miss Your Member Discounts:
Thoughts & Analysis
Favorite Features:
Potential Downsides:
Very basic
Extended reception range is limited (3/4 mile)
May need to order adapter to make it work with your WiFi router
---
Purchasing Options
Related News Center Articles
C.Crane WiFi Reciever
Hardware

User Interface

Customer Service

Overall Performance
Quick Take
C.Crane's boosted WiFi receiving option.
Comments Rating
( reviews)