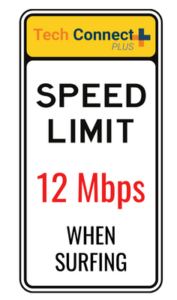 In early June 2022, FMCA transitioned their Tech Connect Data+ plan from T-Mobile to AT&T.
The AT&T-based plan is promoted as having unlimited high speed service, subject to network management after 75GB of use in a month, and is $59.99/month.
However, we soon began to see reports of people on this plan not being able to get speeds above 12 Mbps - which seemed to indicate that the plan was throttled.
We were also able to confirm with an AT&T representative that the plan attached to the SIM cards being shipped is the AT&T Business Wireless Broadband plan that is advertised as "Data speed up to 12 Mbps. After 75GB, AT&T may temporarily slow data speeds if the network is busy"
On June 27, an FMCA staffer responded to a FMCA forum thread where members were inquiring regarding the Tech Connect+ Plan.
And in the post, the staff member confirmed that there is indeed a speed cap on this plan.
The post read, in part:
Wanted to share some facts about the new AT&T plan:

- Unlimited data...network managed in congested areas at 75GB. No throttling.

- Download speed is 12mbps guaranteed. Some experience higher speeds. FMCA has never promoted the plan as uncapped download speeds.
So while FMCA is continuing to promote the plan as no "No Throttling", they are claiming that the 12 Mbps speed guarantee of the plan is not a speed cap. Which does not match our definition of no throttling.
The FMCA staffer further stated:
In the very near future, FMCA will be offering the same plan as listed above, but with a 25mbps download guarantee. Price will be $64.99. Double the download speed for only $5 more per month. More to come as details are finalized.
We will monitor FMCA's Tech Connect+ page for an announcement on when this new plan is available, and will provide any details as soon as we have them.
Key Mobile Internet Related Considerations:
The FMCA plan, while marketed as "unthrottled" in actuality has a 12 Mbps speed cap, although some may see higher speeds at times.
A new plan will be introduced that will have a speed cap of 25 Mbps.
Video Version:
For more information:
Related Content at the Mobile Internet Resource Center:
Related Updates: