Cricket Wireless has added data only plans to their smartphone plan line-up.
Cricket Wireless is a wholly owned subsidiary of AT&T, providing prepaid smartphone based plans with data tethering capabilities and now data only plans.
As of Monday, April 15th, Cricket is offering three new data only plan options, which are available as stand-alone plans:
30GB: $70
10GB: $35
3GB: $25
Device Support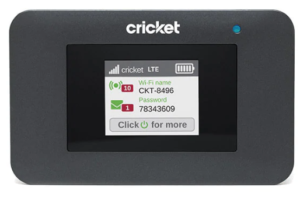 These plans are designed to be used on data only hotspot and tablet devices, such as Cricket's newly released Cricket Turbo Hotspot, a rebranded Unite Express 2.
Currently, Cricket states:
Currently, only the Cricket Turbo Mobile Hotspot and select Cricket network compatible BYOD devices can be used with Simply Data plans. Laptops and other BYOD devices without screens are not supported. BYOD devices must be activated within a Cricket store.
You do not need to purchase a device from Cricket to be eligible for a data only plan. You will need to purchase a SIM card to go through the shopping process online, however.
Plan Details
Cricket's new data only plans include high-speed data up until the plan's stated cap.
All data usage is then cut-off; there is no unlimited slowed data on these plans. There is no data roll-over on these plans either, an unused data at the end of the billing month is lost.
There is no international data usage either - including no usage in Canada and Mexico.
Cricket coverage maps are AT&T native coverage only, with no domestic roaming. So make sure to be sure AT&T's native map provides the coverage you need.
The 30GB ($70) plan is eligible for a $5 autopay discount. None of the other plans are eligible for discounts.
Policies & Perks:
Carrier Networks Used: AT&T native map
Carrier Relation: Prepaid Carrier Subsidiary
Plan Type: Data Only
Device Types Permitted: Hotspot & 'approved BYODs'
Device Purchase Required: No, but can purchase a device
Mobile Hotspot Use: All
Throttling: None
Network Management: None
International Roaming: None
Domestic Roaming: None - native coverage only
Plan Period: 30 days
Data Roll Over: None
Overage Charges: None
Streaming: No streaming services are bundled with Cricket service. Cricket automatically turns on their 'Stream More' feature, which reduces video quality to 480p (DVD quality). This can be turned on/off.
Unlimited: No
Lines permitted per account: 9
Other Available Plans
Crickets also offers phone based plans - including two variations of unlimited plans:
2GB: $30
5GB: $40
Unlimited (3 mbps): $55
Unlimited Extra: $60
None of the these phone plans include mobile hotspot - but that feature can be added for $10/month. On unlimited plans $10/month allows for hotspotting of 10GB of data.
Cricket frequently runs promotional pricing deals on their phone plans, but be sure to read the fine print of those deals and be aware of any restrictions on data speeds or tethering abilities.
Thoughts & Analysis
Cricket adding data only plans - especially decently large buckets of data (30GB!) is welcomed, especially since the

highest allotment of hotspot data previously offered on Cricket was 10GB at a cost of $70/month. Of course, that 10GB (on the Unlimited Extra plan + hotspot added feature) also includes a voice and text plan - and unlimited on phone device data as well as usage in Canada and Mexico.
For comparison, direct with AT&T postpaid direct a 30GB mobile hotspot plan costs $205/month.
For those seeking a bit of hotspottable AT&T prepaid data, Cricket's new data only plans may be an option.
Do note that Cricket's new data only plans cannot be used in Canada or Mexico - and they do not include any domestic roaming. While not prevalent, AT&T does roam onto other carrier's towers to flesh out their coverage maps.
Cricket's Turbo Hotspot is a rebranded Unite Express 2 - AT&T's basic hotspot offering.
Further Reading:
Related News: