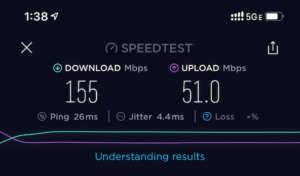 Flash back ten years, to the end of the last decade. 2009.
A decade ago iPads were just a rumor, no one had ever rocked out to Gangnam Style or done the Harlem Shake, and Avatar was the reigning king of the box office.
Life as a nomad was overall pretty similar to today - campground and marina Wi-Fi were notoriously unreliable, satellite internet options were expensive and awkward, and cellular was a viable way to stay connected on the go - but only if you put effort into seeking out usable data plans and solid coverage.
You might be reading this, looking around today in 2019, and thinking….
Perhaps not much has changed in the past ten years?
But if you look bellow the surface - the changes in connectivity over the past decade have been dramatic.
In particular when it comes to cellular - the improvements have been honestly astonishing.
The connectivity story of the decade is really the story of the rise of fourth generation cellular - 4G/LTE.
Now at the end of the decade staying connected on the go has become a LOT easier than it ever has been before.
But it's still a confusing landscape - with so many options available that it is just as difficult as ever to select the right gear, plans, and signal enhancing strategies.
And though progress in Wi-Fi and satellite has been glacial in comparison to the rapid evolution of cellular, there has indeed been progress - and there are some exciting new developments coming in the years ahead for both of these classic connectivity options too.
So let's take a look back, and a glimpse forward, to see just how much things have changed….
Video Re-Cap
Subscribe to our YouTube Channel
---
Cellular: The Rise Of 4G/LTE
The decade started with the emergence of fourth generation cellular, "4G/LTE" - with LTE standing for "Long Term Evolution".
And for once, a technology lived up to its name.
The technological foundation laid by the LTE standard has paid off - with cellular coverage and speeds increasing steadily over the years as each new step of that planned evolution has rolled out into the market.
But as the decade comes to a close - the technological limits of 4G are starting to be reached.
Where once the thought of using 20GB of data in a month seemed preposterous, streaming video was rare, and 1Mbps speeds were something to get excited about - now people hunger for hundreds of gigabytes a month, HD or even 4K video, and speeds pushing up over 100Mbps.
And the demand for more data and faster connections just keeps growing, at a seemingly insatiable pace.
5G will pave the way for the next decade of evolution - but it helps to know where we've been to better understand where we are going.
The Olden Days – 1G, 2G, 3G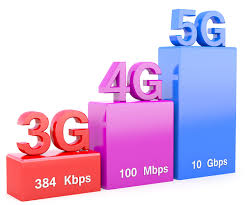 Cellular technology has (so far) been through four major generations, with a new technological generation coming along roughly once every decade. For the past decade, we've see 4G/LTE reign.
Here's a quick look back at the good old days, where even the most basic text messaging once seemed exotic and new:
1980's - 1G - First generation cellular was basically analog voice-only phones - prone to static and subject to easy eavesdropping. Basically - first generation cellular was nothing more than glorified walkie-talkies that could place calls to landlines.
1990's - 2G - Second generation cellular was marked by the gradual switch to digital throughout the 1990's. Digital transmission was more secure, and allowed for many more users to be connected at once - allowing cellular to begin to go mainstream. In the 2G era there were two competing and fundamentally very different wireless technologies: Sprint and Verizon used a technology known as CDMA, and AT&T, T-Mobile, and most of the rest of the world used a standard known as GSM. Though primarily still focused on voice calls, 2G opened the door to limited data connections roughly comparable to dial-up modems, and text messaging became a surprise killer app.
2000's - 3G - Third generation cellular was layered on top of 2G, with a focus on data instead of voice. 3G cellular brought about the smartphone revolution, and enabled connected laptops and mobile hotspots too. But there were still two competing standards, and overall speeds and network capacity were limited. Surfing specially optimized mobile sites might be pleasant, but cellular could not aspire to even begin to approach what was possible via wired residential internet.
2010's - 4G- Fourth generation cellular was designed to offer vastly more network capacity and speed, with the standards designed to allow for theoretical speeds to eventually reach over 1Gbps. There was once again two competing standards - but the ill-fated WiMAX technology failed in the market, leaving LTE as a global standard for cellular connectivity.

The 4G/LTE Revolution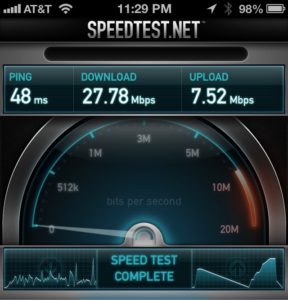 While Sprint rushed to be the first to market with 4G service by betting big on WiMAX, Verizon predicted that the future was going to be LTE and began aggressively building out the first and largest 4G LTE network in the United States.
To combat Verizon's lead and 4G LTE marketing push, in 2012 both AT&T and T-Mobile started marketing their fastest third generation areas as "4G" – generating some criticism and lots of confusion.
Meanwhile, seeing the LTE writing on the wall, Sprint stopped expanding its 4G WiMAX network and changed direction to focus on LTE as well.
Sprint's WiMAX network was at last fully shut down in November 2015 – orphaning all users of that once-promising technology.
It was now clear that LTE was going to be the standard 4G cellular technology, worldwide.
For more information on the evolution of cellular:
Cellular Evolution: 2G Thru 5G, And Beyond!
LTE Evolves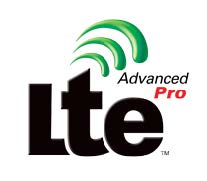 Living up to its "Long Term Evolution" name, LTE networks were designed to continue to evolve with new capabilities and speeds while still remaining compatible with earlier LTE devices
These evolved capabilities are sometimes marketed as LTE Advanced or LTE-A, and more recently LTE Advanced Pro.
Here is a quick recap of some of the most important of these technologies:
Carrier Aggregation: This allows cellular devices connect to multiple cellular bands at once, combining them for increased speeds. Two channel aggregation is now fairly common, and the latest flagship devices are capable of using as many as five channels simultaneously.
4x4 MIMO: Using four antennas at once and a lot of nearly miraculous math, when conditions are right it is possible to broadcast four signals simultaneously on the same channel - quadrupling speeds. Older LTE devices only supported 2x2 MIMO, for doubled speeds. Building a phone or hotspot with four antennas integrated however is not easy - so 4x4 MIMO support is still relatively rare.
256-QAM: The original LTE standard supported 6-bits per signal (64-QAM), the latest chipset and the LTE-A standard now support 8-bits (256-QAM). When the conditions are right, this increases the raw over the air peak speed by 33%.
All the carriers deployed various combinations of these technologies behind the scenes - and when an upgraded tower and a compatible cellular device are connected, they are engaged automatically.
These technologies could have a huge impact on speed.
Further Reading:
Theoretical performance aside - we've experienced real world speeds in the past year in many locations well over 100Mbps, and have even seen uploads over 50Mbps.
These speeds would have seemed unimaginable over cellular a decade ago!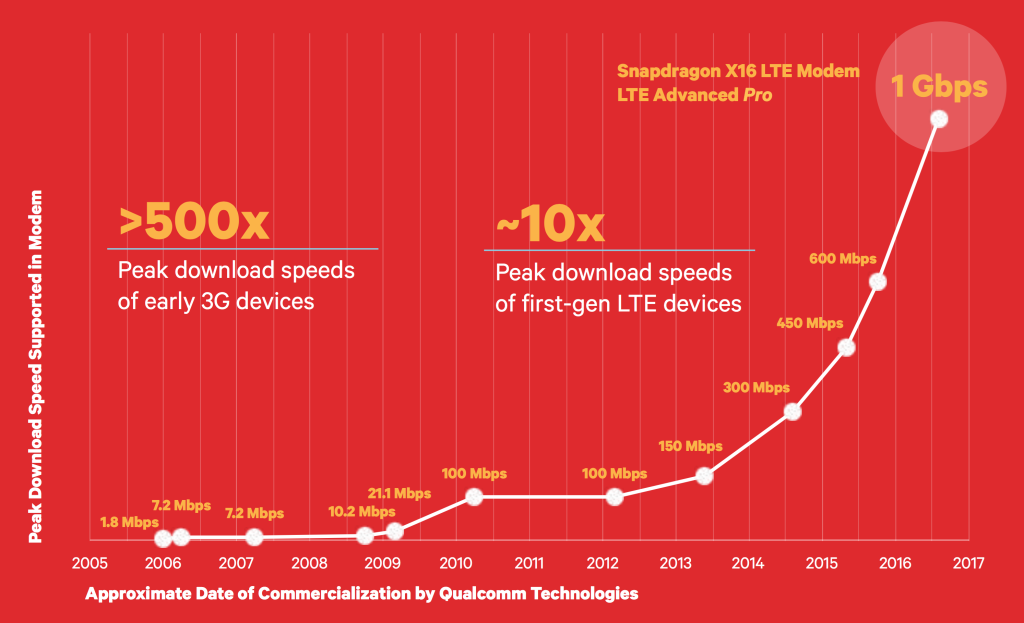 To learn more about LTE Advanced Technology and selecting modems:
---
Cellular Coverage Expansion
Cellular coverage has expanded immensely over the decade too.
This expansion is well illustrated by examining screenshots of coverage maps from our Coverage? app. Below is the LTE map for Verizon and AT&T as of 2012.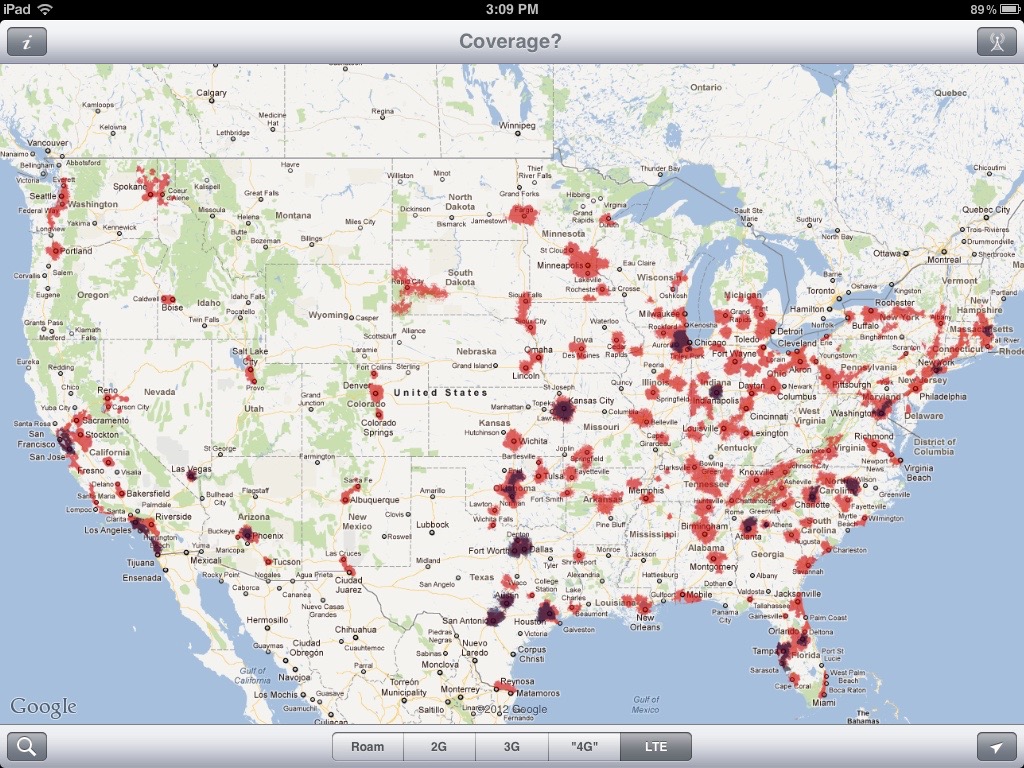 Jump forward to 2019, and all of the carriers have pretty effectively blanketed the nation in LTE:
There are certainly still plenty of dead zones and rural areas with only limited overall capacity - but the difference over seven years is overall pretty remarkable.
More information on our app, Coverage? for iOS and Android - which we originally wrote back in 2010 to help us find coverage in our own RV travels (this resource center would come years later):
---
Wi-Fi: Slowly Improving


Relative to cellular, Wi-Fi technology has been slow to improve over the past decade - and core technologies like 5GHz Wi-Fi that have been available for a decade are still not universally supported by even the newest devices.
Here is a recap of the past three Wi-Fi technology iterations:
802.11n (aka 'Wi-Fi 4') – The 802.11n standard (finalized in 2009) upped the maximum raw Wi-Fi connection speed to 150Mbps, and MIMO technology allowed compatible devices to achieve 300Mbps or even 600Mbps using multiple antennas. The 802.11n standard supports both the 2.4GHz and 5GHz frequency bands, but 5GHz support is optional and often still not included in many mobile-focused devices.
802.11ac (aka 'Wi-Fi 5') – The 802.11ac standard (finalized in 2013) provides for peak Wi-Fi speeds well over 1Gbps on 5GHz. Most 802.11ac gear simultaneously supports 802.11n on 2.4GHz for backwards compatibility too.
802.11ax (aka 'Wi-Fi 6') – This is the next generation of Wi-Fi, with the standard only being finalized in 2019. One key goal of 802.11ax is substantially improving performance even when the wireless network is heavily congested - targeting real-world performance 4x what 802.11ac "Wi-Fi 5" is capable of.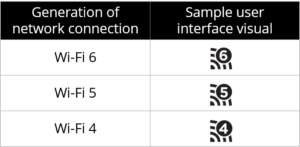 For more on these technologies, read our article:
Wi-Fi Alliance Eliminating 802.11 Alphabet Soup – "Wi-Fi 6" Coming
Support for 802.11ac is now starting to go mainstream, and for the most future-proofing potential it is ideal to seek out gear that supports at least this standard.
By 2020, "Wi-Fi 6" should be more widely supported by new laptops, phones, tablets, and hotspots.
But Wi-Fi standards tend to be slow to propagate into the real world - so it may be a long while yet before we observe the real-world congestion relief that Wi-Fi 6 promises.
Infrastructure Evolving Too:

We've also been seeing more and more RV parks and marinas using 5GHz Wi-Fi as a backbone to wirelessly connect access points scattered about to the main office. When 2.4Ghz Wi-Fi is a slow and congested quagmire, being able to tap into this 5GHz fast lane can make all the difference in the world.

Even though theoretically 5GHz is theoretically less suited to longer distance connections, in practice we are finding the opposite to be true in the few public locations that support this.
---
Satellite: Ready For What's Next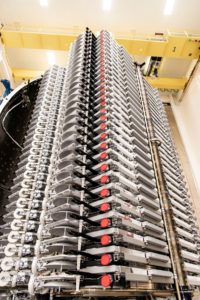 Compared to cellular, and even to Wi-Fi, the evolution of satellite mobile internet for mobile users over the past decade has been glacial. There have been advances however, and broadband speeds have been available for mobile users if they're willing to invest in bulky equipment.
But things are going to get interesting in the next decade as we witness an entirely new generation of satellite internet options emerge relying upon massive constellations of satellites in low earth orbit (LEO), whizzing by just a few hundred miles above the surface.
This is in sharp contrast to the satellites of the past decades - parked in orbit 22,236 miles above the equator.
These traditional satellites are so far away that big bulky dishes and precise aiming are critical, and the unavoidable speed of light induced delay communicating through them. makes many online tasks feel sluggish, no matter how fast the raw connection speed actually is.
But LEO satellites promise gigabit broadband speeds and cellular-like latencies, available anywhere.
The catch is - it takes huge constellations of satellites and some major advancements in antenna technology to pull this off.
SpaceX has jumped into the lead in pushing towards this sort of next-generation satellite system, but competitor OneWeb launched its first six satellites in February 2019, and is now scheduled for a second launch of 32 satellites scheduled for January 23rd and a third and fourth launch coming shortly after.
Meanwhile - Amazon's 3,236 satellite "Project Kuiper" constellation is under development too - and with Amazon's resources behind it, we are certain Kuiper has the potential to be a serious contender too.
Further Reading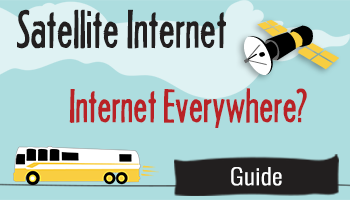 Here is all of our recent satellite internet coverage:
---
Mobile Internet Resource Center Evolves Too
We personally became perpetual nomads in 2006, smack dab in the middle of the 3G era.
We managed to work remotely back then staying connected in amazing locations if we sought out cellular signals. Over the years we also relied on public Wi-Fi, borrowing bandwidth from friends and even ran out a 2-year contract with a satellite setup.
While tracking mobile internet has been a critical part of our travels since the beginning and something we shared on our personal blog at Technomadia.com - it wasn't until 2014 that we shifted to making it our primary focus by launching this resource center.
It has been our joy and passion to find such a convergence of our skills and interests, helping our nomadic community keep on top of this rapidly evolving industry.
Things won't be slowing down in the decade ahead, and we're setting intentions to be here to help you along the way.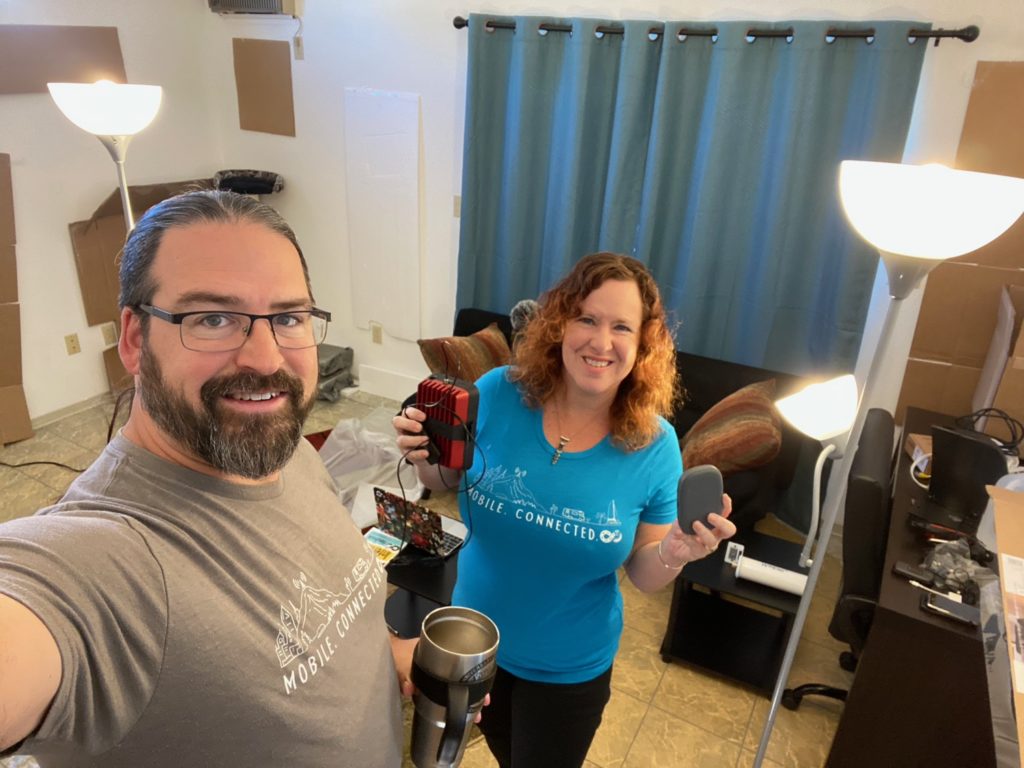 At the beginning of the year we made a major investment in the platform this resource center is hosted on - giving us ample future proofing runway.
And early in 2020 we'll be launching our next major feature - a brand new comprehensive video course, with interactive office hours with our staff.
We just wrapped up filming 45 videos for that series, and it now goes into production. Our goal is to provide a resource that arms those just starting out with a solid foundation to understand their unique needs, the challenges of mobile connectivity and finding their unique mobile internet setup.
The course brings together our years of helping thousands of RVers and boaters stay connected so they can focus on what drives them.
New Video Course - Coming Soon
You can learn more about the new course in our Mobile Internet University
and join our special e-mail list
to be notified when the new course is ready for enrollment.
We are eternally blessed to have a community making this all happen - our Mobile Internet Aficionados. Without them, none of this would be possible.

We look forward to sharing the next decade ahead in mobile internet!