Walmart carries cellular data plans for multiple carriers, and through multiple MVNOs, resellers - and even carrier direct prepaid.
Walmart also hosts its own branded MVNO: Walmart Family Mobile, which is owned by TracFone and offers plans on the T-Mobile network.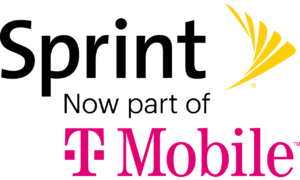 Last Update: May 2021
Sprint is now part of T-Mobile, as per the merger that closed on April 1, 2020.
New Sprint customers are directed to T-Mobile to sign up for their plans, however, some of Sprint's legacy plans are still available in-store or over the phone. Customers on existing direct Sprint plans will be able to retain those plans for three years following the merger without price increases or changes to features.
The two networks still operate mostly independently with their own towers and frequency bands but are systematically being integrated. As of May 2021, most Sprint phones, Tablet, and mobile hotspots will freely roam onto the T-Mobile network thanks to network changes behind the scenes as well as roaming list updates pushed to Sprint devices.
T-Mobile is also offering most Sprint smartphone customers the ability to choose the "T-Mobile Network Experience". In short, TNX allows Sprint network customers with compatible devices to trade in their Sprint SIM card for a T-Mobile SIM card and move their plan to the T-Mobile network while retaining the features, billing, and terms of their original Sprint plan. You can read more about what this means here.
At present time - aside from Boost being sold to Dish Network - there are no changes to 3rd party, reseller, or MVNO plans sold on the Sprint network. However, we are continuing to monitor the situation and will update as appropriate.
Plans Available at or by Walmart
MVNOs/Prepaids Sold Via Walmart
Walmart sometimes offers exclusive deals in conjunction with a carrier's prepaid branch or an MVNOs.
Some plans sold through Walmart require the purchase of a phone or SIM card through Walmart to initiate the plan.
Here are some of the Prepaids and MVNOs of interest to mobile internet seekers that can be found via Walmart - with links to corresponding gear center guides for specific information on each service:
Walmart does on occasion host plans on the above prepaids or MVNOs that are available exclusively at Walmart:
Walmart also sells prepaid cards to services such as Verizon Wireless, which act like 'gift cards' - but can sometimes be found discounted at outlets such as Walmart or Target.
Walmart Family Mobile Plans
Walmart Family Mobile is Walmart's cellular phone service division and is an MVNO owned by TracFone, with plans on the T-Mobile network.
They offer plans that are intended for phone-based use, all of which include talk and text, and some of which include data. Some of the plans with data permit limited amounts of that data to be used via hotspot.
They also offer an unlimited plan for phone devices, with a capped high-speed hotspot data bucket.
Currently Available Plans:
'Unlimited': 20GB (sometimes promotionally available at 40GB) on device, 10GB mobile hotspot - $39.88/month
'Truly Unlimited': Unlimited on device, 30GB mobile hotspot - $49.88/month
Plan Specifications:
Carrier Networks Used: T-Mobile
Carrier Relationship: MVNO
Plan Types Available: Phone
Device Types Permitted: No noted restrictions
Unlimited: Yes - on device
High-Speed Mobile Hotspot Use: 10GB on the 'Unlimited' Plan, 30GB on the 'Truly Unlimited' Plan
Throttling: Yes after any 'high-speed' data allowances are used
Network Management: Always behind native T-Mobile customers, with further management after 40GB
Video Streaming Resolution: 480p or HD, plan dependent
5G Access: Yes
Device Purchase Required: No, but can purchase a device
Plan Period: 30 days
International Roaming: None
Domestic Roaming: Yes
Data Roll Over: None
Overage Charges: None
Lines permitted per account: Up to 5 lines are allowed on an account.
Extras: Can add Lifeline programming if eligible
---
News, Videos, & Status:
---
Potential Alternatives to Consider:
Some of our TOP PICK Cellular Data Plans to also consider:
Learn More About Selecting Cellular Data Plans Explore Our Comparative Pricing Grid
---
This Review Contains Additional Member Exclusive Content!
We are Honored to be Member Funded!
No ads, no sponsors, no selling (but may contain affiliate links)
Our members fund our in-depth independent reviews.
This entry may contain additional member exclusive content such as testing notes, field testing data, user interface tours, comparisons to alternatives, analysis, tips, videos and discounts.
Members also get interactive guidance, alerts, classroom and more.
Purchasing Options
Links Provided for Convenience
We do not sell any gear or equipment. These links are provided to make your shopping easier, and we do not endorse any specific vendor. Unless otherwise disclosed, only Amazon links are affiliate links (see our disclaimer).
To remain unbiased as possible, our primary source of funding comes from our premium members, and we have negotiated higher discounts from some vendors instead of accepting affiliate relationships.
Shopping for Cellular Data Plans
Finding the right plans for your needs is no easy task - quite simply mobile travelers using cellular data as their primary way online is not how most carriers have designed their plans. Many of us want plans that provide copious amounts of data.
Understanding the different plan terms (like network management, throttling, hotspot data, video resolution) is key to determining if a plan will meet your needs or not. You also need plans that are suitable for use in the device you want to use them in - such as smartphone, mobile hotspot device or cellular embedded router.
To learn more about shopping for dataplans, check out these key guides:
As heavily as the carriers push their "Unlimited' data plans - you'll quickly discover that most have limits. Here's a video going over what you need to know about unlimited plans, including 3rd party resellers plans that you might find on the internet:
But a data plan alone will not keep you online - it's only one part of the equation. You also need the right gear and signal enhancing strategy.
For more education on assembling a cellular centric mobile internet setup, head on over to our collection of guides: