Sprint today (Friday May 31st) is officially entering the 5G fray - rolling out its first 5G phone and mobile hotspot, with coverage provided in four launch cities - Dallas, Atlanta, Houston, and Kansas City.
And because Sprint is launching 5G on mid-band 2.5 GHz spectrum - it is claiming to be able to cover substantial chunks of these four lucky cities, allowing Sprint to jump way ahead of the super-short-range millimeter wave 5G that AT&T and Verizon have already launched in only tiny "parts" of their various launch cities.
Yep - its true, Sprint is now the leader when it comes to comparing 5G coverage maps!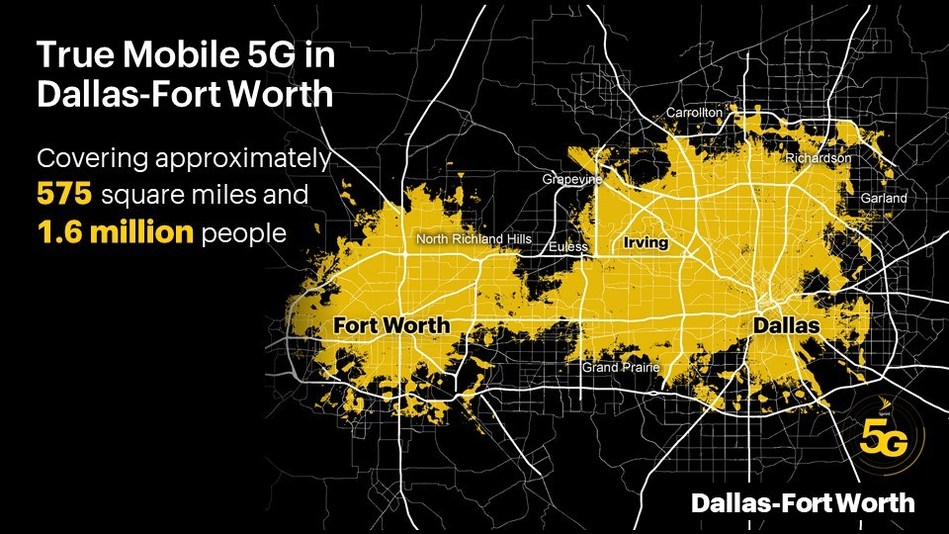 On the other hand - the nature of mid-band spectrum means that Sprint will be lagging behind when it comes to offering the blistering fast gigabit peak 5G speeds the other carriers have shown off.
Still - this is an impressive debut.
Is Sprint destined to remain a leader as the 5G race heats up?
Video Version of this Story:

Subscribe to our YouTube Channel
Sprint's Short Term Spectrum Advantage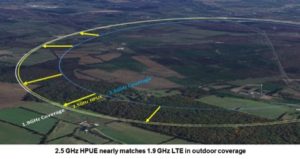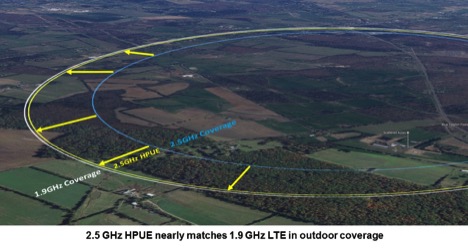 If you think of cellular spectrum like real-estate - Sprint has historically owned a huge chunk of beachfront property that it has never been able to fully take advantage of.
In the 4G/LTE era, Sprint's mid-band LTE Band-41 didn't have the range to compete with the long-range low-band spectrum of the other carriers, and Sprint didn't have enough customers to really put that spectrum to efficient use for faster short-range 4G/LTE service. Overall, Sprint was only barely tapping into what Band-41 was capable of.
As a result, Sprint has a LOT of this spectrum sitting unused that it can easily repurpose for 5G.
And fortunately for Sprint - the first generation of 5G modem chipsets support this mid-band spectrum.
The other carriers plan to start re-using their own mid-band and low-band spectrum for longer range 5G too, but the first generation of 5G chips dol not support these bands.
This means that until the end of 2019 when the Qualcomm X55 modem chipset comes out (read our story on this chip), Sprint will be the only carrier able to offer (relatively) long range 5G coverage.
Once the X55 ships however and other carriers are able to turn existing LTE spectrum towards 5G, Sprint's early advantage will likely evaporate.
5G Hardware: HTC 5G Hub & LG V50 Phone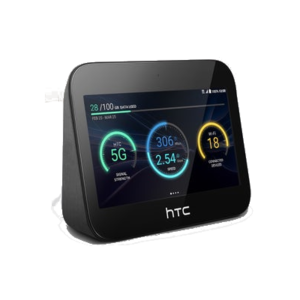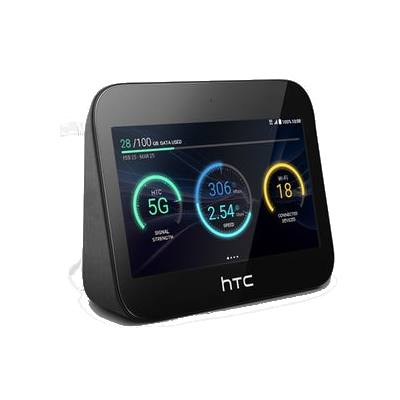 Sprint is starting out with two 5G devices - both available immediately, but only to customers who are within the launch service area.
The LG V50 ThinQ 5G is LG's latest flagship Android smartphone, and it appears to be loaded with all the usual features - including many catering to mobile gamers who really feel a need for speed.
For those who prefer Samsung - Sprint will also be rolling out the Samsung GalaxyS10 5G once the Verizon exclusive is up later this summer.
More interesting for mobile internet fans however is the HTC 5G Hub - the most ambitious mobile hotspot we have ever seen.
Here is how Sprint describes it:
Sprint will be the exclusive U.S. provider for the unique and powerful HTC 5G Hub. Within the Wi-Fi radius of HTC 5G Hub, non-5G devices such as laptops, tablets, phones and TVs can easily experience the speed of Sprint 5G. It enables smooth 4K video streaming for an amazing TV viewing experience, lower latency, virtually buffer-free gaming, and 5G or 4G LTE Advanced mobile hotspot connectivity for up to 20 users in a compact desktop box with a 5-inch display.
As a home media center, HTC 5G Hub will harness Sprint's 5G speeds to stream 4K videos to a second screen and deliver crisp and clear content. It can also replace a Wi-Fi router and remove unnecessary cables with a simple plug-and-play setup. Intuitive voice command makes it easy to manage entertainment or play your favorite games on your home TV. ...
Small and home-based businesses will quickly find HTC 5G Hub to be a must-have business tool. A built-in Gigabit Ethernet port and 7,660mAh battery will keep teams powered up and easily connected.
In other words - this is a mobile hotspot on steroids. On paper - it supports peak 5G cellular performance of "up to 2.63 Gbps downlink, uplink 287 Mbps".
The HTC 5G Hub is more than just a mobile hotspot. It actually runs Android, can hook directly up to a big screen - and theoretically you should be able to run many streaming apps on the hotspot itself with no additional devices required.
The 5G Hub even has high-speed 802.11ad local wireless technology built in, which HTC claims will enable you to eventually stream VR experiences directly from the cloud:
"In the future, you will be able to stream VR content from the cloud to your VIVE headsets via the HTC 5G Hub—no PC or unnecessary cables required—to enjoy a mobile, high-end VR experience in real time."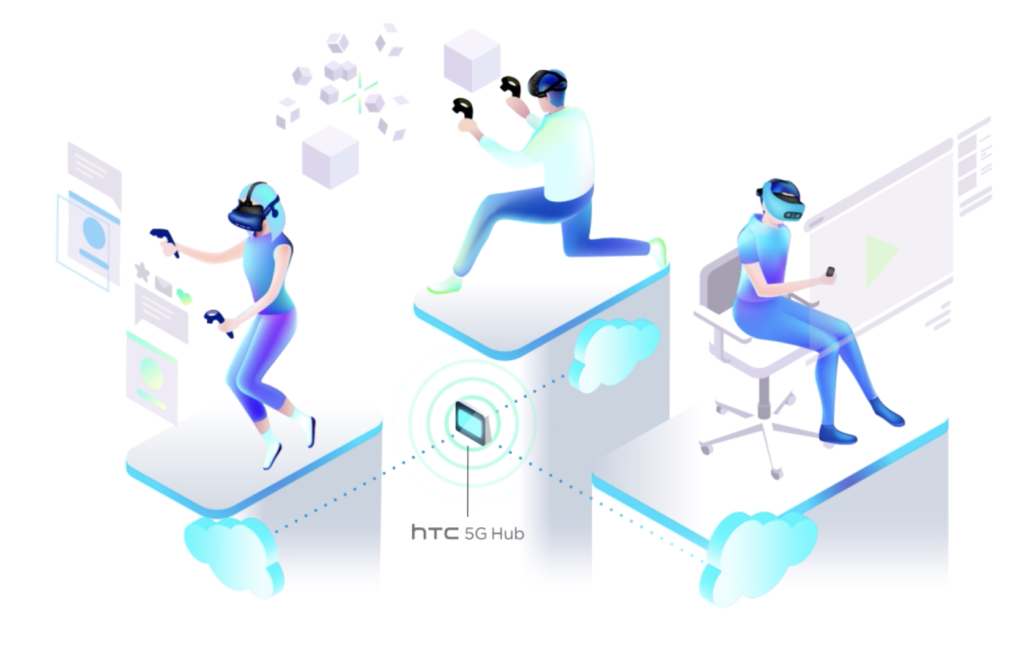 There has never been a device quite like the HTC 5G Hub - and we aren't yet sure whether it will prove to be a glimpse of the future or a clunky first-gen attempt to try and do too much.
Either way - we are eager to hear first hand reports from the launch cities detailing how it performs.
The HTC 5G Hub costs $600 up front, or with a 24-month installment agreement Sprint will cover half of each monthly payment, bringing the cost down to $12.50/month.
Sprint's 5G Service Plan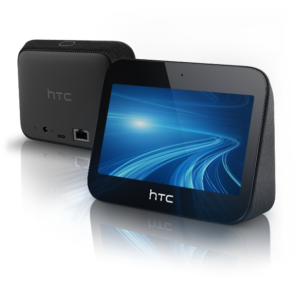 Great hardware is a lot less important than a great service plan, and unfortunately this is where Sprint seems destined to disappoint.
Sprint's 5G phones will requires Sprint's Unlimited Premium, which offers a lot of perks for $80/mo.
Here is how Sprint describes the phone plan:
Built with features to get the most from mobile 5G, Unlimited Premium is the plan of choice for Sprint 5G phones with Unlimited data, talk and text nationwide, Hulu, Amazon Prime, Twitch Prime, Tidal HiFi and 100GB LTE mobile hotspot. As Sprint's best Unlimited value, it costs just $80 per month for one line – a value of nearly $150 per month.
Gamers, rejoice! Sprint is collaborating with cloud gaming pioneer Hatch to deliver an unrivaled game-streaming experience. With a three-month subscription to Hatch Premium's cloud gaming service included on Sprint 5G phones, gamers on Sprint 5G will be among the first in the United States to experience Hatch's mobile 5G cloud gaming service.
That is a lot of perks, particularly if you value the Hulu, Amazon Prime, or Tidal subscriptions included in the bundle.
But keep in mind - after 100GB of hotspot usage, your shared connection will be reduced to "3G speeds" for the remainder of the month.
The plan for the HTC 5G Hub is even more limited.
For the 5G Hub, for $60/mo you get 100GB of total usage - but all usage after 100GB will be reduced to essentially unusable "2G Speeds" until the month rolls over.
And the fine print makes clear that this plan is always subject to the risk of "data deprioritization during congestion".
With the raw speeds possible and usage scenarios being promoted by Sprint and HTC, 100GB/mo is a laughably small amount for a 5G hotspot - and there does not even seem to be a way to pay for more data if you need it.
Sprint should be embarrassed to launch the HTC 5G Hub with such a massively limited plan.
So - Is Sprint 5G Worthwhile?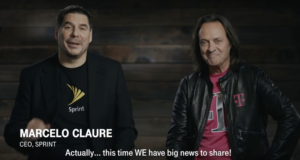 If you happen to spend a lot of time in Dallas, Atlanta, Houston, or Kansas City - the HTC 5G Hub might be a worthwhile way to get a taste of what 5G technology is capable of.
Early reviewers in Dallas have reported average Sprint 5G speeds solidly over 100Mbps, with peaks over 700Mbps. CNET's Lynna La reported that she was able to download "the entire first season of Marvelous Mrs. Maisel on Prime Video. ... Altogether it took the V50 4 minutes to download the whole season."
Impressive - particularly since she was able to roam town and didn't need to be standing right under the 5G base stations like during Verizon's launch demos.
Sprint's coverage advantage seems solid based on all the early reports, a sharp contrast to the extremely limited 5G coverage Verizon and AT&T have been able to demonstrate so far.
And Sprint plans to expand coverage into Chicago, Los Angeles, New York City, Phoenix and Washington, D.C too before the end of June, and likely will expand much further by the end of the year.
Sprint has it easy, since it is able to layer 5G on top of the infrastructure it already has in place for 4G.
So if you want to be one of the first on the block with 5G - Sprint might be the leader, at least until the end of 2019.
But by the time 2020 rolls around, the rollout of 5G technology will really start to get interesting - and Sprint's early advantage might quickly evaporate.
And one way or another, by 2020 Sprint's merger with T-Mobile will either end up approved or canceled - potentially shaking things up substantially either way.
We really wish Sprint was being aggressive with a truly unlimited 5G hotspot plan - if there was such a plan, getting it locked in now (and likely grandfathered on T-Mobile) would be a gamble worth taking.
But Sprint's 100GB hotspot plan just isn't enough to get really excited about.
So for now - Sprint 5G is only really a smart bet for early adopters who already have other alternate unlimited connections and who are just looking for a bit of bragging rights and turbo speed in a few key cities.
But stay tuned - by this time next year, things will start to get really interesting...
Further Reading
For a lot more about upcoming 5G technologies, see our in-depth guide:
Cellular Evolution: 2G Thru 5G, And Beyond!
And all our recent 5G posts:
Cellular Industry Update: 5G is Increasingly Worthwhile For RV & Boat Mobile Internet Solutions Posted on: November 20, 2023
Next Generation Qualcomm X62 Modems Coming to Peplink Routers, At Last! Posted on: October 12, 2023
The InvisaGig - A New 5G Cellular Adapter With An X62 Modem Posted on: June 28, 2023
Netgear Releases Unlocked, All-Carrier Nighthawk M6 Pro 5G Mobile Hotspot Posted on: May 10, 2023
The Franklin A50 - A New 5G Mobile Hotspot For AT&T Posted on: February 24, 2023
Insty Connect Offering X62 5G Modems - A First For Mobile Routers Posted on: January 27, 2023
New JEXtream RG2100 5G Mobile Hotspot Available at Metro by T-Mobile Posted on: January 3, 2023
T-Mobile Rolls Out Band n25 - Increasing Mid-Band 5G Capacity & Coverage Posted on: December 16, 2022
Verizon Introduces a New 5G Hotspot - The TCL Linkzone 5G UW Posted on: November 17, 2022
T-Mobile Launches the MiFi X PRO 5G - Their Latest 5G Mobile Hotspot From Inseego Posted on: November 17, 2022