Key Points:
The Arris NVG558 LTE Router is a Cat-12 router available from Verizon Business
The Arris router is only available with Verizon's LTE Business Internet Broadband plans
Early in 2021 Verizon quietly began to offer the Arris NVG5588 LTE router for business customers. Currently, the Arris router is only available to business customers and it must be paired with one of Verizon's LTE Business Internet Broadband plans.
Arris Router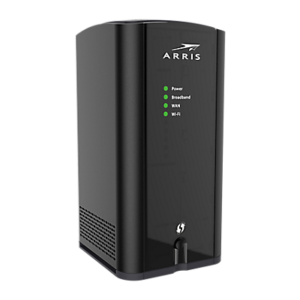 The Arris router combines capable Ethernet and Wi-Fi routing with a Category 12 LTE modem to provide cellular broadband.
The Quectel cellular modem provides good performance and cellular band coverage, but this Arris router version sold by Verizon is limited to Verizon's cellular bands, according to the specs on the Verizon website.
The router includes support for Wi-Fi 6 (802.11ax) which provides for simultaneous 2.4 and 5GHz wireless networking using the most recent mainstream and speedy standard. For wired networking, the router includes five gigabit-capable ports - four LAN ports and a single combination LAN/WAN.
Unfortunately, the router does not support several features we like to see in a mobile router, including USB tethering for smartphones and mobile hotspots, and Wi-Fi-as-WAN to connect to campground, marina, and other public Wi-Fi access points. The Verizon version of the Arris also lacks antenna ports for external cellular antennas, which greatly limits the signal-enhancing options for this device.
Additionally, this router is an LTE-only device and does not support Verizon's 5G networks.
On the positive side, the router has robust firmware that provides comprehensive configuration options compared to other consumer-level routers, and it is a complete and capable package for a modest $299.00 price tag.
Although the router is offered on Verizon's website, customers have to call or chat with an agent to actually purchase the router and get it set up with a compatible plan.
Verizon LTE Business Broadband Plans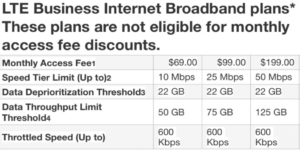 The only plan options available to the Arris LTE router are Verizon's business LTE broadband plans. The plans provide tiered speed and data and are designed for business applications and machine-to-machine use. Each tier of service comes with a speed cap and a data limit followed by unlimited data at 600 Kbps.
There are three plan levels:
50GB at 10Mbps for $69/month
75GB at 25Mbps for $99/month
125GB at 50Mbps for $199/month
The listed speeds are maximums and not guaranteed. Additionally, all plans come with a 22GB network management threshold.
Additionally, since these plans are intended for business use, they come with terms-of-service that restrict use to business applications. Specifically, video and audio streaming are prohibited along with voice, texting, and any kind of Wi-Fi or web hosting.
Verizon states these plans are for small businesses that need basic connectivity, connectivity for branch offices, and those needing mobile business connectivity for business use.
Overall, these plans are quite limited and not of much interest to those looking for mobile home internet replacement options.
Related News Stories

Related Guides