Verizon rolled out some changes to their lineup of Business Unlimited Smartphone plans, adding more mobile hotspot data and higher network management thresholds but otherwise keeping other plan terms the same. These new plans carry the same names (Start, Plus, and Pro) but with a "2.0" added on.
Verizon Business Video Overview
Verizon Business Unlimited Smartphone Plans

Verizon introduced its current lineup of smartphone plans in October 2020 - the Business Unlimited Pro, Unlimited Plus, and Unlimited Start plans.
Since that time, both AT&T and T-Mobile upgraded their postpaid plan lineups to offer better features than Verizon, such as more data for hotspot use and better network management terms.
While Verizon did recently introduce some new and attractive prepaid data plans, Verizon's smartphone lineup has lagged behind the competition - until now.
Today Verizon rolled out the "2.0" version of their business plans, bringing them more in line with what their competitors are offering. Although these 2.0 changes are only for business plans, we hope that Verizon makes similar changes to the consumer versions of these plans soon.
Business Unlimited 2.0 Plan Changes
The plans are now called Business Unlimited Start 2.0, Plus 2.0, and Pro 2.0. The "2.0" moniker is appropriate because the changes are not new plans, but upgrades to the previous versions.
Here are the 2.0 changes:
More Mobile Hotspot Data
On the previous plan lineup, the Start plan had no high-speed mobile hotspot data, the Plus plan had 30GB, and the Pro plan had 60GB.
With the 2.0 lineup, high-speed mobile hotspot data for each plan is increased. Start 2.0 now has 5GB of mobile hotspot data, Plus 2.0 has 50GB, and Pro 2.0 has 100GB.
As before, once the high-speed mobile hotspot cap is reached, speeds will slow to 600 Kbps while on the 4G and 5G Nationwide networks, and to 3 Mbps while on 5G Ultra Wideband (5G Ultra Wideband applies to Plus 2.0 and Pro 2.0 only).
Network Management
Additionally, the network management thresholds for the Plus 2.0 and Pro 2.0 plans were increased.
On the Start plan, data was always subject to network management deprioritization and that doesn't change with the 2.0 version - all data is still at a lower priority.
On the Plus plan, the network management threshold was increased from 60GB to 100GB.
On the Pro plan, the limit was 120GB but with Pro 2.0, the network management threshold is eliminated, meaning that data use is never deprioritized - all data will be premium data.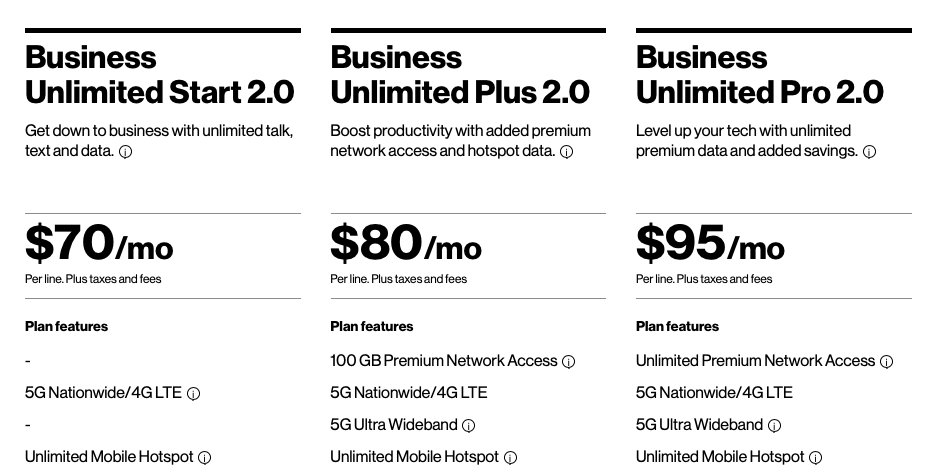 Other Plan Details
Other 2.0 plan features remain the same from the previous plan lineup to the 2.0 versions including the price - however, there are greater multi-line discounts for 5+ smartphone lines, which are now $5/month cheaper. Pricing for 1-4 lines remains the same.
Other terms that remain the same include video streaming speeds (480p for Start, 720p for Plus/Pro), 5G access (5G Nationwide for Start, 5G Nationwide, and Ultra Wideband for Pro/Plus).
Of note, the 2.0 changes only affect smartphone lines - the features of the Business Unlimited tablet, data device, and smartwatch add-on plans and options remain the same.
Comparison to Other Available Plans
We have a spreadsheet where we compare and track all of the unlimited plan options from all of the major carriers, so you can see how these plans compare to consumer options from Verizon, as well as the available plan options from AT&T and T-Mobile.

Summary
Since AT&T and T-Mobile made improvements to their plan lineups months ago, it's nice to see Verizon finally catching up. While these changes are welcome, and Verizon has recently introduced some new prepaid plans, at this time they have only made changes to their Business Plan lineup for postpaid.
We expect (and hope) to see Verizon make similar changes to their consumer postpaid plan lineup in the near future.
Related Reading
Related News Stories