Today, US Mobile added both Verizon and unlimited plans to their cellular plan line ups.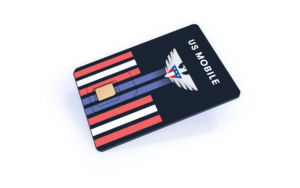 US Mobile is a newer (founded early 2015), prepaid MVNO company who previously ran only on the T-Mobile network - although they have advertised that Verizon coverage would be in the works.
And now, Verizon is here. And so are some pretty sweet unlimited plans.
US Mobile's CEO and Founder Ahmed Khattak stated in the press release:
"We want to be able to serve any kind of user, no matter device, user habits or geographical area. In order to serve the data hogs, we decided to launch several options of unlimited data plans."
We can only hope he really knows the need of a 'data hog' - and hasn't bitten off more than he can chew. Because right now, US Mobile is touting unlimited smartphone plans with mobile hotspot capabilities - and without throttle caps - on the Verizon network.
And that, my friends, is very rare indeed.
And here is where we at the Mobile Internet Resource Center have to relay a word of caution: non-throttle, full speed Verizon hotspottble data is unheard of beyond Grandfathered Legacy UDPs.
Because of that, we must remind you to go in with eyes wide open to US Mobile's offering - anyone remember Karma who two years ago launched an unlimited data plan, and quickly had to implement caps once they realized how much data folks really could use?
One of the major pitfalls (and also perks) of an MVNO is that there is no contract - and that works both ways. If the plans goes away, it goes away.
We'll remain cautiously excited about this plan for now.
---
Video version of this story:
Enjoy Video? Subscribe to our YouTube Channel
---
So, what are the options?
There are many.
US Mobile sells 'customizable plans' - they previously offered over 350 plan options on their GSM service (T-Mobile). And today they added over 350 plan options on the Verizon network - plus several unlimited plan options.
We're going to focus on their unlimited options here, although, if you're looking for T-Mobile (up to 8GB) or Verizon prepaid data buckets (up to 5GB), US Mobile is an option - and is competitively priced. MIA members can compare prices via the Cellular Pricing Guide.
US Mobile has decided to offer tiered unlimited plans based on the speeds delivered - currently only available on the Verizon network. Within each tier the customer has 3 additional options based around phone/text caps and data hotspot ability.

When you purchase a plan through US Mobile, you will be sent a SIM card. This SIM card can apparently be placed into any supporting device -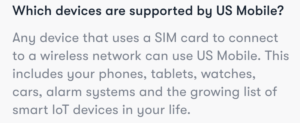 which we also assume means stand alone hotspots. There is currently no wording in US Mobile's terms of service to indicate that using the SIM in a dedicated hotspot is forbidden, and Verizon tends to not have restrictions on SIM-swapping.
Update: It seems they have edited their TOS to now say ""You are prohibited from using a US Mobile SIM Card with any device other than a basic phone, smartphone, or tablet device to access our Data Services." We have at least one report of an account being terminated for use in a hotspot device.
See our Review Center for a list of Verizon optimized hotspot devices.
The fact that US Mobile does not require you to purchase a device through them in order to use their service is a huge plus - and cuts down on your risk as a consumer if these plans suddenly disappear. Rather than being 'stuck with a device' that you may not be able to use on another carrier or service provider, you are simply out the cost of the SIM, and possibly your prepaid amount for that month if the service were to end mid month.
(Can you tell that we're very hesitant when a deal seems 'too good'?)
So what are the big differences between the offered unlimited plans?
First, consider your 'need for speed'.
5mpbs (the rate of the 'Fast' plan) is the bottom criteria for streaming media in HD. For many mobile internet users, this upper speed limit is satisfactory for their needs; and if so, can save $18 a month. Network management thresholds are set at 14GB for this plan (compared with Verizon's own 22GB threshold)
For those who want optimal speeds - maybe those who do video conferencing, gamers, or just don't want any risk of speed cap imposed lag - the Ludicrous plan offers speeds up to 150mbps. Aka, no company imposed speed cap. However, the plan is subject to network management after just 16GB of usage in a month (compared to Verizon's own 22GB threshold) - which means you might be slowed down when on congested towers.
Now, consider if you would like to use data off device; aka, through a hotspot connection. If you plan on sharing your device's data with other devices, you're going to want to add the +Hotspot option.
And, FYI, when shopping these plans, US Mobile labels their T-Mobile plans as 'GSM LTE', and Verizon as 'Super LTE'.
Overall, these unlimited data options are flexible, and very competitively priced.
Potential Positives of US Mobile Unlimited Plans
Unlimited hotspot data - HOLY HECK! No hotspot data speed or data cap on Ludicrous plan +hotspot for $79/month.
Sim cards can (apparently) be used in 'any' device - including dedicated hotspots.

No need to buy a device directly from US Mobile

Cheaper single line pricing for similar Verizon direct postpaid plan

Currently, Verizon is charging $85+taxes/fees for a single line - and only includes 15GB of hotspot data per month per line.
No comparison (US Mobile blows them out of the water) to Verizon direct prepaid

Verizon direct prepaid offers no mobile hotspot capabilities at $80/line

Reduced cost option (Fast plan) for customers who don't need more than 5mbps, but do want unlimited hotspot data
Plans to add international features (possibly just call/text) in the near future
Plans to add WiFi calling in the near future
US Mobile will offer $200 back to everyone who brings their iPhone X to the new Super LTE network (we don't typically cover specific cellular phone devices at MIRC)
Possible Cons of US Mobile Unlimited Plans
US Mobile is an MVNO.

Carriers almost always favor their own name brand service over the cut-rate wholesale services they offer to MVNOs. And sometimes reseller plans that appear on the market are not officially authorized by the carrier.
The offerings may not last. Every so often a reseller comes along with an offer that seems too good to be true. And all too often – these offers, and even the MVNO itself, do not last for long once the underlying network provider starts to object or they realize their costs to deliver the service are higher than anticipated.Remember these?

No family plans available - multi-line pricing is more expensive than Verizon postpaid

If you have a family plan with 3+ lines, your price comes down to $60/line. But, each line is still subject to 15GB hotspot data each.

US Mobile users will always be prioritized behind Verizon direct customers.

In addition, Fast speed plans have the statement of "Your data speed might experience deprioritization after 14GB of usage" and all Ludicrous speed plans have the statement of "Your data speed might experience deprioritization after 16 GB of usage when using Ludicrous speed."

No domestic (or international) roaming.
While US Mobile offers a '30 Trial or your money back', be wary. It expires at either 30 days, 100 texts, 100 minutes of calls, or 100mb of data - whichever comes first.
Related Info: