US Cellular is the largest regional carrier in the US serving markets in the Pacific Northwest, Midwest, New England, and a few other scattered areas.
Like the three major nationwide carriers, US Cellular is building and expanding a 5G network, and they are now offering their first 5G data-only device - the Inseego 5G MiFi M2000 (This device is also offered by T-Mobile.)
Inseego 5G MiFi M2000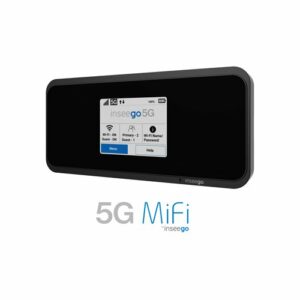 The M2000 is a close relative of Verizon's flagship Inseego MiFi M2100 hotspot but supports different bands. The M2000 hotspot comes in two versions - one with mmWave 5G support and one without. When contacted, US Cellular was not able to confirm which model they carry, though it's important to note that US Cellular doesn't have a mmWave network.
Either way, the 5G MiFi M2000 is a very capable device but does come with a few downsides such as the lack of antenna and Ethernet ports. Overall it is a very full-featured mobile hotspot, with impressive features:
USB-C port for tethering and charging.
The USB-C port can also be used to charge external devices.
Guest Wi-Fi network support.
Up to 24 hours of claimed battery usage - plus there will be an optional even larger expansion battery pack available later this year directly from Inseego.
Integrated VPN support.
While the device itself is solid, currently pairable plans and term limitations from US Cellular are not ideal for nomads.
Data Plans
With the launch of the 5G MiFi M2000, US Cellular offers tiered data plans for mobile hotspots and other data-only devices. US Cellular plans all include 5G access to US Cellular's 5G network.
4GB: $20/month
10GB: $45/month
20GB: $70/month
40GB: $100/month
These are not overly attractive options for RVers, cruisers, and nomads, especially considering US Cellular's restrictive roaming policies for data use outside of their native US Cellular network:
US Cellular reserves the right to terminate your service if more than 400 MB of your data usage in any month is used in US Cellular's non-licensed markets.
At best, these new offerings might work for those who plan to stay in US Cellular service areas.
Related News Stories
Related Content