Total Wireless, an MVNO and Tracfone brand that offers Verizon based smartphone plans, has officially added the ability to use personal mobile hotspot on some of their plans.
Total Wireless has also revamped their cellular plan line-up and are offering a double data promotion to new customers.
Video Version
Subscribe to our YouTube Channel
Total Wireless Overview
Total Wireless offers 3 plan types: 30 day, 90 day, and Family Plans. The Family plans offer a shared data bucket for multiple lines - with each line getting 10GB of mobile hotspot data.
They are also offering a 'Double Data' promo on their 5GB plan - making it a 10GB plan, priced at $34 (with autopay). This promo is available for new customers only, and for 90 days only. After 90 days, the plan will revert to a 5GB plan for $34 (with autopay). All data on this plan can be mobile hotspotted.
Total Wireless also offers an 'unlimited' plan, called the 'Mega Plan', but buyer beware: there is a 25GB high-speed data cap on this plan, with unlimited data being provided at 2G speeds thereafter. In addition, this 'unlimited' plan only permits 10GB of mobile hotspot - all 10GB of which also count towards your 25GB on device high-speed data allowance.
All of their plans are eligible for a 5GB data add-on option, for $10. This add-on data cannot be used via mobile hotspot.
Available Total Wireless Plans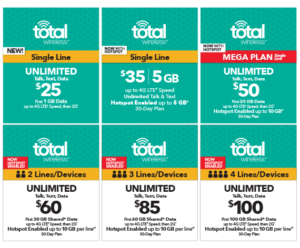 *all prices reflect an auto-pay discount, and include unlimited voice and TXT:
30 Day Plans:
1GB (mobile hotspot included) - $24/mo
10GB (Promo on a 5GB plan, mobile hotspot included) - $34/mo
Mega Plan - 25GB 'Unlimited' (10GB of mobile hotspot use)- $48/mo
90 Day Plan:
15GB (no mobile hotspot use) - $90/90 days
Family Plans (each line on a family plan gets 10GB of mobile hotspot):
30GB (2 lines) - $57/mo
60GB (3 lines) - $81/mo
100GB (4 lines) - $95/mo
Additional Information
Total Wireless offers both iOS and Android smartphones for purchase, or you can bring your own phone.
Prices listed do not include taxes and fees.
TracFone also owns MVNO Straight Talk.
Related Information & News Stories: