Key Points:
The Inseego MiFi X Pro 5G is T-Mobile's newest flagship-level hotspot and features an advanced Qualcomm X62 5G cellular modem.
The MiFi X Pro 5G supports all T-Mobile LTE and 5G cellular bands, including band 71 & n71 support.
The new hotspot also includes an Ethernet port providing a flexible LAN connection option.
The MiFi X Pro 5G does not come with antenna ports, limiting its signal-enhancing options.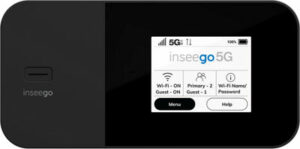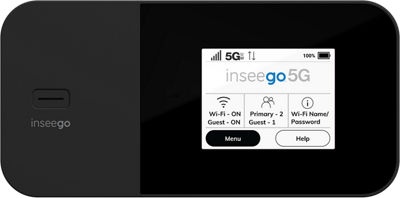 Today T-Mobile has released their next-generation Inseego mobile hotspot device - the MiFi X Pro 5G. This Inseego M3000B is T-Mobile's 3rd 5G hotspot released behind the Quanta 5G and the previous Inseego M2000 device.
This hotspot features the latest Qualcomm modem X62 chipset, which provides significant future-proofing enhancements over the X55 modem used in the Inseego M2000 5G.
The new Inseego MiFi X Pro 5G joins the Quanta 5G mobile hotspot as one of the new T-Mobile flagship models and will likely become one of our Top Pick devices.
MiFi X Pro 5G Video First Look
MiFi X Pro 5G Specifications
The new Inseego MiFi X Pro 5G is based on the M3000 series of hotspots from Inseego and shares many similarities with the Verizon M3100 MiFi X Pro 5G UW. This follows the same pattern as the previous M2000 series of hotspots from Inseego, which also had dedicated Verizon and T-Mobile versions.
Cellular Capabilities
Unlike the Verizon variant, which uses the Qualcomm X65 modem, the T-Mobile MiFi X Pro 5G uses the X62 cellular modem. These modems are in the same family and have the same features, but the X62 is a low-cost version with lower peak theoretical speeds. However, users should not notice significant performance differences in the real world.
For a deep dive into cellular modem differences and capabilities, see our recent Fall 2022 Cellular Modem Industry Update.
As one would expect, the MiFi X Pro 5G supports almost all of T-Mobile's cellular bands: Data Sheet
5G Sub-6GHz: n1, n2, n3 n5, n7, n20, n25, n28, n40, n41, n48, n66, n71, n77, n78
mmWave 5G: None
4G/LTE: 1, 2, 3, 4, 5, 7, 8, 12, 13, 20, 25, 26, 38, 39, 40, 41, 46, 48, 66, 71
3G HSPA+/UMTS: 1, 2, 4, 5, 8

This includes all the native sub-6GHz LTE and 5G cellular bands T-Mobile uses.
The one missing element is millimeter (mmWave) wave cellular support, but this isn't a big loss - T-Mobile only offers mmWave in a handful of areas and isn't an important part of their network.
Ethernet and USB Wired Connectivity

Unlike many previous T-Mobile hotspots, the M3000B adds in a very welcomed hardwired Ethernet port for a flexible connection option.
The Ethernet port supports 1Gbps speed which is fast enough to support speedy 5G connections. It also provides an easy way to connect to routers and other devices that don't support USB connections.
USB tethering is also supported, and the MiFi X Pro comes with a USB-C port for both tethering and power. This port can also be used to charge other devices from the MiFi battery.
Wi-Fi 6
Wi-Fi 6 (802.11ax) is the current standard for Wi-Fi support in 2022, and it's no surprise to see it on the MiFi X Pro.
The hotspot simultaneously supports 2.4GHz and 5GHz frequencies and has a guest network for both frequencies. The MiFi claims support for up to 32 Wi-Fi clients.
Battery Preservation Mode
Like the Verizon version, the T-Mobile MiFi X Pro features a battery preservation mode that is useful for those who keep their mobile hotspots powered and connected 24/7. When the MiFi has charged for more than 16 hours straight, it automatically enters Battery Preservation Mode and maintains the battery between 50% and 60% charge. This prevents overcharging and helps preserve the integrity and longevity of the battery.
No Antenna Ports
Inseego continues its tradition of not including antenna ports on 5G mobile hotspots, which is unfortunate.
For our audience of RVers, boaters, and nomads, antenna ports are a valuable feature that allows for the easy connection of a cellular antenna in areas with a weak signal or other challenging signal conditions. However, in today's 4x4 MIMO world, having external 2x2 antennas doesn't have quite the advantage it once did - which can often lead to performance decreases except in remote signal locations.
Inseego Connect
One key difference from the Verizon version is support for Inseego's cloud-based configuration and monitoring service - Inseego Connect. a new cloud-based configuration and monitoring application provided by Inseego.
Inseego Connect is functionally similar to other enterprise cloud-based management systems, such as inControl for Peplink and NetCloud for Cradlepoint, and is primarily intended for enterprise users.
Getting the M3000B MiFi X Pro 5G
This new hotspot will be available starting Nov 17th on T-Mobile's website and also in T-Mobile stores.
The price is $264 - a great price for a flagship-level mobile hotspot and $85 less than the Verizon version.
This is a very attractive price for an X62-based flagship-level mobile hotspot, although not as cheap as the previous Quanta 5G model.
You can purchase the new MiFi with one of T-Mobile's existing compatible data plans. There are plan options on T-Mobile's postpaid plans or T-Mobile's Business Plans.
Inseego is sending us an evaluation unit, which we will put into testing against other T-Mobile 5G mobile hotspot devices - our members will have access to our testing notes and final review.
Our member-exclusive section below has further thoughts on whether or not to upgrade and further information.
Member Exclusives Below:
 Bonus Member Only Content Available!
We go extra for our premium members - who make this resource center possible (did you notice the lack of 3rd Party advertising?). We have included some additional information in this news article just for our members - analysis, guidance and/or insider tips.
If you're not yet a member, please consider joining us. Extra content like this is one of the many perks we offer - in-depth content, guidance, discounts, alerts, classroom and more.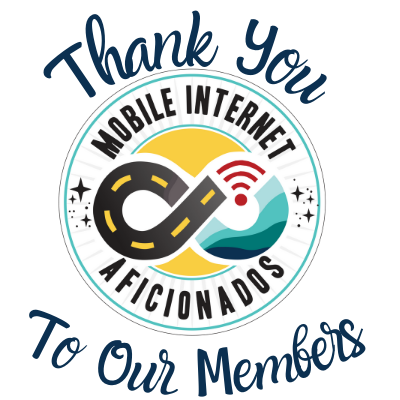 If you are already a member, please log in above to see the special content we have prepared for you.
Further Reading
Related News: