Key Points:
SpaceX has now officially launched its "Portability" feature - allowing customers to temporarily move their Starlink to new locations for an extra $25/mo charge.
Portability allows roaming anywhere Starlink has active coverage, across the same continent as your home service.
Customers who are using the portability feature to roam should "expect lower service levels" than fixed users.
SpaceX updated the Starlink Terms of Service to warn that in-motion usage may now be grounds for termination of your account.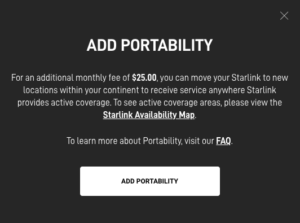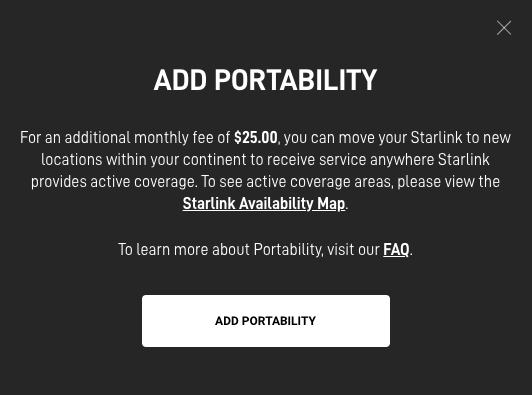 Back in March we reported that a section on "Service Portability" was added to the Starlink Terms of Service, and that we suspected that this feature would officially roll out soon.
And indeed - for the past two months, all Starlink customers have discovered that Portability was indeed unofficially working, with the Starlink Dishy automatically connecting even when set up thousands of miles from your official registered service address. But this seemed like an interim step to something more official that would come in the future.
As of today - the future is here and Starlink Portability is now officially launched.
But - unsurprisingly - it comes with a price tag attached: $25/mo.
And as portability rolls out, the current automatic and free roaming is coming to an end in June.
Starlink's updated FAQ and terms of service reveal a few other interesting details too - including a major change related to in-motion usage.
Starlink Service Portability Video
Starlink Service Portability
One of the original obstacles that kept many nomads from embracing SpaceX's Starlink satellite broadband service was that Starlink would only connect when you were within around a dozen miles of your registered service address.
But now for a $25/mo fee - you can officially enable Portability on your account to open the door to traveling with Starlink across the entire continent.
Here is how SpaceX describes the feature:
"For an additional monthly fee, the Portability feature enables users to temporarily move their Starlink to new locations in order to receive service anywhere within the same continent Starlink provides active coverage. To see active coverage areas, please view the Starlink Availability Map. Portable users are served best effort and can expect lower service levels than fixed users, particularly in areas marked as "Waitlist" on the Availability Map."
Continent-wide roaming means Starlink officially supports travel, even into Canada and Mexico, and is great news for nomads!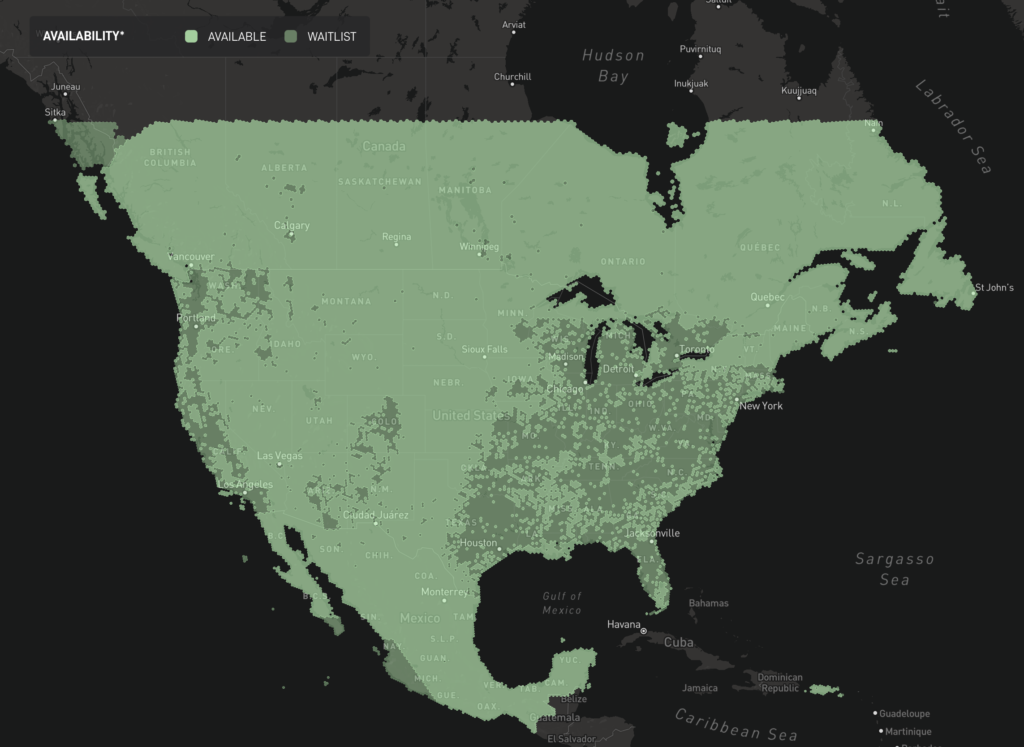 And the $25/mo additional fee (bringing the total monthly cost to $135/mo) is still reasonable, considering the capabilities.
But there are some very important limitations to be aware of.
Starlink Portability Limitations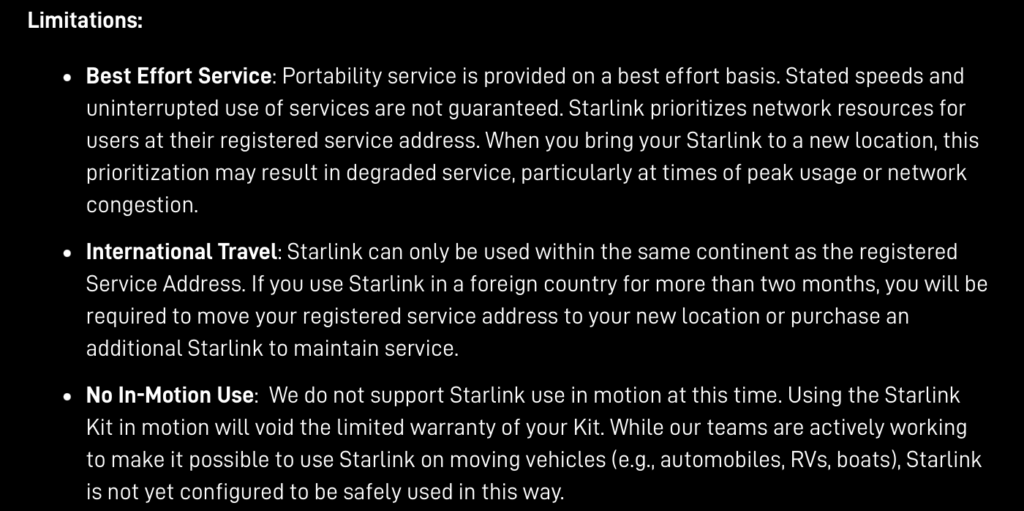 Despite paying more per month, Starlink customers with Portability enabled do not get the same network priority as customers who are at their registered service address.
This is reasonable - it wouldn't be fair to fixed location customers if transients sucked up all their bandwidth.
In particular - SpaceX makes it clear that Portability is "Best Effort" service:
"Portability service is provided on a best effort basis. Stated speeds and uninterrupted use of services are not guaranteed. Starlink prioritizes network resources for users at their registered service address. When you bring your Starlink to a new location, this prioritization may result in degraded service, particularly at times of peak usage or network congestion."
If you use Portability to roam in one location for too long, it appears that SpaceX may lower your network priority even further:
"If you are going to be in a different area for an extended period of time, Starlink requires you to change your registered service address location (subject to availability) to ensure the best experience. Users who stay in the same area outside their service address location for an extended period of time may see a further decrease in performance to accommodate users at their Service Address."
Exactly what an "extended period of time" is remains undefined.
The updated terms of service, however, state that SpaceX may force a change in your registered service address if you are at the same secondary location for more than two billing cycles - potentially changing the tax rates being applied to your account.
International Portability Limited To Two Months
Starlink accounts now allow roaming across continents. North American accounts can travel across the United States, Canada, and Mexico. And European accounts are also being offered portability - but only across European nations.
Right now portability is not supported across continents - and so far Starlink is not turned on in international waters between nations.
But even if you are traveling on one continent - Portability is not meant for long term stays in a new country.
The SpaceX FAQ has been updated to say:
"Portability enables use in a different country for 2 months within the same continent as your Service Address, but to permanently move to a different country, you must create a new Starlink account."
This is likely needed to comply with local tax and licensing regulations - but this may be a concern for snowbird who spend entire seasons in Canada and/or Mexico.
Getting Service Portability
SpaceX has already begun rolling out the ability to add Portability to accounts on the Starlink customer portal - making it easy to add and remove this feature as needed.
Once activated - the Portability service will auto-renew every month until it is manually canceled.
TIP: Portability is billed in monthly increments of $25/mo, and is not pro-rated. So if you add Portability with just a few days left on your monthly billing period, you might end up paying $25 for just a day or two of roaming!
Free Portability Ending on or by June 3rd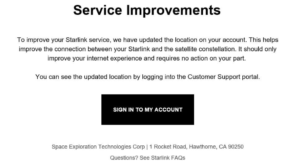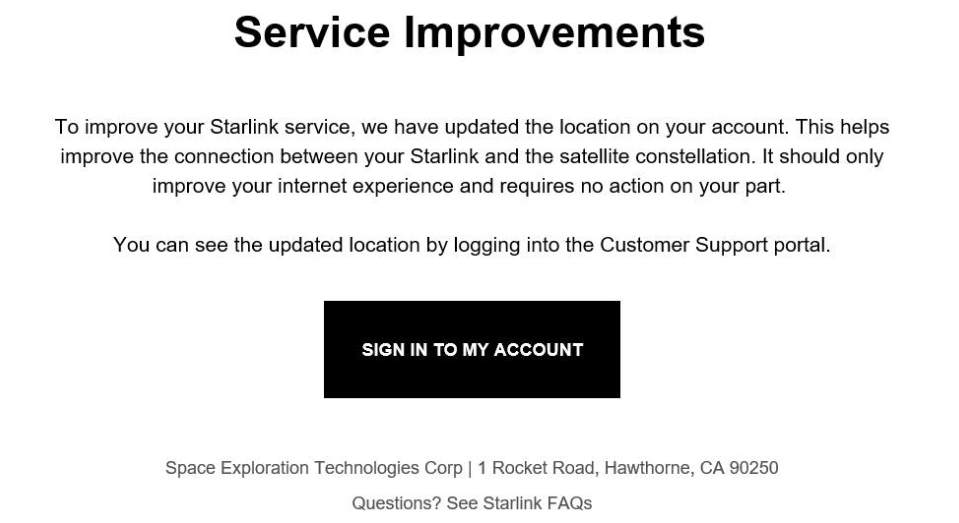 SpaceX has begin to notify customers who are currently using Starlink away from their registered service address that the current freely available Portability that these customers have been experiencing for the past two months will end on June 3rd, now that there is an official way to sign up and pay for this feature.
Here is the text of the email Starlink customers who are currently connected away from their service address are getting:
"It appears that your Starlink is located far from your account's registered service address. You will be unable to receive service outside of your designated coverage area starting on June 3, 2022.
To maintain service, you can enable the Portability feature to use Starlink at both your current location and at your registered service address. You may also update your service address to your current location if there is capacity."
Portability Already Ending?
However, we've also seen reports that enforced paying for portability is already active in some cases for those that move cells.
And the problem with this is that if you move to a different cell and you haven't paid for portability, Starlink does not provide internet connectivity to allow you to sign-up for paid portability. That means you have to have another source of internet to log into your Starlink account to enable mobility - a very prospect.
Once June 3rd passes - it will be interesting to see if this is how the Starlink Dishy and app will respond to attempts to connect when away from your registered service address. If so, then it will be important for users to enable the paid portability before moving Starlink to another cell.
Starlink Portability & Congestion Concerns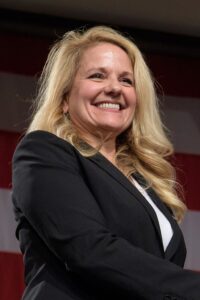 Portability is a great new feature for Starlink.
Part-time travelers can activate it only as needed, making it easy to take Starlink on a trip without giving up priority service at their home address.
Full-time travelers, on the other hand, can move their service address as availability allows, and can use Portability to keep connected when manually doing service moves is not practical.
But as congestion increases on the Starlink network, the performance when using Portability may ultimately prove to be a significant issue that might leave customers relying on this feature in the lurch.
Of course - Starlink customers can always change their registered service address as needed to guarantee the best possible service, but doing so is only possible if you are looking to activate service in an area that is not already "at capacity".
And be aware - if you do have service at a registered home-base address and you move it away - there is no guarantee that you will be able to move your registered service address back home if someone else ends up claiming your slot.
In urban areas or areas frequented by nomads - Starlink may remain at a significant disadvantage compared to 5G cellular when the network demands are high.
Having a blended arsenal that combines Starlink and cellular is going to be key.
New: In-Motion Usage is now Prohibited!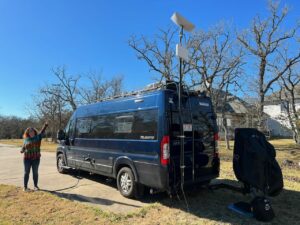 Many nomads have discovered that the blocks Starlink had previously in place that would shut down Dishy when excessive motion was detected had been lifted - and Starlink recently has actually been working surprisingly well on boats and RVs and overland vehicles in motion.
But SpaceX has actually updated the Starlink terms now to warn that not only is this not supported, but it is also now actually grounds for terminating your account:
"IN-MOTION USE PROHIBITED. USING STARLINK SERVICES IN-MOTION ON A VEHICLE OR VESSEL (e.g., CARS, VANS, RVs, BOATS) IS PROHIBITED, WILL VOID THE LIMITED WARRANTY OF YOUR KIT, AND MAY BE GROUNDS FOR THE TERMINATION OF YOUR AGREEMENT WITH STARLINK PER SECTION 10 OF THESE TERMS. AT THIS TIME, STARLINK EQUIPMENT IS NOT CONFIGURED TO BE SAFELY USED IN-MOTION OR INSTALLED ON A VEHICLE OR VESSEL."
The Starlink FAQ is clear too, but still indicates that this may be supported in the future:
"In Motion Use - We do not support Starlink use in motion at this time and mobility use is currently prohibited until we have obtained all necessary approvals. While our teams are actively working to make it possible to use Starlink on moving vehicles (e.g. automobiles, RVs, boats) in the future, Starlink is not yet configured to be safely used in motion."
It is unclear if SpaceX will actually enforce this prohibition again in motion usage by actually canceling accounts, but since Starlink is not yet legally licensed for this sort of usage SpaceX might be feeling some pressure to more actively discourage this.
For now - Starlink customers should exercise caution before experimenting with Starlink usage in motion.
In motion usage may ultimately be reserved for a future version of the Dishy hardware that is better designed for this use case - potentially requiring a differently priced service plan too.
Starlink Remains Exciting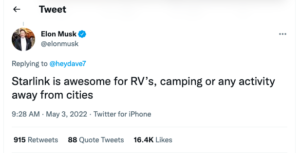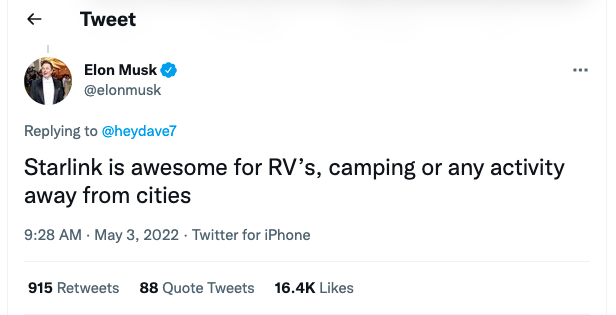 This latest news from SpaceX around Starlink portability is exciting indeed - and it is great to have this feature officially acknowledged and supported.
Yes - the cost increase might sting some, but it is still a great price for an unlimited high-speed data plan that works in some of the most remote corners of the continent.
The biggest worry going forward is how well Starlink will deal with growing demands - and will it be able to handle ever-increasing network congestion.
The next Starlink launch is scheduled for Friday morning - as always, we will be watching to see if SpaceX has any further details to share then.
Further Reading
And here is all of our recent Starlink coverage: