Key Points:
SpaceX has been enabling an experimental "portability" roaming mode for a growing number of Starlink customers, allowing them to connect when away from their registered home address.
The Starlink "Terms of Service" have now been updated with details on Portability - and we expect this feature will become officially available to every Starlink customer soon.
True mobility remains (officially) unsupported, and SpaceX now warns that attempts to use the Starlink Dishy while in motion is prohibited and will void its warranty.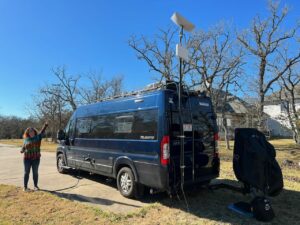 We reported last month that a few Starlink customers had discovered that their systems had "roaming" enabled - allowing them to get connected via SpaceX's Starlink satellite constellation even while 100's of miles away from their registered service address.
Over the past several days (ever since Elon Musk tweeted about enabling "mobile roaming" in Ukraine) - there has been widespread reports that this roaming capability has been turned on for vastly more Starlink customers, and we suspect that SpaceX is now on the verge of officially supporting "Service Portability" that will make Starlink a more practical option for many nomads.
We've also seen more evidence that in motion usage is being worked on, and that SpaceX may soon even allow Starlink service to roam between countries.
Read on for the details...
Starlink Portability Video Story
Starlink Service Portability
One of the biggest obstacles keeping many nomads from embracing SpaceX's Starlink satellite broadband service is that, up until now, Starlink will only connect when you are within around a dozen miles of your registered service address.
If you travel any further from "home" and try to connect, Starlink will experience frequent dropouts - or the Dishy will just stare at the sky - perpetually "searching" and showing an "UnexpectedLocation" warning on the app debug screen.
Manually changing your service address every time you move is a hassle, and it is only possible to do so if the new location you want to connect at has had Starlink service enabled - and if that area isn't already "at capacity".
Making things even worse for part-time nomads - if you do successfully move your Starlink service to a new location, there is no guarantee that you will be able to move it back to your home address if someone else has claimed your spot while you were gone.
But now with Service Portability - it seems that SpaceX is doing away with the need to manually update your address while you travel.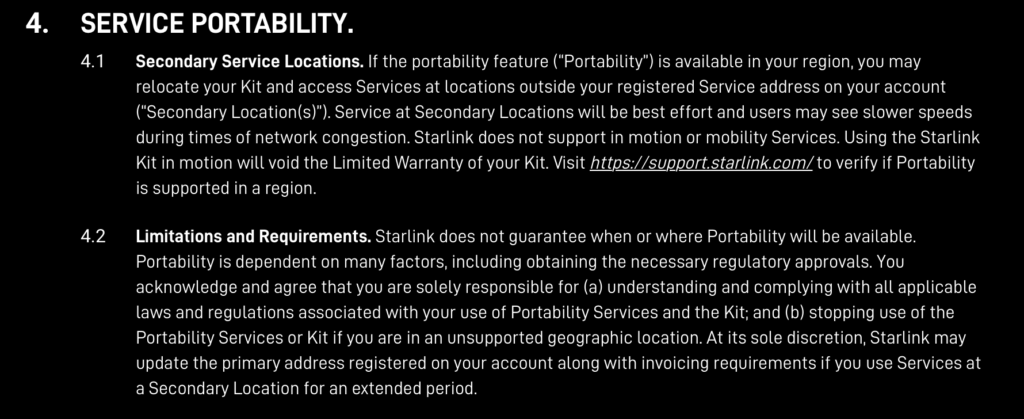 Based on the update to the Starlink terms of service, it seems that once portability is enabled - customers away from their primary service address will get "best effort" service and that they "may see slower speeds during times of network congestion."
In other words - Starlink customers visiting an area will have a lower priority on the network than customers who are at "home", and if the network is congested the roamers will be the first to experience the slowdowns.
It remains to be seen just how significant these slowdowns will be in practice - but we suspect that areas popular with RVers (like Quartzsite in winter) might end up with significant capacity constraints, at least until the next generation Starlink constellation comes online in the years ahead.
Starlink does point out that portability may not be supported everywhere:
"Starlink does not guarantee when or where Portability will be available. Portability is dependent on many factors, including obtaining the necessary regulatory approvals. You acknowledge and agree that you are solely responsible for (a) understanding and complying with all applicable laws and regulations associated with your use of Portability Services and the Kit; and (b) stopping use of the Portability Services or Kit if you are in an unsupported geographic location."
If you are away from home for too long, Starlink might automatically update your service address for you - likely to comply with local taxes and regulations:
"At its sole discretion, Starlink may update the primary address registered on your account along with invoicing requirements if you use Services at a Secondary Location for an extended period."
International Roaming & Portability
At the moment it still does not appear that SpaceX is ready to officially allow Starlink service to be portable between countries, but we have heard of at least one person who has had luck getting connected with a US registered Dishy in Mexico over the past few days.
But officially - Starlink still says that this is not supported, and that:
"To use Starlink in a different country, you must create an account in the desired country."
Once international roaming is officially enabled, Starlink will become an incredibly useful bit of gear for cruisers and RVers who travel into Canada, Mexico, or beyond.
Checking If You Have "Roaming" Enabled

There is no way to confirm whether or not your Starlink account has roaming enabled, other than to try connecting while away from home.
Starlink customer support can not check the status for you, and you can not ask support to have roaming enabled if it isn't already.
Getting Portability (aka Roaming) seems to be a matter of luck at the moment.
But in just the past few days, more and more people have tried connecting away from their registered service area and have discovered that it works!
How To Check For Roaming
If you want to know for certain that roaming is enabled on your account, you need to be at least a few miles away from your registered service address so that roaming will actually kick on. If you are OK with the risk of losing you current location registration, you can move your service address to someplace far away to test this.
Once your service address and physical address are far enough apart, you can check for roaming using the Starlink app.
Click on the "Support" button, scroll down to "Advanced", then click "Debug Data" and look for a field "Roaming = True" to see if your Dishy has gone into roaming mode.
Note: You will NOT see the roaming flag if you are at your designated service address, even if your account is enabled for roaming.
Starlink Mobile Roaming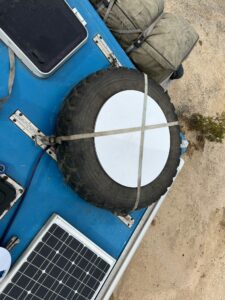 When Elon Musk tweeted last week that SpaceX had enabled Mobile Roaming to help fighters in Ukraine keep connected in moving vehicles, it was widely believed that this capability was only being enabled in the war zone.
But intrepid Starlink experimenter Marcus Tuck decided to see if perhaps mobile roaming might work in the USA now too.
To accomplish this - Marcus disabled the motors on his Dishy so that it would stop going into storage mode when it detected excessive movement, and he mounted it flat inside the spare tire on the roof of his RV.
He then did a drive test - and he had generally great connectivity in motion over a long trip of 101 miles, at speeds of up to 54 mph.
Marcus is an avionics engineer and knows how to safely modify hardware - we don't recommend people try to recreate his results yet.
But it is very encouraging to see how well Starlink is able to perform in a flat fixed orientation install with the aiming motors disabled.
With a view only straight up Starlink will be subject to more drop-outs than if it was aimed properly northward where it can see satellites lower down on the horizon, but as more and more satellites get deployed these dropouts should become less frequent and severe over time.
We are encouraged by Marcus's results, but we worry that true mobile roaming may actually have been enabled in the USA by mistake since Starlink has not (yet) been issued an FCC license to allow this sort of usage with the existing Dishy hardware.
We'll have to see if SapceX ends up disabling the motor-block hack that Marcus discovered, now that he has reported on it.
SpaceX has actually updated the Starlink terms now to warn:
"Starlink does not support in motion or mobility Services. Using the Starlink Kit in motion will void the Limited Warranty of your Kit."
The Starlink FAQ is clear too:
"In Motion Use - We do not support Starlink use in motion at this time and mobility use is currently prohibited until we have obtained all necessary approvals. While our teams are actively working to make it possible to use Starlink on moving vehicles (e.g. automobiles, RVs, boats) in the future, Starlink is not yet configured to be safely used in motion."
Officially supported in motion usage in the future might require different Starlink hardware, and perhaps a different data plan.
Portability is Still Not Officially Supported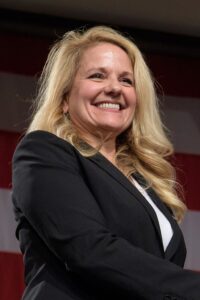 Though many Starlink customers have discovered that their account now supports roaming, it is still NOT yet enabled for everyone - and some people who have noticed roaming working one days have discovered that roaming support did not last into the next.
So clearly SpaceX is still experimenting - and Portability is NOT yet turned on very everyone, everywhere, all the time.
Reaching out to Starlink customer support to ask about Portability confirms this:
"Our team is actively working on rolling out some new features in the near future, including mobility, however at this time, we do not currently support this. At this time we do not have an ETA as to when this will be available however once it is officially rolled out, it will be included in our FAQ."
But it is clear that in just the past few days, the number of people who have had roaming enabled has increased a LOT.
We suspect this feature may be officially enabled for everyone any day now - perhaps without any fanfare or official launch at all.
The next Starlink launch is scheduled for Wednesday morning - we will be watching to see if SpaceX is at last ready to reveal some more official news on Portability then.
Further Reading
And here is all of our recent Starlink coverage: