Key Points:
Starlink Global Maritime and Global Roaming service are Starlink's first truly global internet service options.
Starlink Global Maritime is currently available and now provides service at sea in international waters and the territorial waters of some countries.
Starlink Global Roaming is a new global service for land-based users but is currently only available to a select number of invite-only participants.
Starlink's growing constellation of satellites is now robust enough to allow Starlink to begin offering global coverage plans.
While Starlink's constellation covers most parts of the earth, it wasn't until now that Starlink had enough of the newer satellites in orbit to feel confident they can officially offer global coverage around the earth including water and land, even in locations they don't currently have ground stations.
The newer version 1.5 Starlink satellites have the satellite-to-satellite laser data links that are essential to provide coverage in areas that lack ground stations, and are what really enable global coverage.
Starlink now offers two global-focused plans, Global Maritime Service for sea-based users and Global Roaming Service for land-based users.
Starlink Global Video Overview
Starlink Global Maritime Service
The first hint at global coverage came when SpaceX updated their Starlink Maritime website to reflect that they now have Global Maritime Coverage around the world, providing connectivity on the vast majority of the Earth's oceans and seas with Starlink Maritime Service. Starlink Maritime debuted in July 2022 but hasn't offered global coverage until now.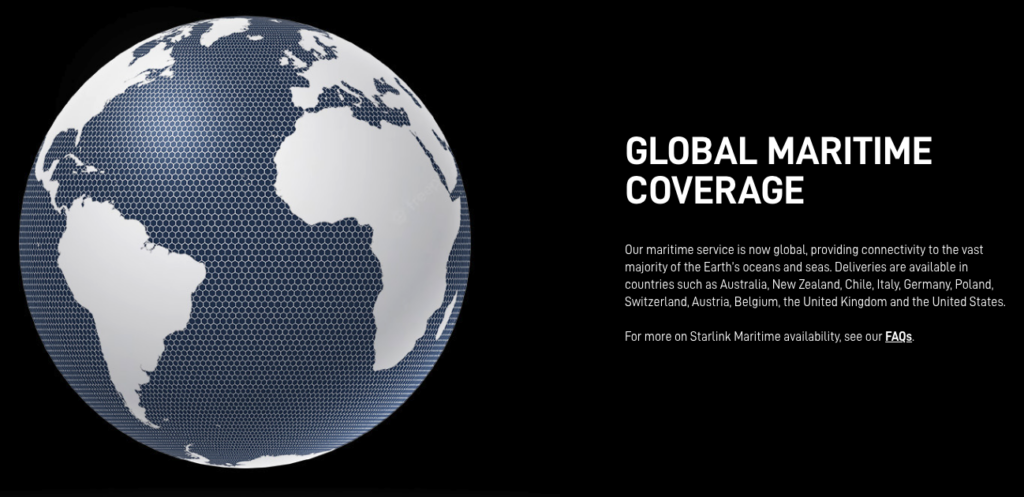 There is, however, still a legal and regulatory catch - global coverage applies to international waters - coverage in a country's territorial waters is contingent on government approval which isn't available for every country. The following countries are available to order Starlink Maritime Service:
United States
Australia
New Zealand
United Kingdom
Germany
Italy
Chile
Poland
Switzerland
Austria
Belgium
Another issue is that Starlink Maritime service remains extremely pricey for most individuals, even with equipment cost being cut in half to $5,000 for two HP Flat panel dishes since the standard service from Starlink is still $5,000/month, and includes 5TB of premium data.
That puts the service out of reach for most typical nomads and places the Maritime Service in the realm of mega yachts, cruise ships, and the commercial maritime market.
Several 3rd party vendors now offer maritime service with 1-3 dishes and different tiers of service than are available directly from Starlink - and some of these are lower cost, depending on the rates negotiated with Starlink. However keep in mind that most of these 3rd party services also require an additional mandatory monthly subscription fee for support even for months you have service paused, so it still ends up being quite expensive for most nomads.
Starlink Global Roaming Service
For land-based nomads, Starlink now offers a brand new addition to Starlink's lineup called Starlink Global Roaming Service, which promises to work anywhere in the world on land with no location or time restrictions. Currently, this appears to be a kind of beta test and is only available to a select private few invited by Starlink, though we fully expect it to become publicly available at some point in the future.
Interestingly, some users who are still on the waiting list for Starlink Residential received these invites to use the Global Roaming service now, but still maintain their place in line for Starlink Residential service.
The Global Roaming Service uses the same standard Starlink dish used for Starlink Residential or Starlink for RVs. The hardware costs $599, but the monthly cost for the global service is $200/month.
Since the Starlink RV service recently went up to $150/month as noted in our Big Starlink Changes story, this Global Roaming is only a $50 premium per month over the Starlink RV service, but without any of the travel restrictions and you can still pause your service.
The invitation letters users received offering the Global Roaming service say this service is currently only available in US Dollars and had the following warning for users outside the US.
If you are based outside of the US, you will also be responsible for acting as the Importer of Record for the Starlink Kit, which may include the payment of customs duties and import taxes, if required. Global Roaming services are contingent on regulatory approvals. Find a list of authorized territories on the Starlink map.
Current Starlink Plan Limitations
The currently-available Residential and RV plans come with terms of service that are limiting to some global travelers, and the new Global Roaming Service seems designed to fill that gap. The current standard Starlink offerings come with terms of service that limit use outside of a home country to a 2-month period and they must remain on their home continent or may have to purchase new hardware or transfer service.
While we have not seen these terms enforced as of yet, Starlink is likely to start enforcing those terms once the Global Roaming Service is generally available.
Global Roaming Service does not have the 2-month or continent restrictions and will therefore be a good option for users who might spend more than 2 months out of their home country, those who regularly travel to locations outside their home continent, or world travelers roaming around the world indefinitely.
Can Service Be Transferred?
Those who currently have Residential or RV service may want to switch to the Global Roaming service once it becomes available, but it is not yet clear if customers will be able to change to the Global Roaming service without having to purchase new equipment.
One hopeful sign is that Starlink did open up Self-Service Transfers, which makes transferring a dish a lot easier. Since part of the transfer process involves canceling the existing service first, this suggests customers might be able to select any available service that is compatible with their existing equipment. However, Starlink has released no details and we will likely have to wait for the new Global Roaming service to be generally available.
Concluding Thoughts
Starlink expanded a lot in 2022 and continues to set aggressive launch schedules for its satellite constellation, which enables better coverage, more capacity, and the opportunity for Starlink to offer a more diverse set of services. While Starlink has certainly had some growing pains and their customer service remains a point of contention, the launch of global service on land and sea is a major milestone.
Starlink warns there potentially could still be service interruptions in some areas due to lack of satellite coverage, but global customers should have service the majority of the time, and it will only continue to get better as more satellites are launched in 2023.
Related Content at the Mobile Internet Resource Center:
Related News Stories