Key Points:
Starlink Maritime has added a cheaper $1000/mo plan with a single HP flat terminal for $2500
This cheaper "Commercial Plan" is limited to 1TB of priority data and then is hard throttled at 1mbps up/down or additional priority data can be purchased at $2/GB
Starlink Maritime has global coverage around the world
Starlink Maritime officially released their first maritime plan in July 2022. It was awesome to finally have a Starlink plan available for open ocean use, but it was obvious they were starting off with their premium tier to see who they could attract at that time. To Starlink's defense, it was still cheaper and better service than just about any other competition at the time.
Starlink Maritime Re-Cap Video
Starlink Maritime History Of Pricing
The Starlink Maritime Service on its debut came out at an eye popping price of $10,000 for two High Performance User Terminals and $5,000/month for service.
This service was advertised with speeds up to 350 Mbps download while at sea and we covered the specifics in our story: Starlink For Boats! – SpaceX Announces Starlink Maritime
In January of 2023, Starlink cut the price of the Maritime equipment (two flat HP performance dishes) to $5,000 which put the price of the user terminals in line with other services, but the price still remained at $5k/mo for 5TB of service.
While this was a significant reduction in price for the equipment, the $5,000 month service still meant this was mostly only for the Mega Yachts, cruise ships, and the the commercial maritime market and well out of reach for most nomads.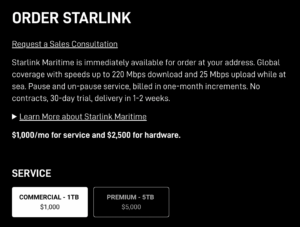 Starlink's Cheapest Maritime Plan
The latest update from Starlink is they are now offering a cheaper maritime plan called "commercial" coming in at only $1000/month and with a single user terminal at $2500 which is the same price for the flat HP dish on other plans.
This plan has 1TB of priority access meaning it has priority over residential users, but once you use up your 1TB, you are hard throttled to a painful 1:1 Mbps upload/download unless you purchase more data at $2/GB.
The mobility commercial plans specifications now list downloads speeds of 40-220 Mbps and upload speeds of 8-25 Mbps. These specifications are the same as what the business Starlink service is offered at for a fixed service location.
Starlink Maritime Service Can Be Paused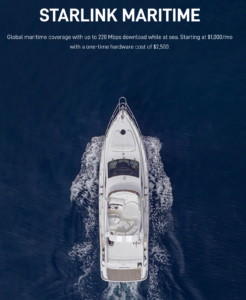 One helpful attribute of the Starlink Maritime plans is they can be paused and you are only charged for service in monthly increments. This means if you only need the plan during an ocean crossing, you can pay the higher cost during that crossing and then fall back to other plans while closer to land.
"Starlink Maritime offers the ability to pause and un-pause service at any time, and is billed in one month increments, allowing users to customize their service to their individual needs."
Is Starlink Maritime Finally Becoming "Affordable?"
This Starlink Commercial Maritime plan is certainly cheaper coming in at 1/5 the monthly cost of the $5000/mo Starlink Premium Maritime plan and only a single user terminal is half the cost of two, but is $1000/mo affordable to most nomads?
There are probably a small group of nomads that would now be okay at this price point, but it's still a relatively expensive plan for most smaller boaters that don't have that kind of budget compared to Starlink Roam that is only $150-$200/mo and currently used unofficially by many boaters and cruisers on the water.
Starlink Roam, recently renamed from Starlink for RVs, now comes in two service tiers (Regional & Global). Prior to the Roam service, many cruisers and boaters had become early adopters of the Starlink service and while not officially supported, found they worked really well on the water even on open ocean crossings.

The latest FAQ on Starlink Roam Service tiers now list these plans as land based use only and geo-fenced making them potentially unfavorable to many boaters that have already adopted them.
We have yet to see this geo-fencing enforced, and it's still uncertain how aggressive it could be when it finally is? Will any water at all be allowed or does Starlink have other plans for a recreational price maritime plan finally making it affordable to smaller boats and cruisers?
Starlink Can Be a Life Saver to Small Vessels
Starlink has already proven itself as a great safety net to have on board smaller vessels and boats out on the ocean. A recent story shared on social media shared a terrifying story about a boat hitting a whale in the mid Pacific and then sinking within 15 mins after that.
Thankfully all 4 people on board were safely rescued and the unofficial use of Starlink Roam service by many vessels on the open water is credited as having helped tremendously in the organization of the rescue.
The article claimed many of the boaters nearby were able to join in on the rescue by being able to connect to the WhatsApp chat over Starlink which facilitated communicating information more easily to many people at once across various locations, including family and friends and other rescuers who might have otherwise not been able to communicate so easily.
Will Starlink create an official recreational maritime service that is specifically aimed at a price point smaller cruisers and boaters will be able to afford to be able to stay connected while on the open ocean?
This scenario is just one example of how life changing Starlink can be for nomads on boats and if they are geo-fenced from using the cheaper Starlink Roam services on the water and priced out of the more pricey Maritime packages, what options do they have?
Starlink has been a game changer for great high speed coverage in the open ocean and most of the satellites are idle as they cross large portions of the ocean so we hope Starlink finds a way to keep water based nomads connected that makes sense for everyone.
Related Content at the Mobile Internet Resource Center:
Related News Stories