Key Points:
Starlink for RVs has been rebranded to Starlink Roam.
Starlink Roam is available with Regional (same continent) coverage for $150/mo, the price that Starlink for RVs was recently increased to.
Starlink Roam is now available with Global coverage for $200/mo.
The Starlink FAQ now explicitly defines Starlink Roam as being geo-fenced for use "on land", potentially indicating that SpaceX intends to cut off boaters who have been using these plans on the water.
The Starlink Flat HP system that supports in-motion usage is not eligible to be used with Global service, only Regional.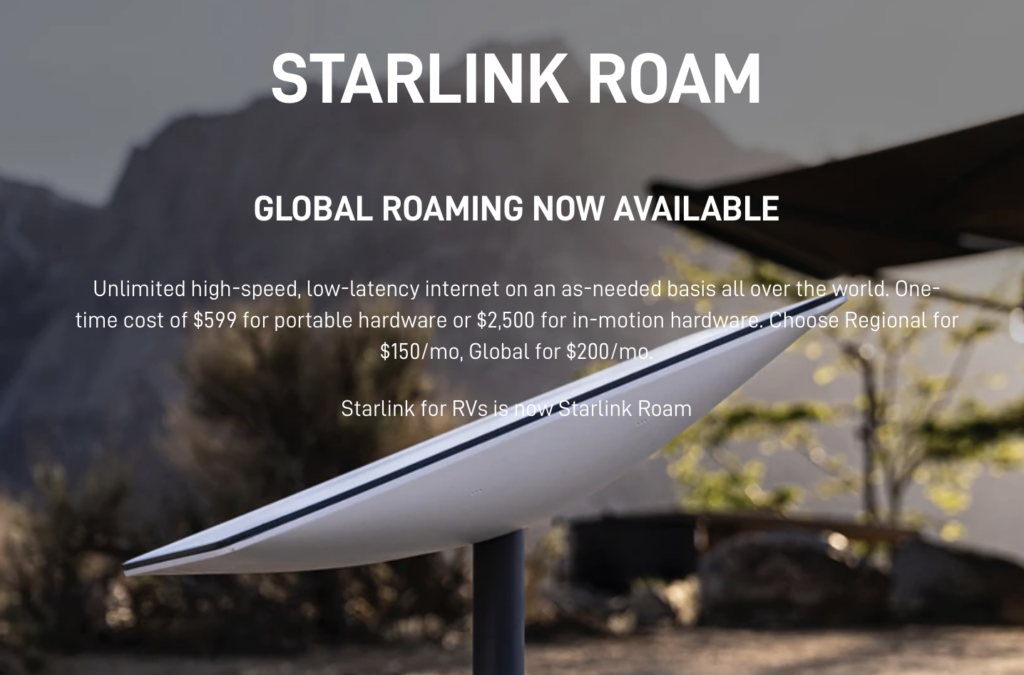 It has been less than a month since SpaceX increased the price of the Starlink for RVs service and eliminated the ability to make Residential plans portable (see our news story and analysis), and SpaceX is already shaking things up for mobile users yet again.
The latest - the Starlink for RVs plan has now been wiped entirely from SpaceX's website, replaced with a new Starlink Roam offering.
In most ways - Starlink Roam is just a rebranding of Starlink for RVs, a name change that makes sense since more than just RVers have been embracing taking Starlink on the go.
New with Starlink Roam is a Global tier of service - officially allowing Starlink Roam to be used around the world.
However, the new Roam plans come with a catch - the Starlink Roam FAQ is explicit that these plans are intended for use on land only, leaving many coastal and trans-oceanic cruisers worrying that they may be at risk of being cut off.
So just what is new, and what is staying the same?
Starlink Roam Re-Cap Video
The Starlink Roam Plan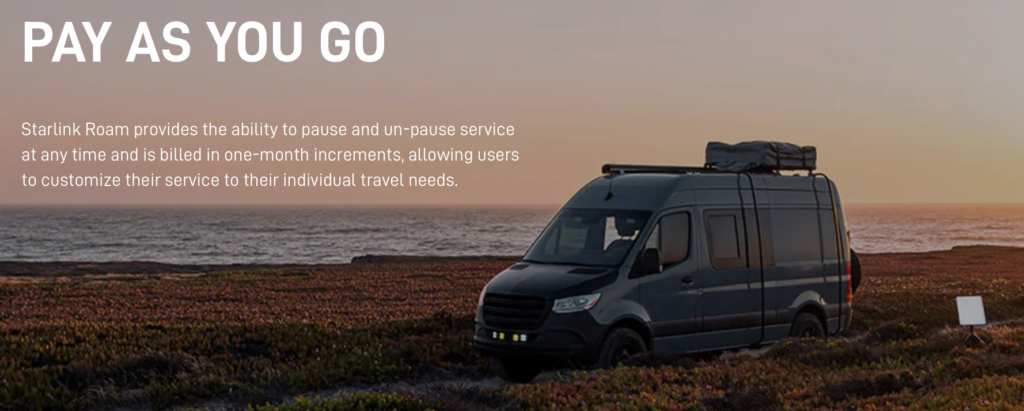 While the name of the Starlink for RVs service might have changed, Starlink Roam for Regional use will offer the same overall land-based service Starlink for RVs customers have enjoyed since that plan's introduction in May of 2022.
Like Starlink for RVs, Starlink Roam is still offered as a best-effort service and is always deprioritized behind other Starlink services.
Starlink Roam, with Regional coverage, is still $150/mo and is geo-fenced to work on land within the same continent as the customer's registered shipping address. Customers in the USA with the Regional plan can Roam across North America.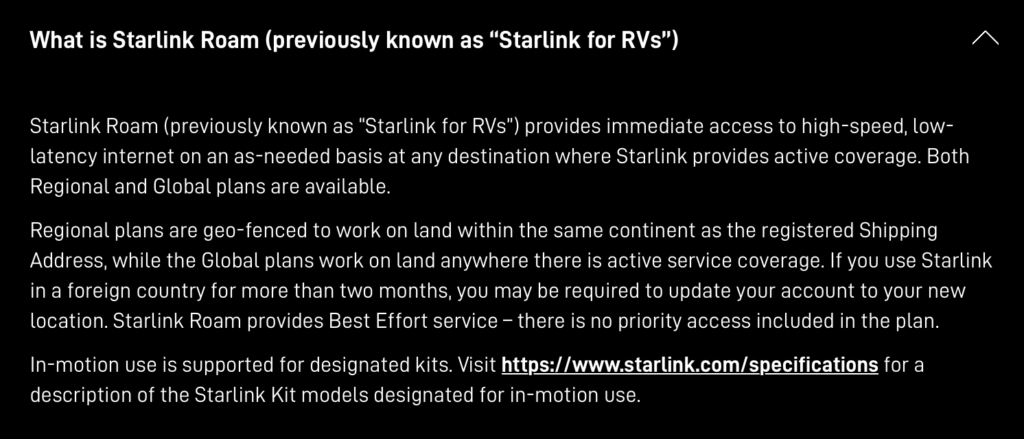 Starlink Roam Global
For those who travel further afield - SpaceX is now also offering Starlink Roam Global coverage for $200/mo, allowing Starlink Roam customers who select this service tier to travel anywhere (on land) that SpaceX currently offers Starlink service.
The Starlink Roam Global is for the traveling nomad that wants to use their Starlink outside their home continent as they travel around the world. This could be for a trip overseas for a few months, or for world travelers that are constantly on the move for months or years at a time.
We were first introduced to this new "Starlink Global Roaming" when we saw reports of select users being offered this new plan on an invite-only basis. We covered this in our "Starlink Officially Announces Global Coverage" story.
This new Global Roaming capability has now become official under the Starlink Roam Global coverage tier.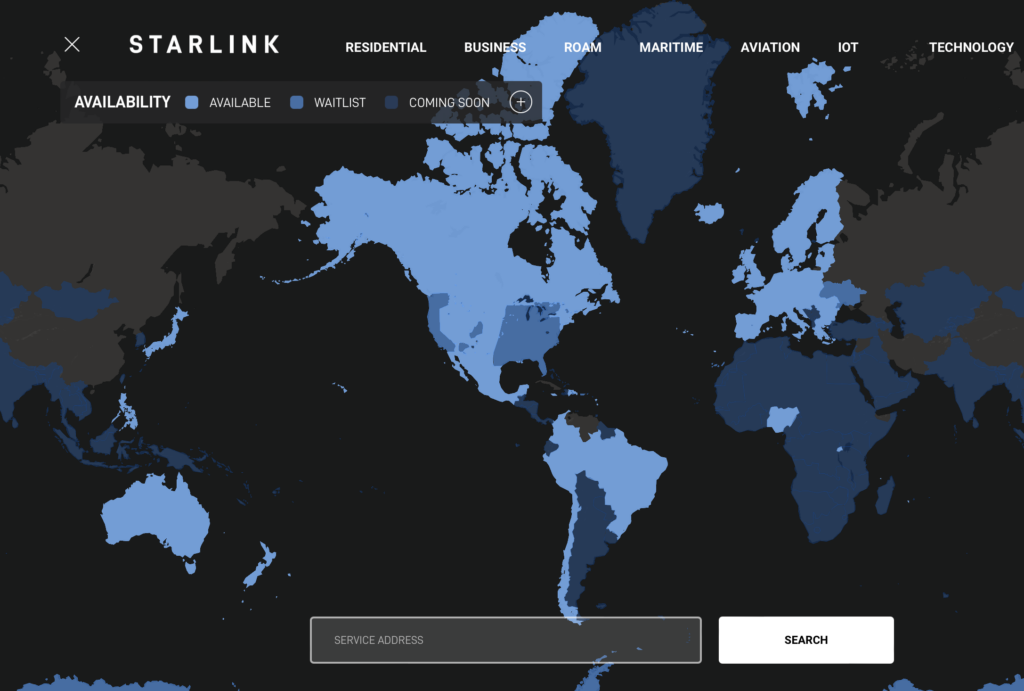 Starlink Introducing Geo-Fencing - Limiting Service To "On Land"
One big change we noticed with the Starlink Roam introduction is that the wording in the FAQ now describes Starlink Roam as a geo-fenced land-based service, implying that it will not work on the water.
"Regional plans are geo-fenced to work on land within the same continent as the registered Shipping Address, while the Global plans work on land anywhere there is active service coverage. If you use Starlink in a foreign country for more than two months, you may be required to update your account to your new location. Starlink Roam provides Best Effort service – there is no priority access included in the plan."
While the Starlink for RVs name implied it was for land-based use, the terms of service and Starlink FAQ didn't actually say it was restricted to land usage, and many boaters and cruisers discovered the Starlink for RVs plan worked in many locations on the water, including during ocean crossings.
Will We Soon See Geo-Fence Enforcement on Starlink Roam?
If it were not restricted to land, Starlink Roam for Global would be a dream for cruisers.
But if SpaceX begins to crack down on usage at sea, that dream could become a nightmare for those who have already come to depend on Starlink for RVs service on the water.
It's long been suspected that SpaceX would eventually crack down on the affordable Starlink for RVs service being used globally and on the water, especially since Starlink for RVs was undercutting SpaceX's official Starlink Maritime service.
The current Starlink Maritime plans are (at the moment) the only officially approve global maritime plans available for international water use, but they cost thousands per month with hard limits on data usage.
Perhaps this change in name to Starlink Roam and updated FAQ will now be followed with actual enforcement of the terms.

What we don't know is how tightly any geo-fencing might be enforced.
We hope that Starlink Roam allows inland and coastal water cruising - even if open water coverage ends up cut off.
If these new Starlink Roam plans do become strictly land-only plans with strict enforcement and geo-fencing to prevent use on the water, that is going to be a big hit to many in the cruising community who can not afford the mega-yacht budget necessary to embrace Starlink Maritime.
Perhaps we will see a new cheaper Maritime offering or "Ocean Data" add-on offered to target this market better, but even those could still be pretty pricey compared to the relatively cheap Starlink Roam plans on offer.
All we can do is wait to see what enforcement actions come down, and what plans SpaceX offers as an alternative.
Starlink Roam Plans Have Some Limitations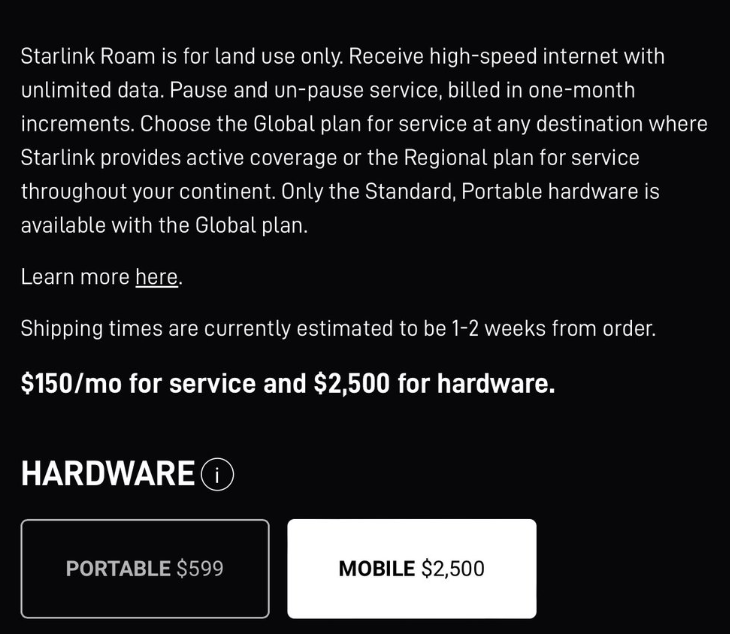 Starlink Roam does have some limitations, however.
First off - service on both tiers is "best effort" and will be deprioritized behind all other Starlink users, meaning that in congested areas, connectivity could prove to be frustratingly limited.
The FAQ also states that if you use your Starlink Roam (either plan) in a single foreign country for more than two continuous months, you may be required to update your account to move service to your new location.
This is most likely to meet regulatory and taxation requirements in various countries.
One other puzzling limitation - SpaceX says that only the Starlink Standard (the rectangular Dishy on a stick) is eligible for the Global plan.
The Starlink Flat HP (approved for in-motion use) is, for some reason, not eligible to be used on the Global tier.
This is potentially due to regulatory issues in various regions, but this could catch some people by surprise that were already using the Flat HP system with a Starlink for RVs plan outside their home continent, and now discover it's no longer eligible because of the hardware restriction.
There Are Still Some Glitches to Work Out
As of the publication date of this article, there are still some glitches for Starlink to work out with the rollout of Starlink Roam.
The FAQ & TOS Contradict Each Other
Because things have changed so quickly in recent weeks at Starlink, the Terms of Service contradicts the FAQ in many places about these new and former services. We suspect it might take a few weeks for any new official terms of service changes to be approved and updated by SpaceX lawyers.
At press time, the FAQ appears to have the most up-to-date information.
No Migration From Starlink Residential to Starlink Roam Regional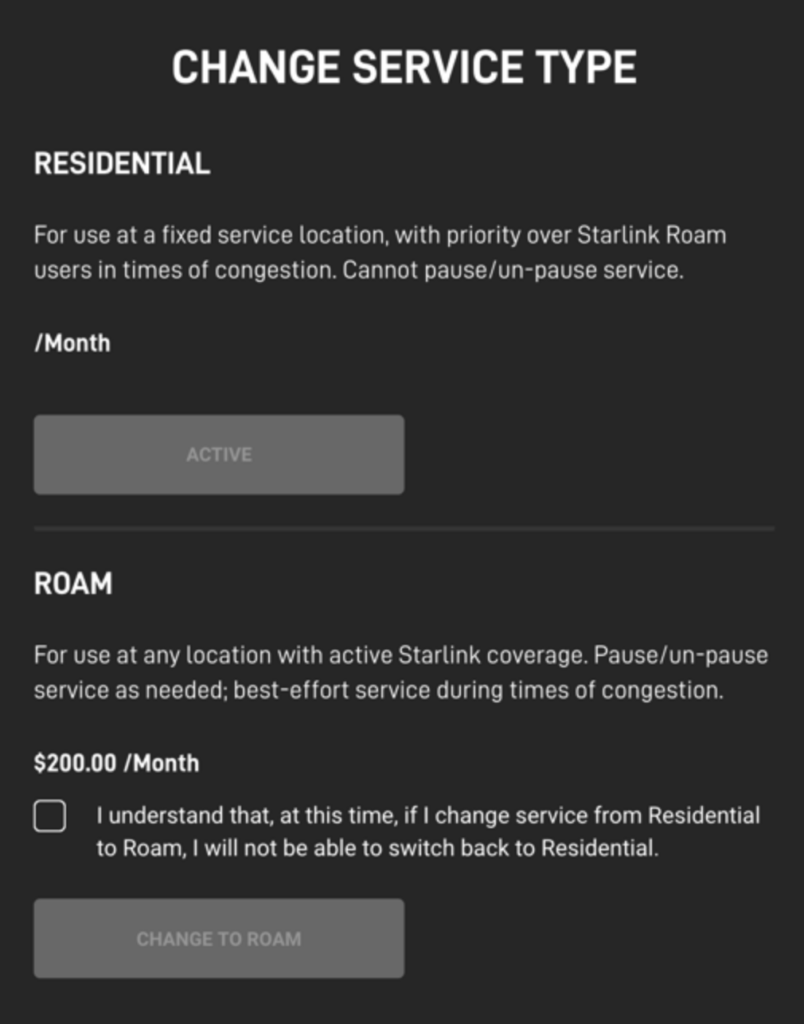 Another concerning issue many discovered is that existing Starlink Residential plans can not be upgraded to Starlink Roam Regional ($150/mo), only to Starlink Roam Global ($200/mo).
Right now - Starlink Residential customers who want to travel need to either pay $200/month or cancel service entirely and open up a new account to get the $150/mo regional plan.
We hope this is just a system error that Starlink will soon fix.
SpaceX also still warns that once a customer switches from Residential to Roam, they cannot switch back to a more affordable fixed-location Residential plan.
Users may have a path to switch back to Residential using the Self-Service Equipment Transfers, but it will involve canceling their current service and starting new service under a new account and email.
Changing Between Plans
One question that currently isn't answered in the FAQ is if a user can change between the two tiers of Starlink Roam service depending on their travel.
If a US-based Starlink Roam user with Regional coverage wanted to travel to Europe for a few months with their Starlink, could they change to the Global tier for their travels and then change back to the Regional tier once they are back in the US?
We hope to see accommodations for this, as some users may only be part-time global travelers.
Concluding Thoughts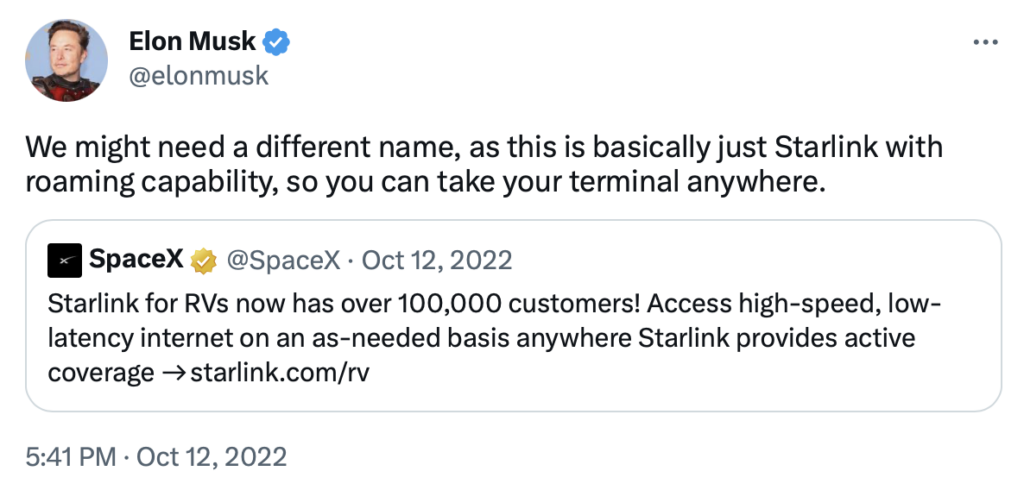 Dropping the Starlink for RVs service tier makes sense.
The Starlink Roam branding seems to describe better what the Starlink service can be used for, and while RV use is very popular in the US and other places - there are a lot of other ways to travel and still bring Starlink with you.
The name change will also help remove some of the confusion on which Starlink service customers need, especially with the removal of the Portability option on the Residential plan.
Now it's pretty straightforward that if you want to travel with your Starlink, you need Starlink Roam at either the Regional level or Global level - depending on your needs.
But SpaceX's rapid pace of changes has left many customers dizzy - and the price increases and removal of the Portability option for residential customers have frustrated many.
And now the threat of geo-fencing is going to leave a lot of boaters wondering just what the future might hold for them.
All we can do is wait and see what might come next.
Related Content at the Mobile Internet Resource Center:
Related News Stories