Key Points:
Having last week secured an FCC license to support mobile installations, SpaceX has now announced "Starlink Maritime" to officially enable Starlink service on ships and boats around the world.
This is decidedly NOT a cruiser-friendly offering - with an initial $10,000 hardware cost and $5,000/mo ongoing service.
Starlink Maritime can be ordered today, and ships within two weeks. Initial customers will be sent two Starlink Business terminals that can be upgraded in Q4 for a next generation design.
Limited trans-oceanic coverage is slated for Q4 2022, with full global coverage coming in Q1 2023.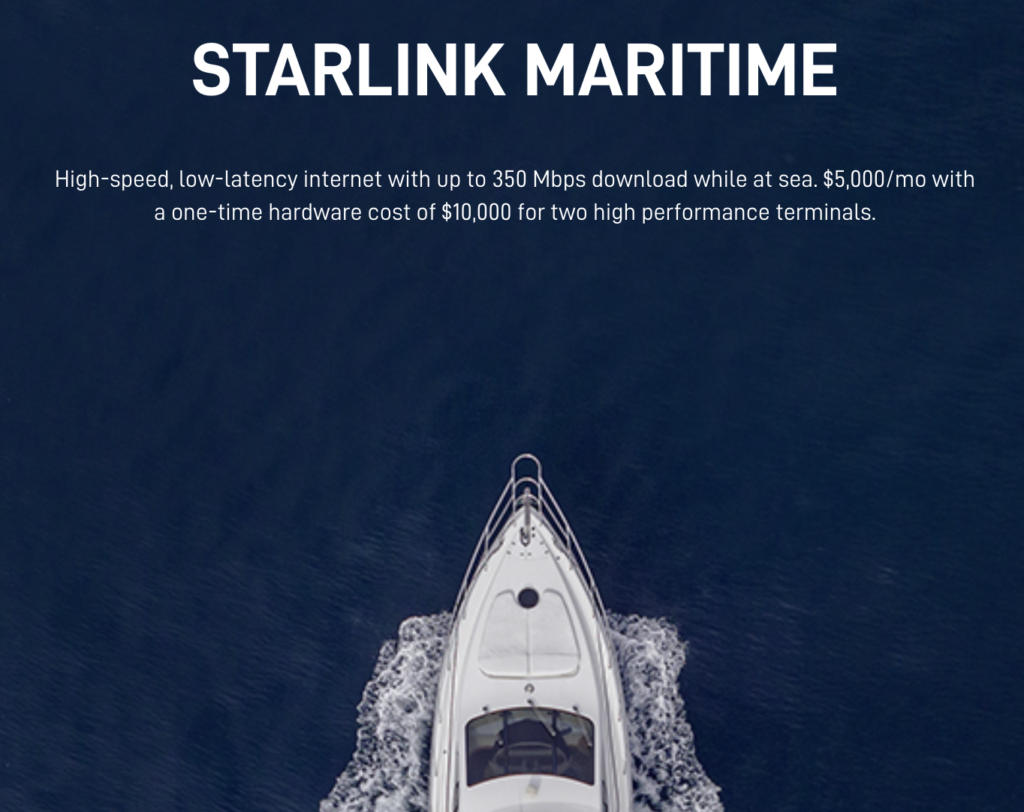 Having secured FCC approval last week to begin offering Starlink service that supports usage on vehicles in motion, SpaceX wasted no time in announcing its first entirely new class of mobile service today: Starlink Maritime.
The Starlink Maritime web page describes it this way:
"High-speed, low-latency internet with up to 350 Mbps download while at sea. $5,000/mo with a one-time hardware cost of $10,000 for two high performance terminals."
This may be jaw-dropping pricing for consumers hoping to take Starlink cruising - but it is a revolutionary offering compared to legacy maritime satellite plans.
But by starting in the stratosphere, does this indicate that SpaceX has no interest in pursuing more modest users?
Will SpaceX be reserving Starlink at sea for the commercial market and the mega-yacht crowd?
Is there a hope for a more cruiser-friendly alternative in the future?
Starlink Maritime Video Story
Starlink Maritime Hardware and Costs
It is commonly joked about in the boating world that to make a product "Marine Rated" you just add a zero to the price tag of the terrestrial equivalent.
The Starlink Maritime package SpaceX is selling consists of two High Performance Starlink Terminals, the same hardware that has just now begun shipping to customers who pre-ordered the $2,500 Starlink for Business offering (initially launched as Starlink Premium) - which has a $500/mo service plan.
So using this logic, the $5,000/mo service plan makes sense. And two Starlink Business terminals with this humorous "Marine" markup attached to them should then cost $50k - making the $10k cost for the hardware SpaceX is selling a veritable bargain.
Particularly when you look at the competition - the KVH V30 marine satellite system (our news story) costs $11,995, and this system is only capable of modest peak speeds of just 6 Mbps download, and 2 Mbps uploads.
The much larger and more expensive mega-yacht targeted KVH V11-HTS ($49,995 MSRP) can manage peak speeds of 20 Mbps down and 3 Mbps up, and the mid-size KVH V7-HTS ($29,995 MSRP) can do 10 Mbps down and 3 Mbps up.
The Starlink Maritime system can do 350 Mbps down and 40 Mbps up (at much lower latency too) - blowing those legacy systems out of the water at a much lower price.
We suspect that Starlink is bundling two Starlink systems together for the Starlink Maritime package to better deal with dropouts due to obstructions like a mast crossing in between the dish and the satellites passing overhead, though it is unclear whether Starlink will provide any router technology to actually bond the two Starlink connections together or whether that will be left to each customer to manage on their own.
Elon Musk tweeted, justifying the cost and the need for dual terminals:
"No, it's dual, high performance terminals, which are important for maintaining the connection in choppy seas & heavy storms. Still obv premium pricing, but way cheaper & faster than alternatives. ... Also, being ruggedized for relentless salt spray & extreme winds & storms in deep ocean is not easy."
It is also unclear whether SpaceX will require the two Starlink terminals to be used in tandem, or whether they could be deployed onto two boats - allowing two captains to split the costs.
The systems Starlink is initially selling for $10,000 seems to be identical hardware to what is being sold to Starlink Business customers, only at twice the costs.
But the Starlink Maritime order page does hint at next generation maritime hardware in the works, saying:
"Customers will have the option to upgrade to a flat panel Starlink and mounting hardware in Q4 2022."
We suspect this next-generation hardware will no longer need to tilt towards the poles to function, and will be mechanically even more robust.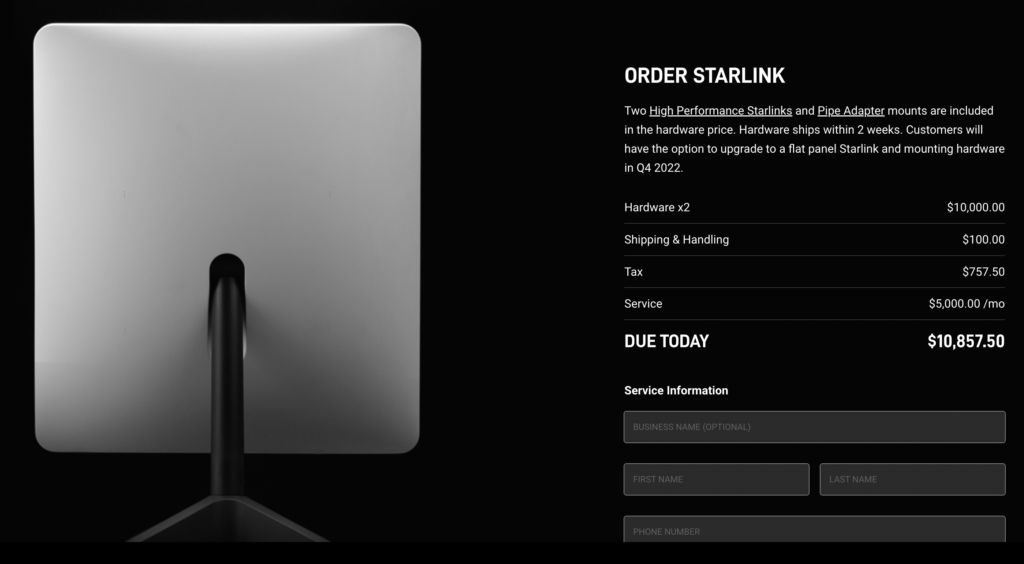 Starlink Maritime Service: Pay As You Go
Though Starlink Maritime service cost $5,000/month (for seemingly unlimited usage) - it does include one feature to keep your budget under control.
You only need to pay for service in the months that you use it.
SpaceX explains:
"Starlink Maritime offers the ability to pause and un-pause service at any time, and is billed in one month increments, allowing users to customize their service to their individual needs."
This is similar to how the Starlink RV service is offered, only priced 37x the $135/mo cost of the Starlink for RVs service.
Starlink Maritime Coverage
SpaceX has released a map showing where Starlink Maritime service is currently operational, and where it will be turned on in Q4 2022 and Q1 of 2023.
Initially - coverage is focused on coastal areas, the Gulf of Mexico, the Caribbean, and the Mediterranean.
Trans-oceanic coverage is dependent on SpaceX completing the deployment of its laser-equipped satellites that are able to relay connections through space without requiring every satellite to be within range of a ground station. This new map reveals that SpaceX is planning to have enough laser-equipped Starlink satellites in orbit to enable mid-latitude oceanic coverage by Q4 2022.
And truly global coverage in equatorial and polar areas is on track for service sometime in Q1 2023 - meaning that by next summer's cruising and RVing season, Starlink should at last have service in Alaska!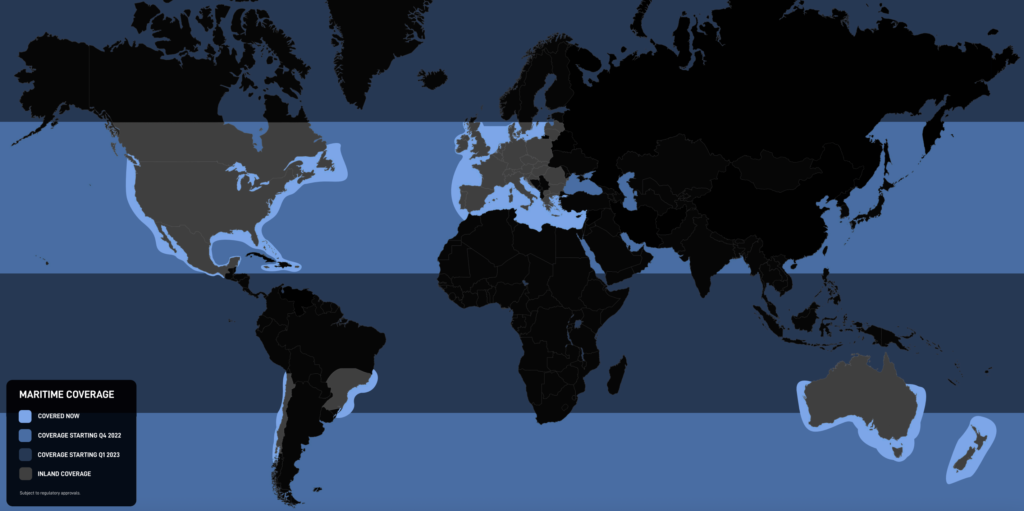 Is A Cruiser-Friendly Option In The Works?!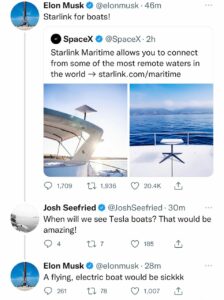 Even at $5,000/mo - Starlink Maritime can be considered revolutionary pricing for the mega-yacht and commercial marine industry. SpaceX has even put out a case study showing off how using Starlink Maritime cut its own costs for providing connectivity to the 10 ships in the SpaceX booster recovery fleet by 70%, while increasing data speeds by 5900% compared to the $165k/mo SpaceX had been paying for 25Mb/s conventional geostationary marine satellite service.
But for most mortals cruising on normal sized yachts, $5,000 a month is completely out of reach for satellite connectivity - no matter how fast it is.
We can only hope that SpaceX will eventually bring out hardware and a service plan within the reach of a normal cruiser's budget.
And even more importantly - we hope that SpaceX doesn't take any action to actively block cruisers from using the affordably priced Starlink residential or RV service on the water - at least in the coastal waters of their home continent.
Ultimately - SpaceX will have a lot of satellites basically sitting idle as they pass over the oceans, so once the premium tier of the market is taken care of it absolutely makes economic sense for SpaceX to put this excess capacity to use with a more affordably priced option.
How long it take to bring this to market is anyones guess - though we can hope that it might coincide with truly global coverage coming online sometime in early 2023.
Until then - unless you have a literal boatload of money you are itching to spend to keep connected, it probably makes sense to keep waiting for Starlink to bring out a more mainstream option.
Further Reading
And here is all of our recent Starlink coverage: