Key Points:
SpaceX is slated to begin enforcing a 10 MPH maximum speed limit for Starlink customers with the Mobile Regional and Mobile Global plans, beginning October 1st.
For customers wishing to remain connected at highway speed on these plans - $2/GB Mobile Priority Data can be purchased as needed.
Customers on the $250/mo Mobile Priority plan will now officially get unlimited usage at a lower priority while in motion (on land), even once their priority data has been used up. UPDATE: Winegard has let us know that this is now NOT going to be SpaceX's policy, and metered priority data WILL be required for usage at highway speeds.
Priority data will still be required for usage on areas mapped as "ocean" - there will be no unlimited streaming out at sea.
UPDATE (9/7/2023): Winegard has now let us know that Mobile Priority plans will NOT be getting unlimited in motion usage on land. Metered priority data WILL always be required for usage at speeds over 10 MPH - making the $250/mo "Mobile Priority" plan even less appealing.
We will soon be publishing a follow on story with more details.
The original story continues below.
---
Last month we reported that SpaceX had updated its terms of service to indicate that Starlink plans were only supported in motion at slow speeds, unless expensive and metered "Priority Data" was purchased:
"In-motion use of Mobile Data is limited to less than 10 MPH."
But it was unclear when (or if) this speed limit would actually be enforced.
This was an especially frustrating unknown for customers who had purchased expensive in-motion optimized Starlink Flat High Performance hardware from RV-focused resellers like Winegard and MobileMustHave, with the hope of keeping passengers entertained while cruising down the highway while streaming with the $150/mo Starlink Mobile Regional plan.
We have now been informed by Winegard that they have at last gotten further clarification from SpaceX on the terms of service update - and Winegard will begin notifying customers in September via email letting them know that the 10 MPH speed limit will be going into effect on October 1st for all customers.
Existing customers will NOT be grandfathered in with highway speed in motion support.
Winegard will be letting customers know:
"Mobile users with high bandwidth, in-motion or ocean needs should consider upgrading to a Mobile Priority Service Plan or opting into paying for Mobile Priority data per GB under their Mobile Service Plan."
In other words - customers who want to continue to connect while underway at highway speed will now need the $250/mo Mobile Priority plan - which will now officially get unlimited lower priority data while in motion at highway speeds, even after the plan's initial allotment of 50GB priority data is used up.
Customers on the $150/mo Mobile Regional and $200/mo Mobile Global plans can still get connected in motion below 10 MPH, or by opting in to pay $2/GB for priority data as needed.
These changes and clarifications will be understandably frustrating to some, but at least now there is an officially supported option for unlimited usage in motion on land - for those who can afford it.
Starlink In Motion Enforcement Video
Starlink's Mobile Plan Options - Updated
In May Starlink simplified and relaunched its service plans, breaking them into four primary offerings:
Starlink Revamps Its Plans & Service Priority Levels – Big Impacts For Mobile Users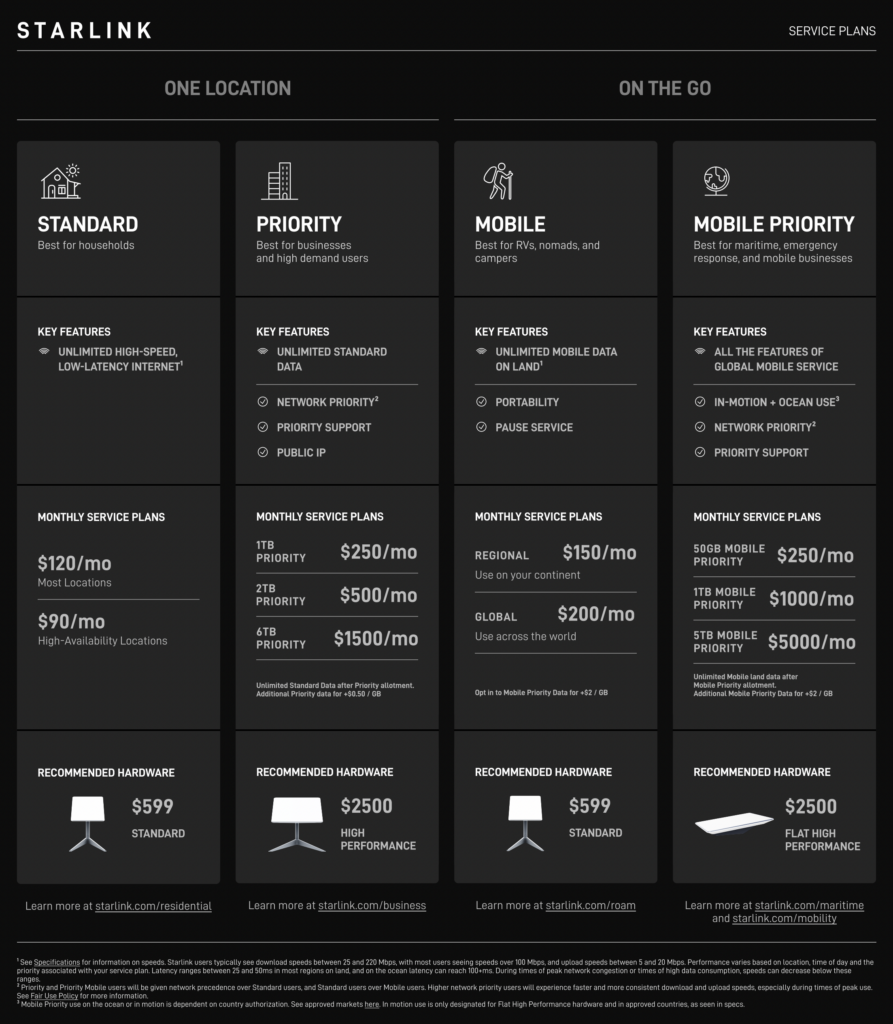 For customers who want to travel with Starlink, there are now several options to consider - depending on your needs
Here is our updated summary of the options:
Starlink Standard - Works only while stationary at your registered service address. You can manually change your address as needed - but only if there is capacity available at your new service location. A great option for infrequent travelers. $90-120/mo.
Mobile Regional - Works at up to 10 MPH, anywhere on your home continent, but only in areas mapped as "land". Unlimited 'best effort' usage. $150/mo.
Mobile Global - Works at up to 10 MPH worldwide - but only in areas mapped as "land". Unlimited 'best effort' usage. $200/mo.
Mobile Priority - Works in motion at any (reasonable) vehicle speed worldwide, including areas marked as ocean. Data is higher priority on the Starlink network, and metered. 50GB of Mobile Priority data is available for $250/mo, and there are higher plan offerings up to 5TB. After the priority data is used up, the plan reverts to unlimited 'best effort' land service, but only at speeds less than 10 MPH. Additional priority data can be purchased as needed, and this is required to remain connected while traveling at highway speed or in areas mapped by Starlink as "ocean".
The Mobile Regional and Mobile Global plans allow you to opt-in to Mobile Priority access as needed, flipping a switch to start paying $2.00/GB to enable higher priority access, higher speed in motion support, and access to areas mapped as "Ocean" on the Starlink coverage map - typically only needed when traveling far from land.
If you disable Mobile Priority, data is not metered and is back to being unlimited in land areas - but travel speeds will be limited to 10 MPH.
For most coastal cruisers and RVers - the manual control of the Mobile Regional or Mobile Global plans will prove to be more affordable and flexible than the $250/mo Mobile Priority plan.
But for those with passengers addicted to streaming while underway - the $250/mo Mobile Priority plan may be the way to go.
Concluding Thoughts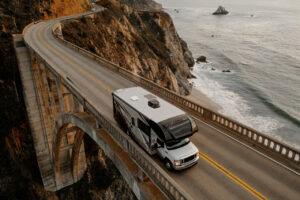 Starlink keeps changing (and clarifying) the rules of its plans - and this latest update is not a surprise.
For many boaters, the 10 MPH speed limit is not a concern - and it is great to know that SpaceX officially supports Starlink usage while swinging at anchor or moving at typical cruising speeds.
RVers and other land based nomadic users on the other hand will now be subject to substantially increased costs to continue to keep connected while underway.
This change in terms around in motion usage makes the $2,500 Starlink Flat HP significantly less appealing - except for those who really need the convenience of being always connected.
For many other RVers - the portable $599 Starlink Standard with the $150/mo Mobile Regional plan will remain the better choice.
This setup might not work in motion - but it can be easily set up (away from trees!) when needed, and stored when not.
And though it is not officially supported for even slow-speed in-motion usage - we suspect that SpaceX will continue to allow the Starlink Standard receiver to function at up to 10 MPH while in motion - perfect for many boaters.
Since most RVers and cruisers will be combing Starlink with cellular, or at the very least using cellular as a fallback - the lack of highway speed in motion support may not be much of a loss. The cellular connection can be the primary way online in most areas while underway.
Starlink remains a great component of many mobile connectivity setups - but it is best when used in combination with other solutions.
This latest change makes this more true than ever.
Related Content at the Mobile Internet Resource Center:
Related News Stories