Key Points:
SpaceX has massively changed up Starlink plans and terms of service, yet again!
Starlink now has four primary plans - two for fixed locations, and two which support mobility. Only the most expensive (and usage limited!) plan supports in-motion and oceanic usage.
Starlink now has three network priority levels - and has redefined how the plan's network access gets prioritized based on various data limits, and the user's location.
Users can move between plans and purchase extra higher priority data as needed, with some important restrictions.
Starlink has substantially updated its Terms of Service & Fair Use Policy to reflect all these new changes.
SpaceX made some significant changes to its Starlink plans yesterday - simplifying what had been an increasingly complex range of plan offerings down to four primary plans featuring three network priority levels.
But the newly defined plans come with new terms and restrictions - and particularly for those who use Starlink in motion or on the water, these new plans come with new limits and the potential for substantially increased costs.
So just what is new, what has been renamed, and what has stayed the same?
And how can nomadic users best take advantage of these new plan options - particularly considering the new capabilities that allow Starlink customers to change plans and purchase additional priority data as needed?
There's a lot to unpack here - so let's dive in.
Starlink Plan Change Video Overview
Starlink's New Plans
Starlink now offers four plans - two for fixed location installations, and two supporting "on the go" usage.
The plans are named:
Standard - Replacing Starlink Residential.
Priority - Replacing Starlink Business.
Mobile - Replacing Starlink Roam, which recently replaced Starlink RV. Supports "Portability" but not full time in-motion usage.
Mobile Priority - Replacing in-motion usage of Starlink Roam, and replacing Starlink Maritime.
The fixed location plans are billed monthly - while the mobile plans can pause billing (but only in full month increments) when they are not needed.
Behind the scenes, SpaceX now has three tiers of Starlink network priority that these plans map to - and which predict Starlink's expected performance, particularly during peak hours and in areas where the Starlink network is congested:
Best Effort / Mobile - Unlimited data. Always at a lower priority than other plans. 5-50 Mbps Download, 2-10 Mbps Upload.
Standard - Unlimited data. 25-100 Mbps Download, 5-10 Mbps Upload.
Priority / Mobile Priority - Priority usage capped based on your particular service plan, though additional priority data can be purchased. 40-220 Mbps Download, 8-25 Mbps Upload.
SpaceX also continues to offer three Starlink receiver options:
Standard - $599, stalk mounted. Not (officially) useable in motion.
High Performance - $2,500, stalk mounted. Not (officially) useable in motion.
Flat High Performance - $2,500, flat mounted. Officially useable in motion.
Here is the guide SpaceX published comparing the plans: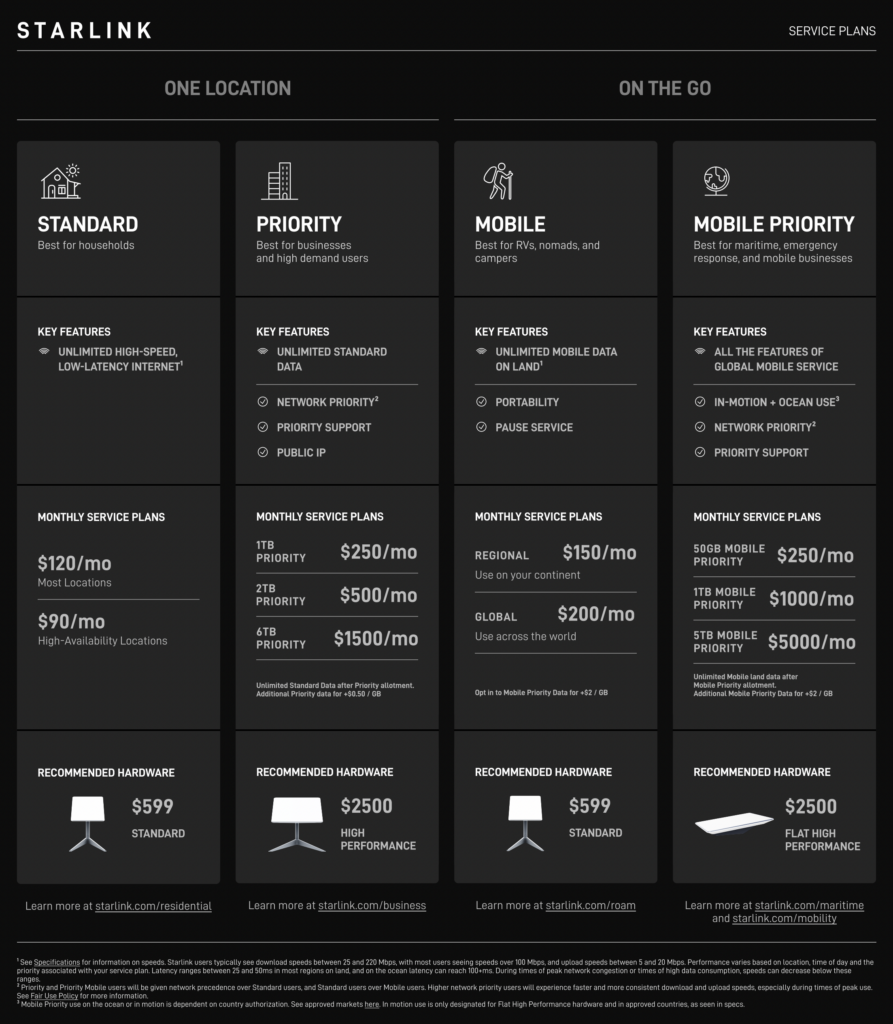 As you can see - the details get a little complicated.
So lets dive in even deeper.
Starlink Standard Plan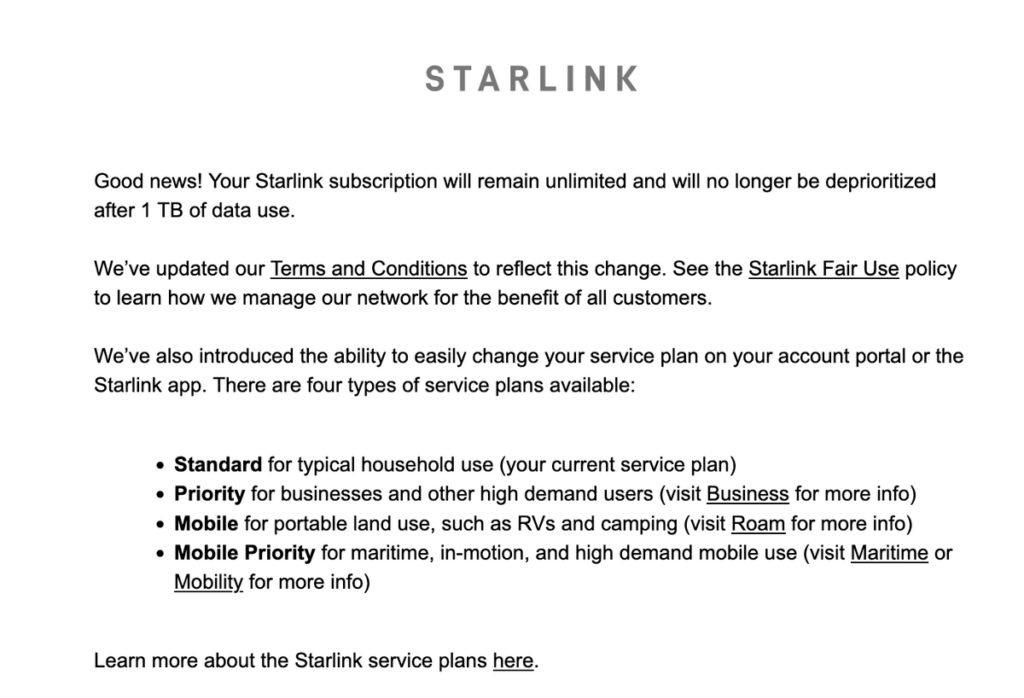 Starlink's former residential plan is mostly staying the same as before.
This is Starlink's most affordable plan, and is intended for fixed location usage.
The big catch with this plan is that it only allows you to connect from your registered service address, and we have seen evidence of SpaceX beginning to detect and warn about moves of as little as 1/2 a mile.
You can however manually change your address as needed as you travel - but you can only change your address to an area where Starlink has available capacity.
It's always worth a quick check to see if you can manually move your service address because even waitlisted areas on the Starlink map can still have capacity for existing users to move their service address there.
And if you change your address away from your "home" location - there is no guarantee that you will be able to change your address back in the future. So you could be stuck with best effort service when you return.
The advantage of Starlink Standard is that you get generally higher network priority - particularly compared to Mobile users.
For most customers Starlink Standard remains priced at $120/mo, except in areas where Starlink has excess capacity where the price is automatically dropped to $90/mo.
There is one nice change in the new Starlink terms of service - these plans now are back to allowing unlimited usage, and they are no longer subject to deprioritization after a 1 TB data limit has been crossed - a policy that SpaceX had announced but never began to enforce.
But the terms of service do note that heavy users that consistently exceed what is allocated to a typical user may see service degradation in order to mitigate interruptions for other users. It remains to be seen where this threshold actually is.
Starlink Priority Plan

Formerly know as Starlink Business, Starlink Priority is also a fixed location plan designed for more demanding users.
The Starlink Priority plan offers a fixed amount of "priority data" based on the plan tier that is chosen.
1Tb - $250/mo
2TB - $500/mo
6TB - $1500/mo
$0.50/GB - extra priority data
SpaceX promises faster and more consistent download and upload speeds while using priority data - especially when compared to Mobile and Standard users.
Once that priority data is exhausted, the plan reverts to unlimited usage at Standard priority for the remainder of the month.
This is actually a major improvement over how the Starlink Business plan used to work. In the past when Business customers exceeded their paid data cap, they would be hard throttled to a nearly unusable 1 Mbps speed until the next monthly reset.
Starlink Priority customers can also now opt-in to purchase additional priority data automatically as needed for $0.50/GB - a relatively reasonable cost for demanding users who lack more affordable cellular alternatives.
Starlink Mobile Plan

The Starlink Mobile plan was formerly the Starlink Roam plan (Regional & Global), and prior to that this was the Starlink for RVs plan.
This plan is undergoing some significant changes.
As always - this plan runs at the lowest priority level on Starlink's network, and in areas where the network is congested it can at peak times offer a slow and extremely frustrating experience.
This Mobile plan is still available in two options.
Regional - $150/mo for unlimited land-based use on your home continent.
Global - $200/mo for unlimited land-based use anywhere around the world that SpaceX is authorized to offer service.
New however is that Starlink Mobile customers can now opt-in to purchase à la carte Mobile Priority data, choosing to pay $2/GB for Priority data that can be used anywhere Starlink has service - even in the middle of the ocean or while in motion (on approved equipment).
Customers can turn on Mobile Priority when they need to rise above network congestion, or if they are far enough from land to trigger needing oceanic coverage.
They may now also need to pay extra for this Priority Data to enable Starlink usage while in motion.
One of the biggest surprise changes to the Starlink terms is that the Mobile plan no longer promises unlimited in-motion use when traveling on land.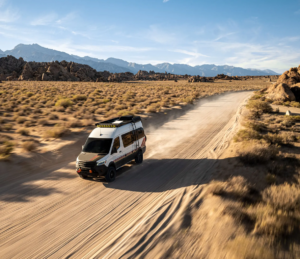 Previously - SpaceX officially supported unlimited in-motion usage for all Roam customers with the Flat High Performance receiver, but now in motion usage seems to require more expensive data as well as more expensive hardware.
Streaming Netflix to keep passengers entertained while cruising across remote West Texas may no longer be nearly as affordable as it once was, assuming Starlink starts to enforce this changed policy.
While paying more money for a service that was previously included is sure to make some people grumble, SpaceX has enabled the ability for a mobile user to turn the Mobile Priority Data option on/off as needed during the month.
This should allow a user to control how much Mobile Priority data they rack up in given month on top of their $150 monthly service fee, and usage will be tracked separately in the usage report screen under the Starlink account settings.
Starlink Mobile Priority Plan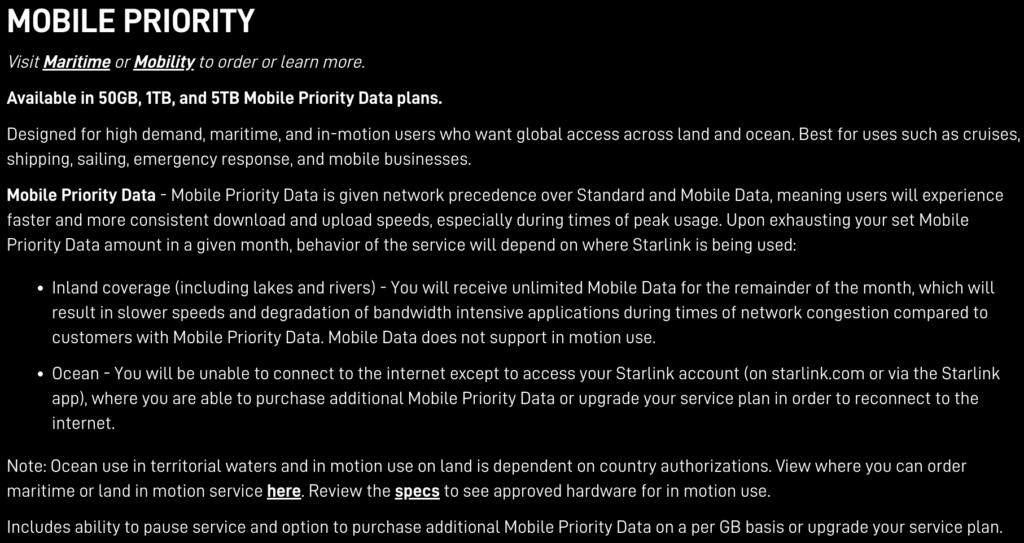 The Starlink Mobile Priority Plan was formerly the Maritime plan - and this plan combines the location flexibility of the Mobile plan with the higher priority network access of the Priority plan.
This plan also can be used around the world - including in motion and at sea.
The Starlink Mobile Priority plan offers a fixed amount of "priority data" based on the plan tier that is chosen.
50GB - $250/mo
1TB - $1,000/mo
5TB - $5,000/mo
$2.00/GB - Opt-in extra Mobile Priority data.
Mobile Priority plan users who exhaust their priority data on land (including on lakes and rivers) and choose not to opt-in to purchase more priority data will revert to low-priority "unlimited mobile data" for the remainder of their billing cycle.
Users who exhaust their priority data on the Ocean will be unable to connect at all for the remainder of the month, other than to go to Starlink.com to change to a higher tier plan or to opt-in to more priority data at $2/GB.
Starlink Defines 'Land' and 'Ocean' Video Overview
Ocean vs Land Use
One of the more frequent questions that has come up since this new change is what does Starlink consider ocean use vs land use to determine what service plan you need?
How far from shore can you use your Starlink Mobile plan before needing to opt in or upgrade to the Starlink Mobile Priority plan?
This had not officially been defined up until now, but thankfully the FAQ has finally been updated to give a clear understanding of how Starlink will determine ocean data vs land data.
It all comes down to looking at the Starlink.com/map and seeing if your location of desired use falls under a black hexagon area (ocean data) or one of the shades of blue hexagon areas (land data).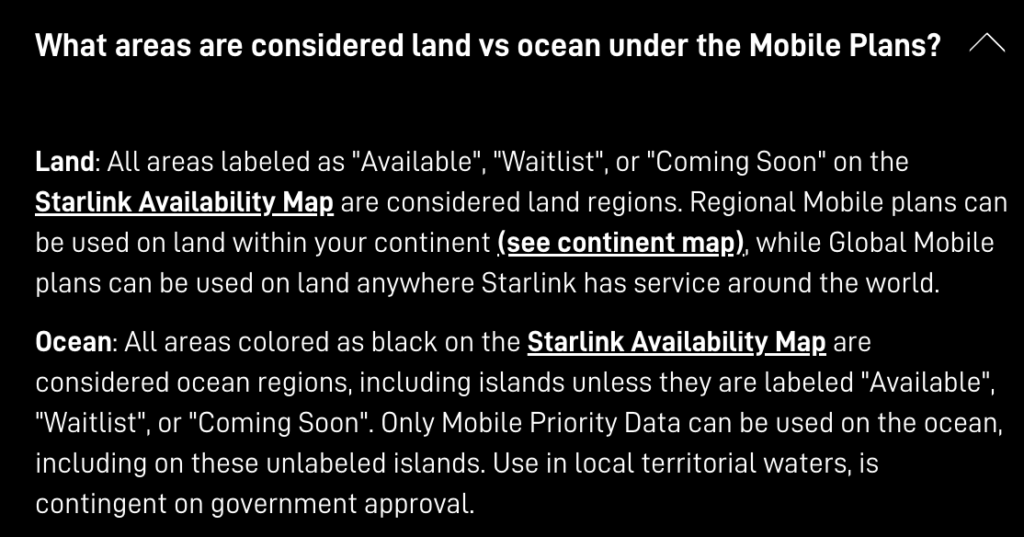 Since the hexagon shape has 6 sides that do not form a straight boundary and the overlapping part of land vs water under a single hexagon differs depending on the location, there isn't a set distance from land that you can use Starlink with a lower tier plan. It all just depends if your geographical location falls inside a blue or black hexagon on the map.
FAQ Question Was Revised
We did originally see a slightly different version of this information pop up and then quickly pulled down again.
The revised version makes two important distinctions. They added that islands are generally considered ocean data unless they have a blue background area. This means most larger islands should be considered land data, but many of the smaller ones will be ocean data. Overall it comes down to the map though, so make sure to check.
Another change is originally inland waterways were seen as being all ocean data, but that terminology has since been removed and looking at the map it's easy to find inland waterways that are all blue and thus would be considered land use.
You can also find other inland waterways that have a combination of blue and black backgrounds indicating it's a combination of land and water based serviced areas depending on your location.
Blue backed areas you would still have service with a mobile plan while the black backed areas inside that same waterway are considered ocean data and would require the higher mobile priority plan.
Overall it's good to finally have this defined and this should help boaters and cruisers decide which plan is best for them or when they actually need to upgrade to mobile priority data when they'll be outside what is considered a land use service data.
Other Starlink Plans
There are also two other types of Starlink service that are not available to everyone.
Starlink Best Effort
The Starlink Best Effort plan still exists for people who pre-order Starlink Standard in a waitlisted area - and who then receive an email inviting them to get access early. This skips the wait, but customers on the Best Effort plan are granted the lowest tier of network access, the same as Starlink Mobile users.
The Starlink Best Effort plan is priced the same $120/mo as Starlink Standard, but unlike Starlink Standard it does come with the ability to pause service to let customers who find "best effort" not reliable enough to continue to hold their place in line for Starlink Standard.
There were no changes to this plan.
Starlink Residential + Portability
The Starlink Residential + Portability is a formerly available grandfathered plan that allows Starlink Residential / Standard customers to keep priority access at their home address, but to still take their Starlink on the road and get Mobile priority when away from home.
Portability was a $25/mo feature on top of the Standard plan, so $90/mo or $120/mo + $25/mo.
SpaceX has notified customers with this plan that they can keep it, but if they change to one of the other current plans they can never change back.
If a user no longer wishes to remain on this plan, they can change to another current plan and give up their Residential + Portability plan. Users even have the option to change directly to the standard plan effectively giving up their portability.
Changing Starlink Service Plans
With all these new plan changes, Starlink also introduced the ability for users to switch plans as needed from within the Starlink app or online dashboard.
Users can now easily change between Starlink Standard, Priority, Mobile, & Mobile Priority as their needs change.
Per the Starlink FAQ, the timing of moving plans depends on which direction in price you are going.
Change to higher cost plan: The change will be effective immediately. You will be charged a pro-rated cost dependent on the plan monthly cost difference and time remaining on your current billing cycle.
Change to a lower cost plan: Your current service plan will remain the same, and your new service plan will take effect at the start of your next billing cycle. You will be charged the new monthly service cost at the start of your next billing cycle.
Change to a same cost plan: The change will be effective immediately. As there is no cost difference, the change will be at no cost to you.
Making The Plan Work For You
With the ability to change plans and opt-in to mobile priority, this means users can fine tune their Starlink plans as needed to really get the best use out of it.
Here are just a few examples how this might work for a user.
As a home owner, you may choose to go camping a couple times a year and change your Starlink Standard to Starlink Mobile so you have connectivity in your favorite campgrounds as you travel. You can change back to Starlink Standard (but only if local capacity is available) when you return back home.
As full-time RVer, you may spend your winters in a fixed location and choose to change to Starlink Standard (if capacity is available) during the winter months for a lower monthly bill and higher priority of service, and then change to Starlink Mobile during the summer as you travel.
If you have Starlink Mobile and find yourself in a congested area and have important meetings or work, you can temporarily opt-in to Mobile Priority to get onto the highest network tier and pay per GB used.
As a boat owner with the flat HP dish, you may choose to be on Starlink Mobile while in port next to land and then upgrade to Starlink Mobile Priority for an open water crossing. Alternatively you could also opt-in to Mobile Priority for the open water crossing and opt-out when you are in port.
The increased flexibility is nice indeed - but it does leave it up to the Starlink user to make sure that they are picking the plans that best fit their needs.
Conclusion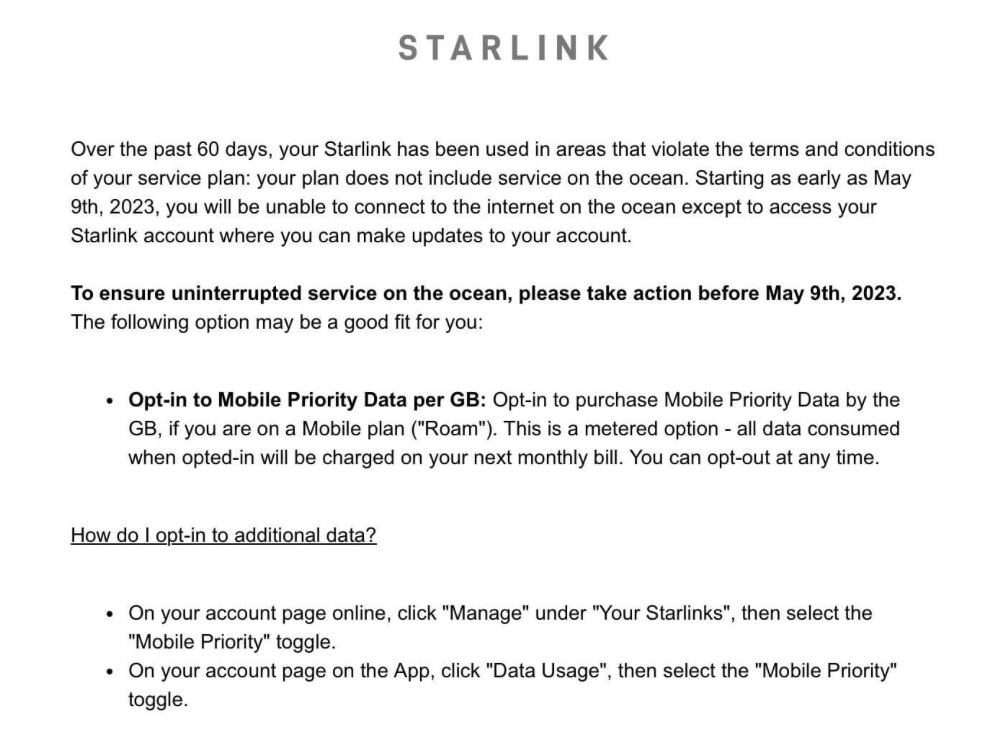 Starlink has made a couple small changes in the past month followed by several larger changes over the past week, but it appears they now have the new plans, TOS, and Fair Use Policy are all updated with new information that have removed a lot of ambiguity that previously existed.
The new plans clearly spell out what their intended use cases are, for what specific users, and what restrictions exist on each plan.
For our nomadic audience, the two largest changes and upsets will be the extra cost for in-motion use that had previously been included with Starlink Mobile.
The other big change will be the boaters and cruisers that were enjoying the cheap ride on the former Starlink Roam (Starlink for RVs) plan and will now being required to use the Mobile Priority plan while in open water.
Most users in the boating community knew it was just a matter of time before Starlink began to enforced their TOS for the open water use, and it's no surprise it's finally here.
We have already seen members receiving emails alerting them they had previously used their Starlink against the TOS and to expect the new changes to be enforced as early as May 9th, 2023. It remains to be seen if Starlink enforces the requirement that in motion or ocean usage will be restricted to only the Flat High Performance dish - so far, customers in open waters with the Standard dish have just been told they need to purchase Mobile Priority data.
We also suspect that Starlink will go back to blocking in-motion usage on Standard Starlink dishes, and only plans with Mobile Priority data will get to enjoy in-motion use. We can only hope that Starlink still allows slow moving boats (particularly those swinging at anchor) to be connected without needing in-motion capabilities or a high performance dish.
As we have always said, whatever plan and equipment exists today for Starlink may not exist tomorrow, so always keep your options open and have backup plans ready to go in case you are negatively affected by future changes that are sure to come with little to no warning. The only promise with Starlink seems to be they will change things.
Related Content at the Mobile Internet Resource Center:
Related News Stories