Key Points:
KVH's new lower cost marine satellite options aim to make "connecting at sea more accessible and affordable than ever before".
Unfortunately - the new system is neither "accessible" nor "affordable" for the needs of many cruisers.
Satellite broadband internet at sea remains an expensive challenge - but there may be some major changes coming in the years ahead.
At the Palm Beach International Boat Show on March 25th, satellite equipment and service provider KVH announced a new lower-cost satellite broadband receiver system, along with new "unlimited" data plans targeting the recreational boating market.
KVH has been teasing about this announcement for a while:
"KVH will proudly debut a breakthrough new product that will make connecting at sea more accessible and affordable than ever before. Live, work, relax onboard… just like home."
Marine satellite broadband service "just like home" is undeniably exciting.
Could this be KVH's move to get a jump on Starlink's potential future mobile offerings?
KVH executive vice president of mobile connectivity Mark Woodhead seems pretty excited:
"Our new TracPhone V30 delivers fast data speeds in a compact unit and we anticipate it will disrupt the leisure and commercial markets by making VSAT at sea affordable like never before. Whether they are streaming content, checking email, using social media, or managing their business, both recreational boaters and small commercial vessel operators can count on reliable VSAT connectivity wherever they go."
It sounds amazing.
But don't get too excited just yet.
Now we know the details - unless you still live on old school AOL dialup, the new plans will likely not give you a "just like home" experience - unless you have a LOT of money to burn.
Marine satellite broadband is just not yet ready for the mainstream...
Video Story
Subscribe to our YouTube Channel
KVH TracPhone V30 Receiver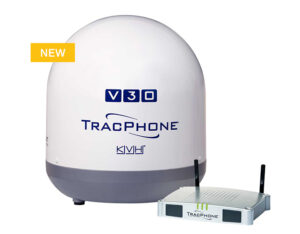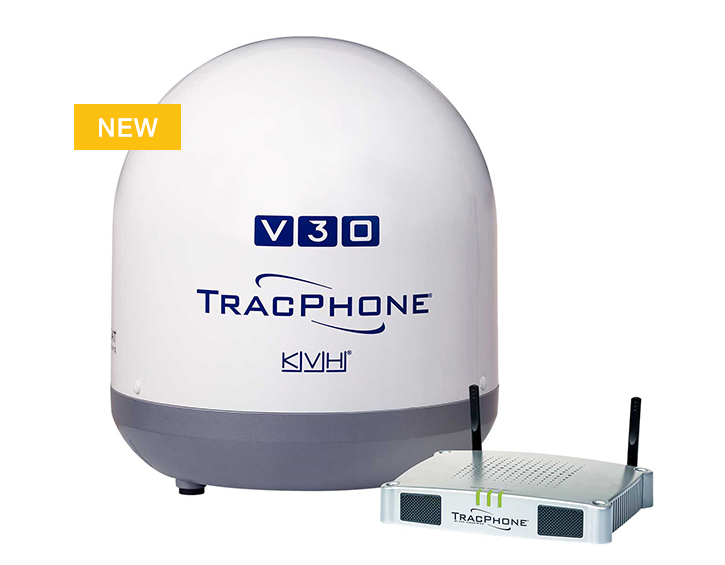 KVH has a long history providing connectivity solutions for ships and large yachts - and is known for building rock-solid satellite tracking domes that deliver years of reliable service.
The new TracPhone V30 is KVH's smallest, most affordable, and easiest to install satellite system yet.
Similar to the current TracPhone V3HTS, the V30's plastic dome encloses a 15" dish that moves continuously to track satellites, even on a rolling boat in rough seas.
The V30 and V3HTS are the smallest and lightest maritime VSAT systems that have been released - and they are small enough to mount even on typical cruising-sized boats in the 40 foot range.
New in the V30 (compared to the older V3HTS) - only a single cable is required to connect between the dish and the internal hub - making for an easier installation than before. The internal equipment is also simplified, and only requires DC power, not AC.
But the biggest improvement is the system cost.
The V3HTS had a list price of $17,995 - the V30 brings that all the way down to... $11,995.
This is pretty ground breaking pricing for a marine satellite internet system - but for those used to terrestrial systems and cellular or Wi-Fi gear, this is definitely a major investment.
You can read all the technical details on the KVH V30 here: https://www.kvh.com/V30
KVH V30 Performance & Coverage
Because of the small 15" dish size, the KVH V30 system is only capable of modest peak speeds - just 6 Mbps download, and 2 Mbps uploads.
The much larger and more expensive mega-yacht targeted KVH V11-HTS ($49,995 MSRP) can manage peak speeds of 20 Mbps down and 3 Mbps up, and the mid-size KVH V7-HTS ($29,995 MSRP) can do 10 Mbps down and 3 Mbps up.
Even high-end legacy maritime satellite systems are just not very fast, especially compared to modern cellular networks.
But the advantage of a satellite broadband system is that it works everywhere - even in the middle of the ocean.
KVH provides service via multiple traditional high-latency geostationary communication satellites, using Intelsat's HTS network with spot beam technology to provide the "high speeds" that KVH offers.

KVH's New Unlimited Data Plans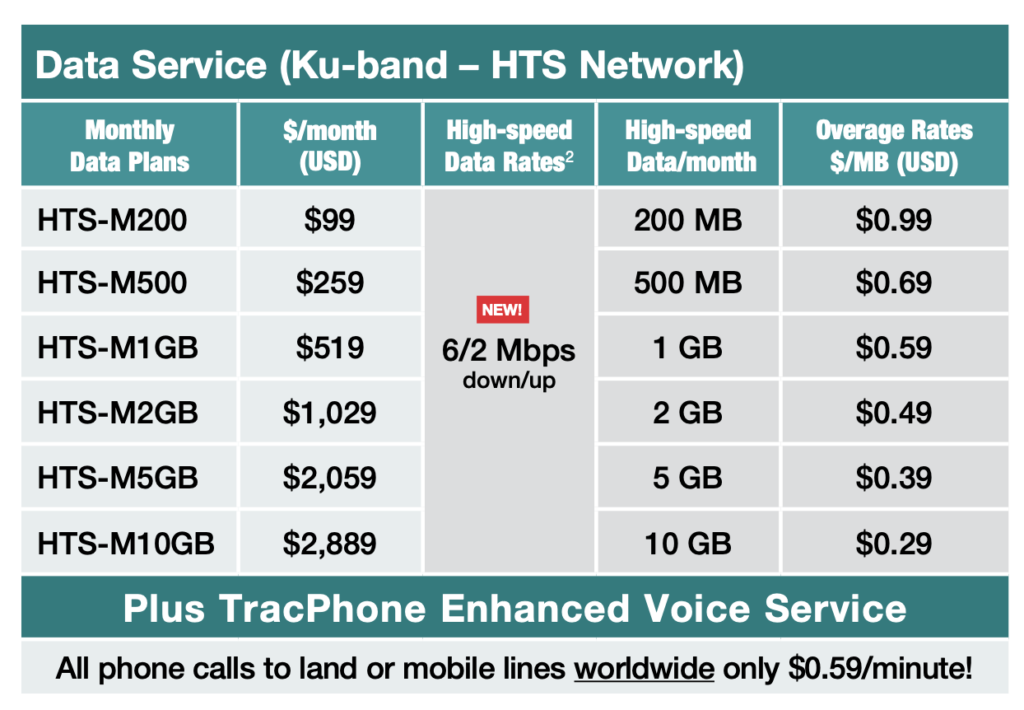 Satellite internet is only interesting if you can get worthwhile data plans to take advantage of it.
KVH has published its new data plan rate sheet here.
The "affordable" monthly prices range from $99/mo for 200MB (yes, that's MB, not GB) of data with a $0.99/MB ($999/GB!) overage charge, or you can pay $149/mo for the new unlimited data plan with a 200MB high speed (defined as 6 Mbps) allotment, then unlimited data for the remainder of the month at 32 Kbps.
Yes - 32 Kbps.
That is SLOWER than 1990's era dial-up.
MIA member Daniel Pentecost did the math:
That cheap $149 "unlimited" plan actually has a limit of 10.4-10.5GB per month if you were to max out the 200MB + the 32Kbps (14.063 MB per hour x 703 hours/month average).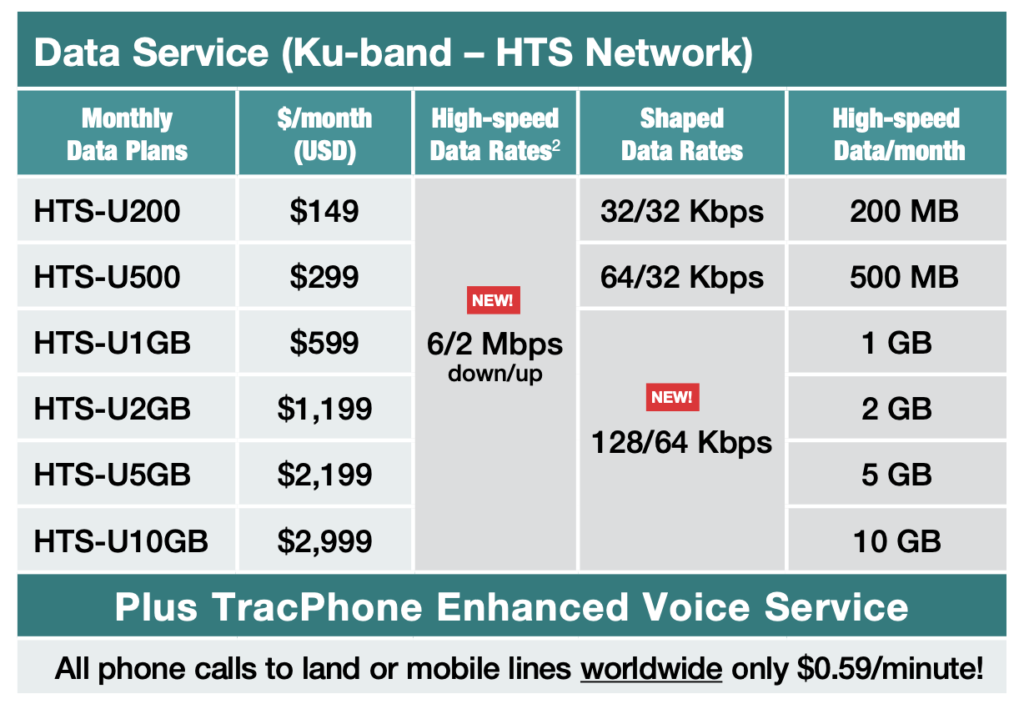 There are various other usage tiers you can choose, all the way up to the largest data plan available for the KVH V30 at $2,999/mo. For that, you get a full 10GB of 6 Mbps high-speed data, then "unlimited" data at a turtle-like 128 Kbps for the remainder of the month.
In other words - this will not be a service mariners use for much streaming while killing time on long crossings.
But if you only need basic connectivity - the new KVH plans might help keep you connected when you are far from faster and more affordable options.
Market Disruption Coming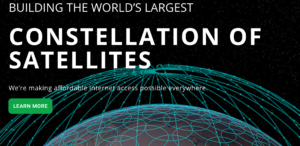 In the legacy marine satellite broadband world, KVH's hardware and data plan pricing is actually very competitive.
But the entire economics of space-based data are about to be changing dramatically once Starlink and OneWeb begin to bring out next-generation offerings using hundreds or thousands of low earth orbit (LEO) satellites with vastly more capacity on offer than traditional systems are capable of.
Unless you really need the sort of connectivity that KVH is offering now - it makes sense to wait and see what sort of marine offerings emerge that support these new networks in the years ahead.
We actually expect that in a few years KVH will be partnered with and reselling OneWeb - but it would be surprising if the current generation KVH hardware will be compatible.
So our advice for those craving true broadband at sea - keep waiting!
For those needing basic connectivity while far from shore, there are global satellite communicator options that provide for extremely basic communication needs available at more affordable pricing. For a further discussion of options like this, see our guide to mobile satellite internet options.
Further Reading
And here is all of our recent satellite internet coverage: