Key Points:
The new Starlink Premium satellite internet system has "double the antenna capability" and promises faster speeds than the current Starlink offering.
Starlink Premium service costs five times as much for the initial hardware purchase, and five times as much per month.
Starlink is also now allowing customers to purchase service at more than just a single location. But each location activated requires new hardware and a monthly service plan.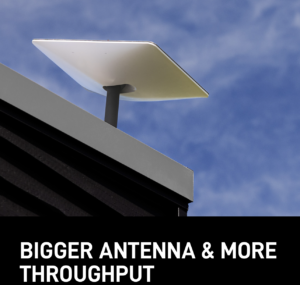 Last night (February 1st) SpaceX updated the Starlink website to reveal a new Starlink Premium offering featuring a new larger Dishy receiver for SpaceX's satellite broadband service:
"Starlink Premium has more than double the antenna capability of Starlink, delivering faster internet speeds and higher throughput for the highest demand users, including businesses. Order now to reserve, deliveries start in Q2 2022."
But "Premium" comes at a price - with the hardware and the monthly service costing five times the regular Starlink offering.
There is also an intriguing new feature allowing service at multiple locations for a single Starlink account.
So just what is changing, and is Starlink becoming any more mobile friendly along the way?
Starlink Premium Video Story
Premium Hardware, Premium Service, Premium Price
Starlink Premium is not intended for most people, and is likely not of interest to most consumer level RVers and boaters.
SpaceX makes it clear that Starlink Premium is intended for "small offices, storefronts, and super users across the globe" - a tier of more demanding customers that are likely to be less tolerant of network congestion, glitches, and temporary slowdowns.
Users who experience "extreme weather conditions" are also being encouraged to invest in Starlink Premium:
"For users or businesses who require higher performance while living in the most extreme weather conditions, we recommend Starlink Premium. The larger, rectangular Stalink Premium comes with better snow melt capabilities as well as the ability to have faster speeds in high temperature environments."
On paper, the performance promises of the Premium service do not look dramatically different than the regular Starlink offering:

But to get the performance of Starlink Premium you need to purchase the new physically larger Starlink Premium "Dishy" receiver, which costs $2,500 - a substantial jump up from the $499 consumer-grade Starlink Dishy system.
And monthly Starlink Premium service is priced at $500/mo, a painful increase from the normal $99/mo Starlink pricing.
Though Starlink is targeting small businesses for Premium service - they are not intending to support people in the business of selling access to their Premium connection, warning in the terms of service that:
"No Resale and Permitted Use. You may only provide access to the Services to your household, guests at your household, employees, individual independent contractors and the patrons of your business as described in the Order and so long as such use does not violate this Agreement. You shall not resell or provide access to the Services to anyone outside the Service Location(s), resell as a stand-alone service, use the Services for backhauling third-party data, resell as community wifi or a "hotspot," or use the Services to provide other methods of networking connections, unless done with SpaceX's written consent ("Permitted Use")."
We do however suspect some remote campgrounds and marinas will be able to use Starlink Premium to at last offer decent Wi-Fi access to their guests.
It is clear that overall Starlink Premium is targeting a very different market than regular Starlink service - and it will be interesting to see how real-world performance changes over time as Premium and regular Starlink customers compete for limited satellite capacity.
It is also even more clear than ever that Starlink is NOT intending to compete with fiber optic or even residential 5G cellular service. Starlink is meant for people and businesses who are in locations where performance like this is not currently available at any price.
Will Starlink Slow Down Early Adopters?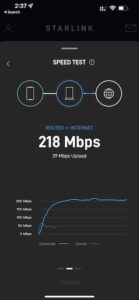 Back in November 2021 when SpaceX stopped referring to Starlink as being in Beta, it updated the website to say that Starlink customers should expect "download speeds between 100 Mb/s and 200 Mb/s and latency as low as 20ms in most locations."
And many current Starlink customers have reported seeing performance spiking well beyond that - sometimes even hitting 500 Mbps Down and 40 Mbps Up, speeds that are now being described as "Premium".
So with Premium now an official offering, will regular Starlink customers get slowed down?
It is hard to know for sure - but seeing the new "Expected Download" performance floor for regular Starlink service drop from 100 Mbps to 50 Mbps is worrying, even though the peak has risen from 200 to 250 Mbps.
The Starlink website is also now using the words 'network management' more prominently, potentially paving the way for adding on more regular Starlink users to service cells which could create more network congestion, especially for non-Premium customers.
We expect that real world results will all come down to Starlink's network management algorithms and actual physical satellite capacity - and Premium customers will have a higher priority on SpaceX's network when the satellites are congested.
While multiple tiers of service may potentially allow more customers to get connected, it may also mean that the occasional super fast speeds that have been reported in the last year may become a thing of the past for all 'regular' Starlink customers.
In terms of network congestion, SpaceX ultimately really will be not much different than cellular. Only in SpaceX's case - a single satellite might be servicing all the customers in an entire state, while a cell tower might only be covering a few square miles.
Starlink Offers New "Additional Locations" Option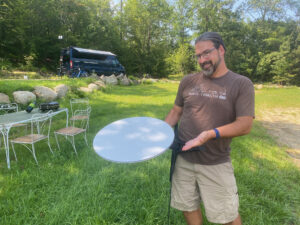 One new feature being rolled along with the release of Starlink Premium service is the ability for all Starlink customers to add on "additional locations" to their accounts.
This is not adding new additional service addresses for a single Dishy - this is for adding on additional lines of service that are managed by a single account. Each line will require purchasing a new Dishy, and paying another monthly service fee.
Regular Starlink customers can now have 3 locations attached to an account, and Premium customers can have unlimited locations.
This new feature helps those who keep a home base and don't want to risk losing service if they take their Dishy on the road with them. Instead - you can just leave Starlink active in one location and get a second complete system (and monthly bill) to travel with you or use at a vacation home.
However, all Starlink service on one account must be in the same country.
Starlink still does NOT support any sort of international roaming at this time, and hardware purchased in one country can not be used in another.
What About Starlink Mobility?
Starlink still does not officially support mobility - and the website terms make it clear that moving service remains a manual process and a bit of a gamble:
"The ability to update your Service Address is dependent on capacity in other areas. You can change your Service Address under the "Location" section in your Account page. By changing your Service Address, you may not be able to return to your original address. Once updated, service at your previous address will be disconnected.
Service is only guaranteed at the Service Address on your order. If you move Starlink outside of its assigned area, a satellite will not be scheduled to serve Starlink and you may not receive internet or may receive degraded service. At this time, we are not able to support moves to a different country."
It is possible that Starlink may eventually give Premium customers priority access in moving into new cells, but there is no confirmation of this at this time.
As for truly mobile usage that roams automatically between cells and which works even while in motion, SpaceX's updated FAQ pages still says that is in the works:
"In Motion Use - We do not support Starlink use in motion at this time and mobility use is currently prohibited until we have obtained all necessary approvals. While our teams are actively working to make it possible to use Starlink on moving vehicles (e.g. automobiles, RVs, boats) in the future, Starlink is not yet configured to be safely used in motion."
Mobile optimized Starlink hardware is known to be in the works, and mobile-focused service plans may eventually come along too.
But there is no indication on when this might be coming.
As we have said from the beginning - there is no guarantee that SpaceX will allow the normal $99/mo consumer Starlink service to be used for true mobility once this feature is ready. And with SpaceX now introducing a Premium level service, they are clearly paving the way for having different tiers of service with different pricing.
Nomads not willing to be on the bleeding edge are advised to keep all of these current limitations in mind.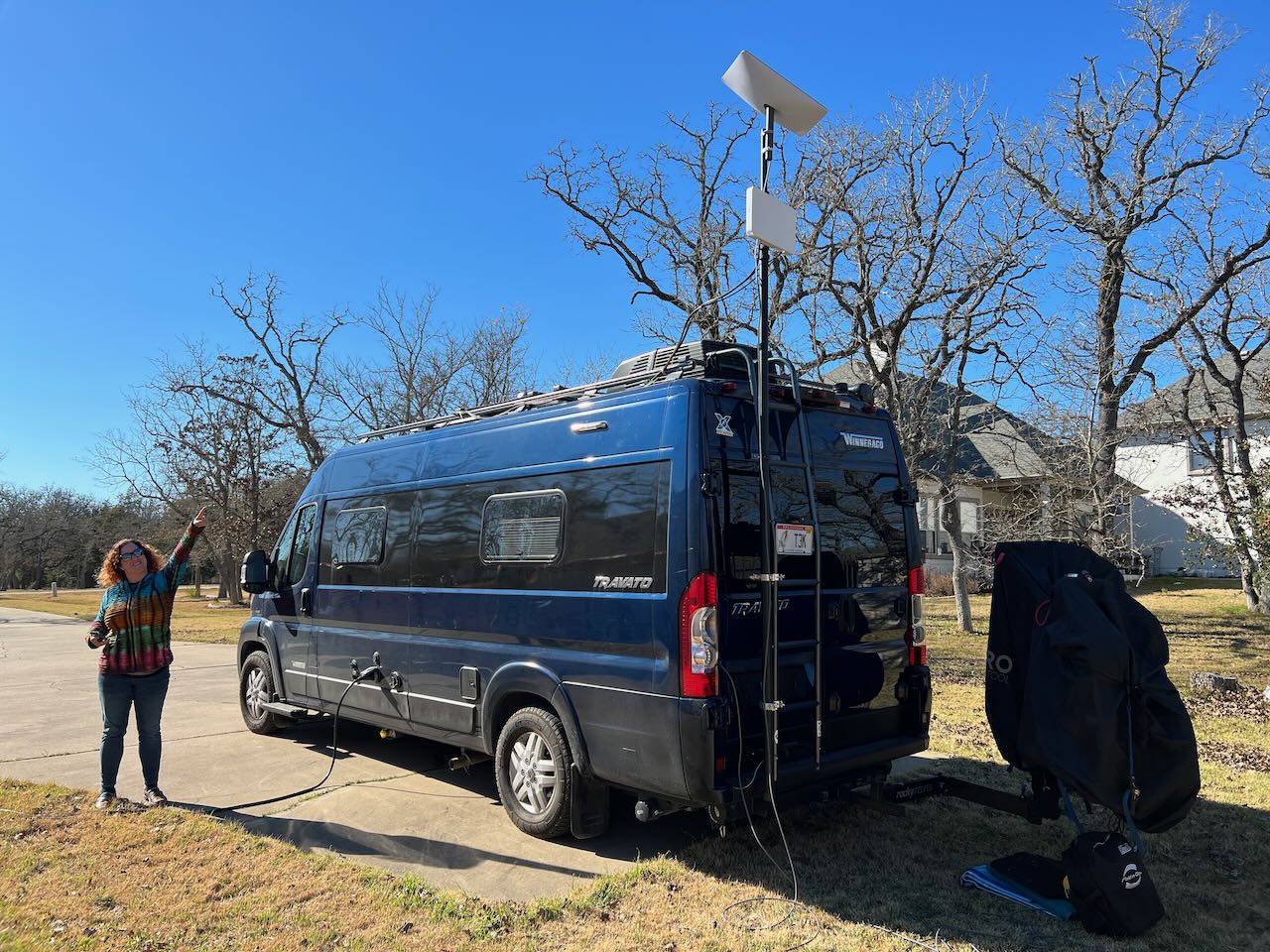 Getting Starlink Premium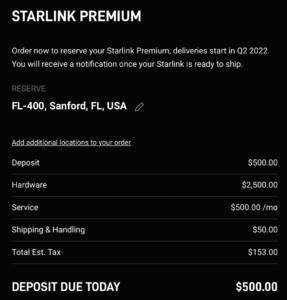 SpaceX last night began accepting pre-orders (with $500 deposits) for Starlink Premium, with the first areas of the country slated to get service sometime in Q2 2022.
Some people have already noticed that it seems that SpaceX may be prioritizing Premium orders, promising Premium availability in some areas where regular Starlink customers have been told service availability has slipped and is not likely to be available until late 2022 or even 2023.
But before ordering - keep in mind that there is still plenty that is unknown about the actual Starlink Premium offering. Even the physical dimensions of the new bigger Dishy have not been published yet.
Just about the only thing certain is that the new Dishy is physically larger, and it seems to be better suited to operation in extreme hot and cold environments.
Elon Musk tweeted that the Premium Dishy is a "high performance" antenna, saying:
"This is twice the area of our standard phased array with broader scan angle."
As we learn more - we will be sharing it here, so stay tuned!
Further Reading
And here is all of our recent Starlink coverage: