Key Points:
The FCC has granted SpaceX approval to offer satellite services to vehicles that are in motion.
The approval opens the door to SpaceX officially offering a mobile version of Starlink for boats and RVs - though this will likely require new mobile-optimized hardware.
This authorization does NOT put to rest the battle over potential interference that might impact Starlink terminals if Dish gets permission to deploy 5G service over the 12 GHz frequency band.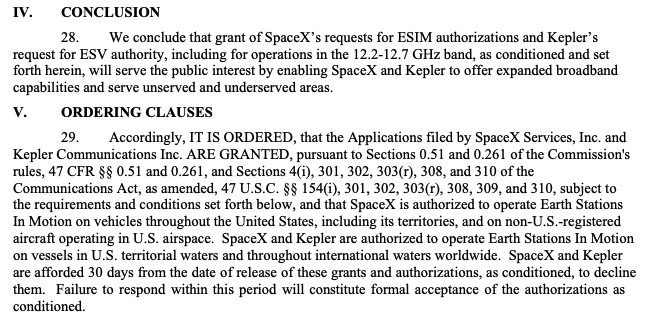 The FCC (Federal Communications Commission) yesterday approved SpaceX's pending request to allow Starlink "Earth Stations in Motion" (ESIM) terminals - enabling Starlink services to be operated on vehicles in motion including cars, RVs, boats, trucks, and planes.
This license even opens the door to SpaceX offering Starlink service to cruisers that will operate underway, around the world:
"SpaceX is authorized to operate Earth Stations In Motion on vehicles throughout the United States, including its territories, and on non-U.S.-registered aircraft operating in U.S. airspace. SpaceX and Kepler are authorized to operate Earth Stations In Motion on vessels in U.S. territorial waters and throughout international waters worldwide."
This authorization is based upon a license request SpaceX filed last summer for a next generation Dishy receiver designed for mobility, with "additional features appropriate for a mobile operating environment".
The current generation of Dishy hardware is not designed for in-motion usage, and it remains unclear whether SpaceX will ever officially support the current hardware being used for mobile installations beyond the "portability" style of usage currently authorized.
But with this license approved - we hope to see SpaceX officially launch a mobile-friendly receiver soon.
This new ruling is a big win for SpaceX - but it does not put to rest the battle over interference and the 12 GHz spectrum that we reported on earlier this week.
In fact - the FCC is actually requiring SpaceX to design interference mitigations, and to put potential customers on notice that future interference may be possible if the 12 GHz band gets repurposed to also be used for 5G service.
Starlink in Motion Video Story
Mobile Starlink User Terminals & Service Plans
Last summer SpaceX filed a license request to be able to offer a mobile version of Starlink, though the license request made it clear that the hardware would be different than the fixed residential version (which is now also being sold to RVers), and that SpaceX would even be requiring professional installation to ensure that Starlink ESIM is safely installed onto vehicles.
The license described the new hardware this way:
"These ESIMs will be electrically identical with SpaceX Services' next-generation fixed user terminals from a radiofrequency perspective, though they will have some additional features appropriate for a mobile operating environment (e.g., sensors to improve performance in motion and mountings that provide secure installation on trucks/RVs, boats, and aircraft)."
Now that the ESIM license has been approved - we are eager to see SpaceX officially launch mobile versions of Starlink receivers.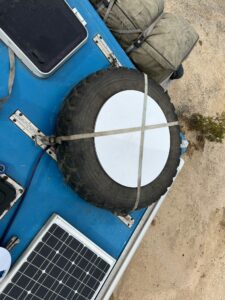 In anticipation of this FCC approval, it's reported that SpaceX is already in negotiations with airlines such as Hawaiian Airlines and private jet Service JSX to offer in flight connections. Most likely other airlines will soon follow.
There's also been reports of Starlink Premium being tested on cruise ships such as the Royal Caribbean Freedom of the Seas to give improved connectivity to passengers.
While the initial Starlink ESIM focus may be on commercial aircraft and cruise ships, we expect Starlink will also launch a model appropriate for the consumer RV and cruising market.
Once there is a Starlink Mobility release for the RV and cruising market, there is no guarantee that the current consumer Starlink service plan pricing will be extended to cover in-motion usage.
Particularly for service to cruisers in international waters, SpaceX might be tempted to pursue pricing that better reflects the current sad state of the competitive satellite offerings serving that market.
But even if Starlink pursues a premium pricing level - it will still likely be an order of magnitude cheaper than what is currently available in many places.
Starlink vs Dish 5G Battle Over 12 GHz Will Continue
In yesterday's ruling authorizing Starlink ESIM terminals, the FCC rejected the protests Dish filed seeking to block any authorization of Starlink usage in motion.
But it is not a complete victory for Starlink.
The FCC made it clear that it has NOT yet decided whether or not it will approve Dish's request to allow 5G service that uses the same spectrum that Starlink uses for satellite downlinks.
The FCC authorization makes it clear:
"These authorizations are granted on non-interference protected (NIP), i.e., unprotected, basis for operations in the 12.2-12.7 GHz frequency band in the United States. The ESIM operations of SpaceX and Kepler must accept any interference received from both current and future services authorized in the band – even if such interference causes undesirable operations -- and must not cause harmful interference to any authorized service, whether licensed or not."
In particular - SpaceX will be required to disclose this potential for future interference prominently to potential customers:
"SpaceX and Kepler must disclose the unprotected status of their ESIM offering on their websites, promotional literature, and other means of consumer notifications, including retail locations, online platforms, and telemarketing calls."
The FCC goes on to say that the authorization to use the 12 GHz band is completely subject to change, and SpaceX should take this potential into consideration:
"Accordingly, any investments made toward operations in the bands authorized in this order by SpaceX and Kepler assume the risk that operations may be subject to additional conditions or requirements or even cessation of operation as a result of any future court ruling or Commission actions."
The rules are only subject to change for the 12.2 GHz to 12.7 GHz chunk of spectrum.
Starlink is also authorized to use 10.7 GHz to 12.2 GHz, which is not subject to potential interference from Dish and 5G - and the new FCC license mandates that Starlink ESIM hardware needs to be designed to be compatible with this full spectrum band.
The FCC license is basically putting SpaceX on notice that it should be sure to design Starlink to be able to operate without full access to the 12 GHz band, depending on how future license negotiations go.
Concluding Thoughts
FCC International Bureau Chief Thomas P. Sullivan makes it clear that RVers are an important target market in his ruling, saying:
"Authorizing a new class of terminals for SpaceX's satellite system will expand the range of broadband capabilities to meet the growing user demands that now require connectivity while on the move, whether driving an RV across the country, moving a freighter from Europe to a U.S. port, or while on a domestic or international flight."
And indeed - the idea of high-bandwidth, low-latency connections available just about anywhere is exciting indeed.
Particularly for global cruisers - the ability to have a connection that is fast and affordable enough to support video conferencing and streaming will be absolutely transformative.
SpaceX has 30 days to accept or decline the terms of the FCC license - and we look forward to seeing what SpaceX announces next.
Further Reading
And here is all of our recent Starlink coverage: