Key Points:
Starlink Business now has 3 Tiers of service (1TB-$250/mo, 2TB-$500/mo, 6TB-$1500/mo)
All plans still have a hard data cap with speeds slowed to 1Mbps up/down
Data overage costs were cut in half to $.50 per GB
The Starlink Business was originally only offered with a single tier of service for $500/mo and originally unlimited data. Since the introduction of Starlink's Fair Use Policy late last year, the terms of the Business plan changed to have a hard data cap.
In Starlink's latest update, they have added two additional tiers of service, one lower tier and one higher tier.
Starlink Business Re-Cap Video
Starlink Business Tiers of Service
The original plan was $500/mo with a 2TB data cap, with ability to purchase more full speed data at $1/GB.
There is then a hard throttle to a painful 1Mbps up/down if you exceed that limit in a given month.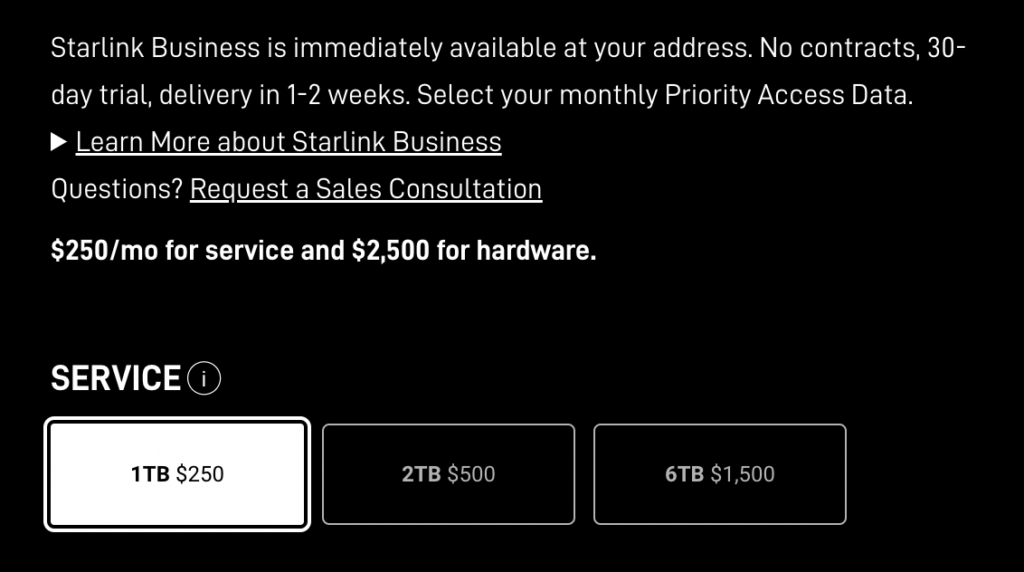 This week Starlink has officially launched new tiers of service in addition to the original option, which remains the same. The new lower tier is $250/mo for 1TB of priority while the most expensive tier is $1500/mo for 6TB of priority data.
The cost of additional data was also cut in half and went from $1/GB to $.50/GB to purchase extra data which can be setup to purchase automatically if you go over.
Starlink Business History
Starlink Business was originally released in Feb 2022 as Starlink Premium, but was quickly renamed to Starlink Business a little over a month later.
The Starlink Business was the first time we were introduced to the High Performance Dish with over twice the antenna capacity, wider field of view, and promise of higher priority and speeds. It was also quite the price jump with the dish and service running 5x as much as the standard dish and service at the time.
With past price hikes on equipment and service, the high performance dish is only about 4x as much as the standard dish now and the lowest tier is only about 2x as expensive as a standard residential plan.
Who is Starlink Business For?
The original Starlink Business offering at $2500 equipment and $500/mo was clearly aimed at small businesses with up to 20 users vs being used for a solo individual business user. But the new lower tier might actually make Starlink Business more attractive to some small business with only a few employees or less as long as the data cap doesn't become an issue.

Originally when Starlink Business was released, the Starlink user base was still only open in select markets with way less users. This meant even consumer Starlink users were often seeing speeds of 200+ downloads. So the Starlink Business didn't really seem to be necessary at the time, but jump forward a year and it's common to see deprioritized users complain about speeds sometimes under 10Mbps in congested markets and even residential users often under 50Mbps.
The business plan is at the highest priority level which could make a nice difference in day to day speeds in congested markets which Starlink has certainly suffered with as the user base has continually grown and expanded.
The Starlink High Performance Dish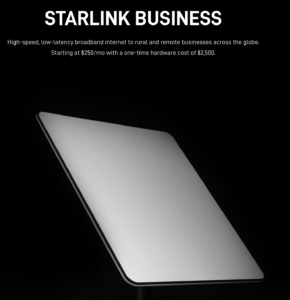 The Starlink HP Dish with the pole is the standard dish for Starlink business, but it also is one of the two HP dish variations available on other various plans.
Most recently Starlink standardized their pricing and the HP dish cost is $2500 per dish across all of its plans that offer it.
The standard HP dish with the pole is also available as an option on the Starlink residential plan (ranging from $90-120/mo) although the priority of this plan is lower than the business plan, so users are not promised as high of speeds with this dish.
This dish however does offer better performance in temperature extremes and can operate better with obstructions compared to the standard dish due to the wider field of view and twice the antenna capacity.
There is also a flat HP dish with no motors that is now standard on the Starlink Maritime plans and is an option on the Starlink Roam (regional only) plan. The flat HP dish is currently the only Starlink dish approved for in-motion use.
Related Content at the Mobile Internet Resource Center:
Related News Stories