Key Points:
SpaceX has sent out invitations to potential Starlink to customers in many new areas, including sending invites to numerous nomads using mail forwarding services with addresses in South Dakota.
Customers in selected areas can now order Starlink service immediately, without waiting for an invitation.
BUT - the Starlink FAQ has been updated to warn people that mobility is NOT supported! At least, not yet.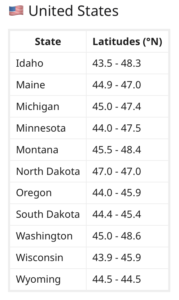 Starlink's ongoing public beta has been generating an unprecedented amount of interest and anticipation - with many nomads dreaming of someday soon having access to fast low-latency satellite internet connections that will work just about anywhere.
Yesterday (January 20th), SpaceX generated a new wave of excitement by sending out emails to prospective customers in several more states letting them know:
"Starlink is now available in limited supply in your service area."
Many nomads who use popular mail forwarding service addresses in South Dakota let us know that they were invited to sign-up.
And even people who had not been previously on the waiting list have discovered that orders with valid service addresses will go through when ordering at Starlink.com.
But...
Though SpaceX will let you order service and enter a shipping address anywhere you wish, customers need to know that Starlink will NOT currently work while away from your designated home Service Address.
In other words - beware before buying!
Video Version
Subscribe to our YouTube Channel
Nomads Not Wanted, At Least Not Yet
SpaceX has seemingly had a problem with customers ordering Starlink using an address in one area, and trying to use the satellite service elsewhere - only to end up disappointed.
SpaceX has published a new FAQ that explains the limitations:
Can I change my service address?

Starlink is only approved for use at the Service Address you provided when you signed up on starlink.com. When placing your initial order, you will have the option to select a different Shipping Address to receive your Starlink packages.

If you have already ordered Starlink and your service address is changing please log into your account and contact our Support team for guidance on how to return your Starlink.

Can I travel with Starlink, or move it to a different address?

Starlink satellites are scheduled to send internet down to all users within a designated area on the ground. This designated area is referred to as a cell.

Your Starlink is assigned to a single cell. If you move your Starlink outside of its assigned cell, a satellite will not be scheduled to serve your Starlink and you will not receive internet. This is constrained by geometry and is not arbitrary geofencing.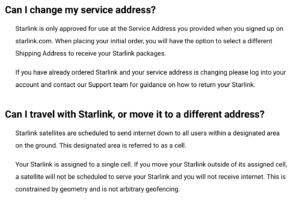 Based on reports from current beta testers - if you travel more than around 15 miles or so away from your registered service address, you risk your Starlink dish becoming completely unusable until you return home.
As we've been warning for the past year - the initial Starlink service is NOT mobile friendly!
This is probably not a permanent limitation though.
Back in November SpaceX revealed that mobile-friendly options ARE in the works - but they will require software updates, and potentially new hardware too:
"Mobility options - including moving your Starlink to different service addresses (or places that don't even have addresses!) - is coming once we are able to increase our coverage by launching more satellites & rolling out new hardware and software."
Nomads hoping for Starlink nirvana are warned to NOT jump into the beta until these issues are addressed and clarified.
And be aware - when mobile options and service plans are made available, the costs might end up different than the $499 dish and $99/mo unlimited data plan currently being made available to rural residential Starlink customers.
Small Obstructions Can Interrupt Service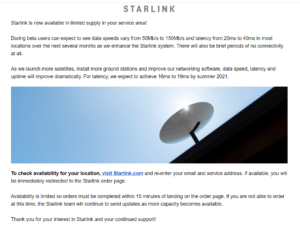 SpaceX is also seemingly having issues with people trying to use Starlink in areas with obstructions.
The new FAQ warns:
"Most people do not accurately assess their Starlink's field of view. To ensure the best possible service, download the Starlink app to assess field of view in your desired install location before installing."
SpaceX goes on to explain further:
"If you could see the connection between a Starlink satellite and your Starlink, it would look like a single beam between the two objects. As the satellite moves, the beam also moves.
The area within which this beam moves is the field of view. If any object such as a tree, chimney, pole, etc. interrupts the path of the beam, even briefly, your internet service will be interrupted.
In early service, the required clear field of view is a 100-degree cone around the center of the dish (after tilting) with a 25 degree elevation minimum.
Users who live in areas with lots of tall trees, buildings, etc. may not be good candidates for early use of Better Than Nothing Beta. However as more satellites are launched, the field of view constraints will decrease, enabling a wider variety of users.
The need for such a wide view of the sky will make Starlink a challenge to use in wooded areas, but hopefully this will improve over time as the number of satellites increases.
Starlink Is Just Getting Started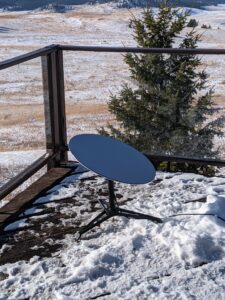 Starlink is still very early in its beta rollout, all things considered.
Just yesterday SpaceX launched 60 more Starlink satellites, and SpaceX seems likely to be able to keep up a pace of at least two more launches a month going forward.
At this pace, Starlink will soon cover all of North America - and some of the initial limitations will begin to be addressed.
But the important thing for nomads to keep in mind is that this initial Starlink rollout is explicitly focused on remote schools and rural residential service - bringing fast low-latency internet to places it has never been available before.
Mobile users looking for something they can take on the road (or water) are not a target market yet, and urban or suburban customers looking for an alternative to cable aren't SpaceX's focus yet either.
Over time Starlink has the potential to be revolutionary for nomads - but just not yet.
For a deeper dive into the history and aspirations of Starlink, see our post (and video) from June:
Satellite Internet Update: Starlink Is Exciting, But Reality Check Needed For RVers and Cruisers
And our major update from November:
Starlink Update: SpaceX Talks Mobility, Data Caps, Geo-Locking, Space Lasers, and More…
Further Reading
And here is all of our recent satellite internet coverage: