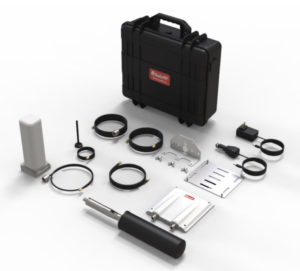 Canadian cellular booster manufacturer SolidRF (Formerly known as Top Signal) today released the SolidRF RV Pro Booster kit - a new and very unique mobile-rated booster designed for use in RVs.
The RV Pro kit is a substantial departure from SolidRF's previous mobile booster, the MobileForce 4G, which originally came out in 2015.
In fact, the RV Pro is different from any other cell booster on the market.
Most RV and vehicle booster kits are made up of the same core components - an antenna on the roof, an antenna indoors, and a booster tucked away in an indoor cabinet somewhere in between.
The SolidRF RV Pro on the other hand puts all the booster electronics outdoors, up on the roof where the amplifier can be closely coupled to the outdoor antenna with a lot less potential for signal loss over the wires.
And indoors - the SolidRF RV Pro is the first mobile cellular booster to provide for TWO interior antennas, allowing for two separate boosted areas with improved signal inside the RV.
But the RV Pro does come with some installation constraints that may prove a challenge.
Will this prove to be a solid alternative to the popular weBoost models?
Read on for the details...
---
What's In The Kit?
The Solid RF RV Pro kit includes the following core components:
A 16" Horizon 4G OmniDirectional Antenna with 1' RG-58 cable
The RV Pro Weather-Proof Booster
Two 15' sections of RG-58 extension cable
8" Omnidirectional Primary Inside Antenna
6" Stubby Secondary Interior Antenna with 6.5' of RG -174 cable
Both AC and DC power adapters
Roof-Mount Hardware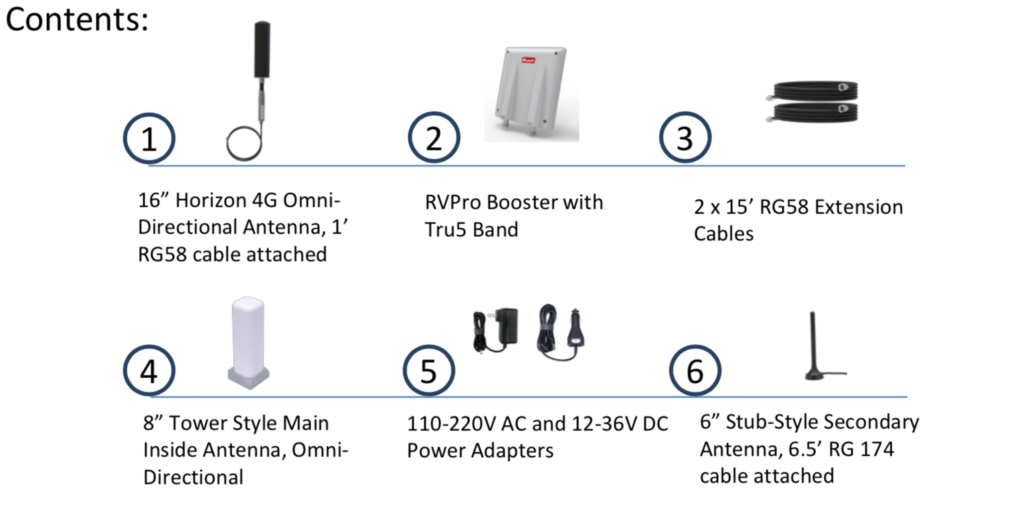 All of this comes packed in a surprisingly solid waterproof plastic carrying case. SolidRF suggests people might use the case to transport the booster between different vehicles, but we imagine it will actually come in very handy for a wide range of uses.
It's great to see a manufacturer not over packaging their products with disposable boxes, and providing something truly re-usable.
First Look Video
Here's a look inside the SolidRF RV Pro kit, and some of our first impressions:
---
The SolidRF RV Pro's Unique Advantages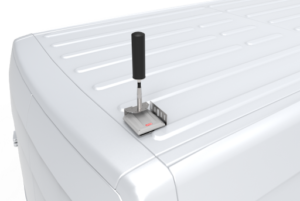 The SolidRF RV Pro booster is designed to mount on the roof of an RV, with the hefty exterior antenna mounted to a plate right above the booster and attached via a short 1' cable.
Theoretically - this design virtually eliminates the potential for signal loss between the exterior antenna and the booster unit itself.
In a traditional booster design, there may be as much as twenty feet of cable loss before the booster amplifies the signal.
SolidRF tells us having the booster on the roof:
"Greatly reduces signal loss, and creates optimum noise flow and output power for the uplink transmission. We can capture a signal from farther away and transmit a signal much farther."
Just a single wire then runs from the booster on the roof to the indoor primary antenna. This tower antenna provides power to the booster on the roof, connecting to either the included AC or a DC power supply.
The indoor tower generates a zone of boosted coverage - but it also provides an antenna jack designed to connect a second indoor antenna located at least 12' away in your RV.
This will allow for boosted coverage in your office and driving area, or in the bedroom and kitchen, or in a tech cabinet and living space. The flexibility is unmatched by any other booster on the market.
For most traditional boosters, the boosted signal starts dropping off quickly the further away your device gets from the interior antenna. With a single antenna, this means you either need to keep your devices near the interior antenna or you need to move the interior antenna around your RV as needed and deal with the hassle of managing the antenna cable.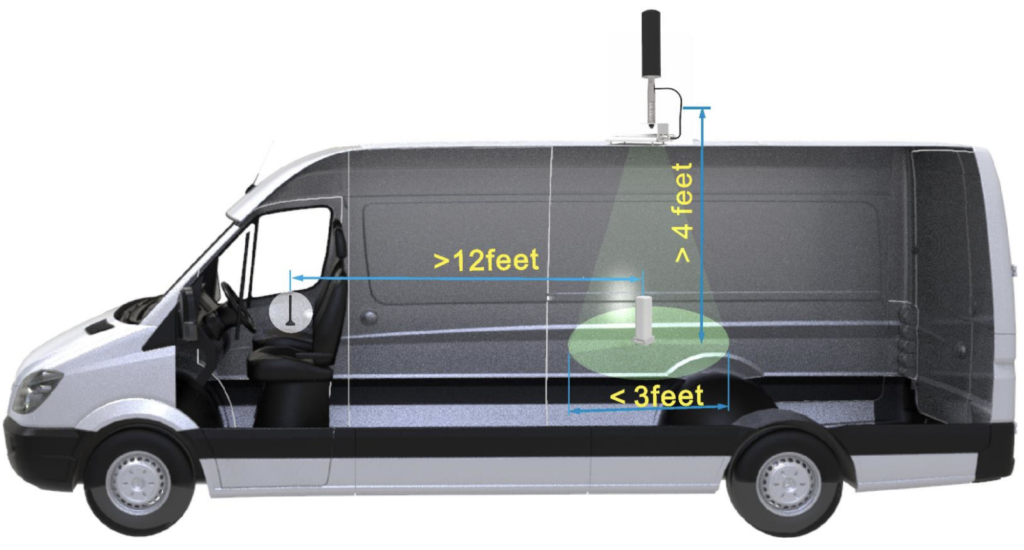 SolidRF is very explicit in how these components all need to be located in relation to each other to ensure optimal performance.
In particular - the indoor antenna needs to be placed almost directly underneath the outdoor antenna to avoid oscillation (when the exterior antenna picks up the signal from the interior antenna creating a feedback loop). You will need to carefully plan your install to allow for at least 4' of vertical separation, and no more than 3' of horizontal separation.
The second interior antenna on the other hand will need to be placed at least 12' away from the primary interior antenna. SolidRF includes antenna extension cables to help make all this wiring easier - but for some RV layouts these constraints might prove to be awkward to work around.
What Is Tru5 Band?
One other advantage SolidRF claims over competitive boosters is something they are calling "Tru5 Band", which they explain this way:
You may have experienced a problem with boosters in the past for AT&T or Verizon users where they weren't getting much of a boost in some areas. Because the frequencies for Bands 12 ad 13 are so close, a lot of boosters will use a shared amplifier for these Bands. In a situation where there is a Verizon tower much closer than an AT&T tower, AT&T customers using a booster without Tru5 Band will not get a very powerful signal. The ALC inside the booster will be tripped by the stronger Verizon signal, preventing the booster from amplifying the AT&T signal beyond that point. We've solved that problem with Tru5 Band.
We have indeed witnessed boosters struggling when trying to reach a distant tower on one carrier while being drowned out by a closer tower on another - so it will be interesting to see if SolidRF has really solved this problem.
Coming Soon: App Control
When the SolidRF booster is powered on, it creates a local Wi-Fi hotspot that is currently inaccessible.
SolidRF tells us that this is for interfacing with an upcoming app that will allow further detailed interaction with the booster, and even some customization in how it performs. For now the specific details of what this app will do remain "secret" - but we will share more as soon as we are given the all clear.
---
Technical Specifications
Outside of the unique advantages described above, the SolidRF RV Pro on paper appears to be a fairly typical mobile booster - supporting the same LTE bands (2,4,5,12,13,25) and same FCC-mandated maximum downlink gain of 50dB as most other mobile boosters.
The upload transmit power maxes out at 26 dBm, which is significantly lower than the 29.5 dBm of the brand new weBoost Reach, but higher than the weBoost 4G-X at 24.8 dBm. This could have an impact in how far away the booster can reach a tower, and in upload performance.
Model: SolidRF RV Pro
Gain: 50 dBm
Max Transmit Power: 26 dBm
# of Devices Boosted: Multiple
LTE Bands Supported: 2/4/5/12/13/25
Exterior Antenna: 16'' Omni Directional
Internal Antenna(s): 8'' Tower Style Omni Directional, 6'' Stubby
Range of Interior Coverage: tbd
In Motion Usage: Yes
Power: DC and AC adapters included
Connecters: Main Booster: N-Connectors. Interior Tower: SMA.
Booster Dimensions: 7.16" x 6.1" x 1"
Warranty: 3 Years
List Price: $599.00
Here is a closer look at the LTE frequency bands supported:

SolidRF assures us that they fully support LTE Band 25 - an especially important consideration for Sprint customers.
---
Concluding Thoughts
The SolidRF RV Pro is a very unique and compelling take on what a mobile cellular booster designed specifically for an RV application can be, and we are eager to put it through extended hands-on testing to see how well it performs over time in a range of circumstances.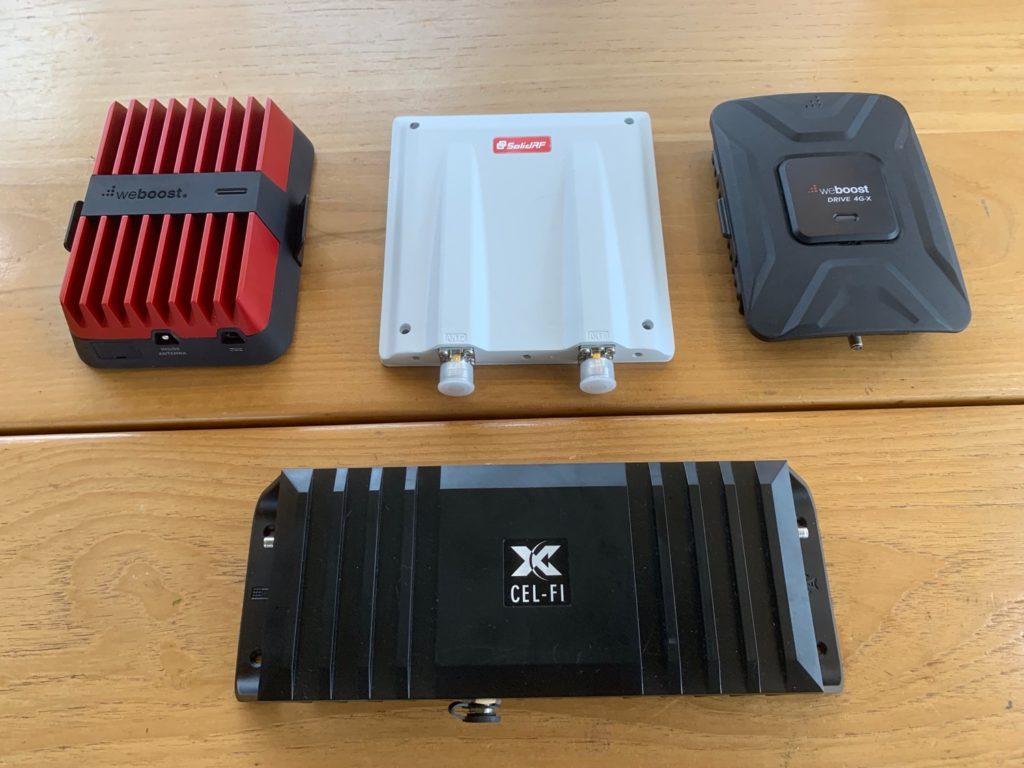 In particular - we are comparing it to weBoost's flagship Drive Reach and Cel-Fi's newly updated digital Go M booster, as well as the proven and reliable weBoost Drive 4G-X.
---
Boosters are NOT the right choice for all situations!
Though a cell booster can be an important part of a connectivity arsenal and is the only option for improving the signal to devices like smartphones and cellular-enabled tablets without antenna ports - for a lot of people, in a lot of places, a booster can be overkill.
And in strong signal areas, a booster can actually SLOW your cellular performance down due to the way a core LTE technology called MIMO (Multiple In, Multiple Out) works.
If you have devices with antenna ports in mild to moderate signal areas - directly plugged in antennas usually outperform a booster a significant amount of the time. Devices with antennas ports include mobile hotspots devices (like Jetpacks and Mifis) and cellular embedded routers.
So before you go plop down a huge wad of cash on a cellular booster that may only help occasionally, we highly recommend furthering your research into this topic to determine if a booster even makes sense for you.
Here's a quick video we recently produced explaining MIMO vs Boosters:
For more on this:
Guide to Understanding Cellular Data Performance
Testing & Understanding Your Mobile Internet Speeds
Before investing in a booster, consider the Netgear MIMO Antenna for devices with dual T-S9 antenna ports (which is what most mobile hotspot devices use). This little $30 antenna can be worth having in your setup, even if you have a booster. In our extensive testing, it often beats out boosters for data performance in Jetpacks, MiFis and other hotspot devices.
---
Member Exclusive Bonus
---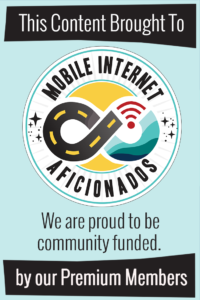 Our members have additional exclusive access to some further details and analysis of this new booster kit - including our recommendations for purchasing boosters and a look forward to a booster's role in a 5G world.
We will also be hosting a special member-only webinar on July 1st, comparing the new booster choices. Members can also follow along with our field testing data comparing all of the new boosters on the market in this field testing lab report: Booster Bonanza – weBoost Drive Reach, SolidRF RV Pro, Cel-Fi Go-M, Poynting 402 (Summer 2019)
If you're one of our premium members, please log in to access this special content.
Not a member? Come join us - and support what we do here.
We would not be able to run this resource center and dedicate so much time to covering stories like these without our member's support!
If mobile internet is an important part of your lifestyle, please do consider becoming a member. You'll get access to member exclusive content, field testing data, reviews and interactive guidance in our forums.
---
Additional Resources: