Key Points:
New to the MAX Transit line is the Pepwave MAX Transit 5G - not a major revolutionary new product, but worth a second glance.
When it comes to 5G cellular integrated routers, we are still in the extremely early days - and we are likely to see more options that are all around better, faster, and cheaper in the years ahead.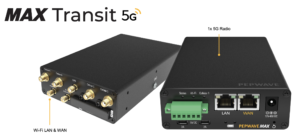 Though not officially for sale yet - Peplink has published the datasheets for a series of new 5G cellular integrated routers - including a new version of our perennial "Top Pick" for many demanding users, the Pepwave MAX Transit.
Now - new to the MAX Transit line is the Pepwave MAX Transit 5G.
This is not a major revolutionary new product - in fact, it seems to be essentially just the single-modem Cat-18 4G/LTE MAX Transit, but with a Cat-20/5G modem module installed internally instead.
But priced at $999 ($250 more than the Cat-18 version), this new router might be worth investing in for those who do not need the dual-modem redundancy of the Cat-12 MAX Transit Duo, and who are looking for some network future-proofing.
We have heard that the MAX Transit 5G may start shipping to retailers sometime in the next few weeks, and we will update this post with purchasing details when we have them available.
Video Story
Subscribe to our YouTube Channel
The Full Peplink 5G Lineup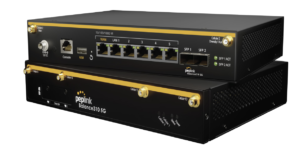 Though the MAX Transit 5G is the option of potential most interest to our audience, here are the other new Peplink 5G router options:
Balance 310 5G ($1,999) - Primarily intended for giving connection redundancy to enterprise branch offices, the Balance series is usually not intended for mobile deployments. The Balance 310 5G offers both a 4G/LTE Cat-12 modem with a Cat-20 / Sub-6 5G modem - requiring a total of six cellular antennas. The router does not have any integrated Wi-Fi since it is designed to primarily be used to connect branch offices with multiple distributed Wi-Fi access points.
HD4 MBX 5G ($11,999) - Peplink's flagship router supports four 5G radios, and 16 cellular antennas. It also has dual-band 802.11ac Wi-Fi (with four antennas), three gigabit Ethernet WAN ports, and 8 gigabit Ethernet LAN ports capable of powering additional Wi-Fi access points or security cameras or other network gear over POE. The MBX lineup is a beast - and is generally overkill for most mortals.
HD2 MBX 5G ($9,999) - For those with slightly less demanding needs, the HD2 MBX 5G has just two 5G modems - and is otherwise identical to its beastly big brother. But still, overkill for most.

Pepwave's 5G Modem Specifications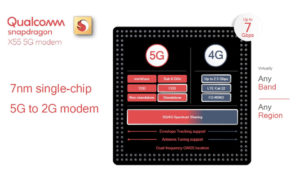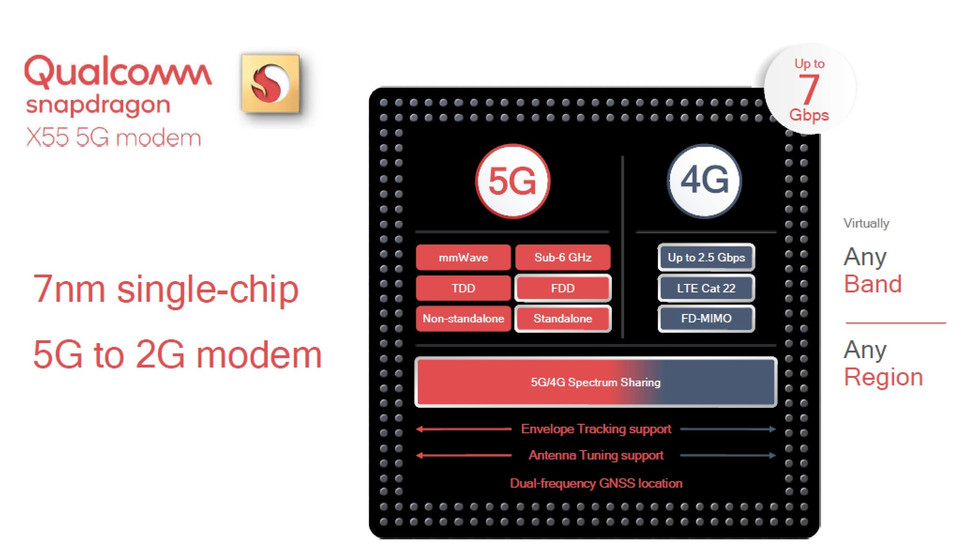 The 5G modem integrated into all of the above products seems to be identical.
Peplink is using a chip that supports Cat-20 4G/LTE and Sub-6 GHz 5G - and we suspect that the chipset is the same very capable Qualcomm X55 modem used in the iPhone 12 and many of last years flagship 5G phones.
It supports the following bands:
5G (NSA) Sub 6GHz: n1, n2, n3, n5, n7, n8, n12, n20, n28, n38, n41, n66, n71, n77, n78, n79
4G/LTE Bands: B1, B2, B3, B4, B5, B7, B8, B12, B13, B14, B17, B18, B19, B20, B25, B26, B28, B29, B30, B32, B34, B38, B39, B40, B41, B42, B46, B48, B66, B71
Unsurprisingly - no mmWave 5G bands are supported. mmWave is insanely fast but requires a completely different type of antenna (connected with antenna cables measuring at most just inches) to receive.
But fortunately - 5G band n77 is supported, which means these devices will be able to take advantage of the recently auctioned C-Band spectrum that will soon become so important to enabling true next-generation 5G performance in the years ahead.
Pepwave is claiming the modem is capable of this level of theoretical performance:
But - keep in mind these are peak theoretical speeds, and you will never see performance close to this other than under laboratory conditions.
And even still - the routers have internal processing speed limits that might actually cap your peak performance, even if you are someplace the modem is capable of achieving it:
MAX Transit 5G - 400 Mbps
Balance 310 5G - 1 Gbps
MBX 5G - 2.5 Gbps
The MAX Transit 5G in particular is limited since it seems to be based on an older generation of internal router hardware.
Concluding Thoughts: Keep Waiting For Better 5G Options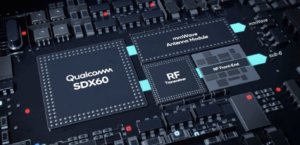 Particularly when it comes to cellular integrated routers, we are still in the extremely early days - and we are likely to see more options that are all around better, faster, and cheaper in the years ahead.
So while it might be tempting to invest in "future-proofing" now - by the time 5G networks have evolved to really take advantage of what is possible with this underlying technology, there will likely be better (and more affordable) options on the market.
In particular - the Qualcomm X60 chipset that will be powering the next wave of cellular integrated router products (potentially still a year off) has some very important future-proofing features around combing 5G bands for better range and performance, and it is certainly worthy of considering what X60 hardware might be like next year before investing in potentially expensive X55 powered hardware today.
For example - the X60 is capable of more advanced 5G carrier aggregation - combining 5G FDD bands (bands with different upload and download channels) with TDD bands (bands that alternate upload and download at different times on the same channel).
This will be necessary, for example, to allow T-Mobile band n71 (FDD) and band n41 (TDD) to be used simultaneously - or for Verizon or AT&T to combine C-Band (n77 - TDD) with longer ranger Sub-6 5G signals that are FDD.
In other words - unless you are excited about being on the bleeding edge, it might make sense to still keep waiting before taking on a major 5G gear investment.
Further Reading
And here is all of our recent 5G related coverage: