This was our April Fool's Joke for 2016. However, we still think this *would* be the fantasy RVer mobile internet solution. Unfortunately, we know of nothing like this even on the horizon.
For the past few months we have been beta-testing a brand new data plan by mobile internet startup, OmniCom. Today, we have been given the green light to announce it to you.
It's a new kind of unlimited data plan and mobile device, that we think is exactly what RVers have been looking for. A simple solution for keeping connected wherever they go, at an affordable price.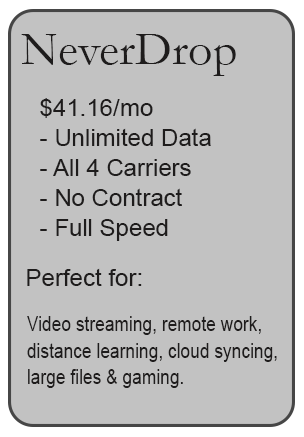 For $41.16/month (plus taxes), consumers can sign up for this new no contract unlimited data plan dubbed NeverDrop.
The plan includes:
No Contracts
No roaming limits
No throttling or network management
Use as much data as you want at full speed
Works on all 4 US carriers
International Roaming
The plan requires the purchase of a unique new mobile hotspot device, named the Millenilynx. It combines features that we've never seen before in a consumer level device.
To start with, it can connect to all four major carriers in the US, automatically selecting whichever signal is best in your current area - Verizon, AT&T, T-Mobile or Sprint. OmniCom has negotiated agreements with all four carriers to include in this special plan, and it even includes 10GB/month of free high speed data while traveling internationally.
Features of the Millenilynx Mobile Hotspot Device:
Dual antenna MIMO ports.
Integrated amplifiers - no need for an external cellular booster.
Dual 2.4 / 5.0 mHz WiFi, connect up to 25 devices at once via secure & fast VPN.
Wired gigabit ethernet port to support other internet enabled devices like printers and media servers.
Integrated WiFi extending technology for connecting to WiFi hotspots up to a mile away, and rebroadcast as WiFi as WAN.
Network bonding support to combine two data sources into one for blazing fast speeds (extra $10/month).
20-hour battery, recharged off integrated solar panel - no electricity required (12v adapter included however).
Optional satellite receiver support.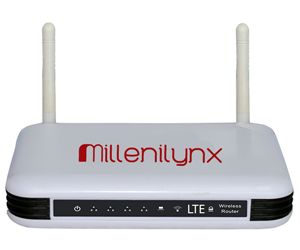 As a prelaunch special, the Millenilynx can be reserved for just $99 plus $15 shipping.
It will retail for $399 when the service officially launches in May - a bargain for a feature packed device that should serve most any RVer's needs.
Many have been dreaming of this revolutionary technology... and it's finally here!
Truly unlimited data just about anywhere RVers might roam, all in one small package.
OmniCom is a collaborative venture brought you by the same folks behind former well known mobile internet solutions. While those didn't last very long, we have high hopes for NeverDrop.
So, what are you waiting for?
APRIL FOOLS!
But wouldn't this be a perfect mobile internet setup?
Unfortunately.. if it sounds too good to be true...
Do you remember?:
Millenicom Customer Accounts Acquired by Verizon
OmniLynx Service to Be Terminated by November 30, 2015
Karma Neverstop well…. Stops.
But, there are viable options. Maybe not as sweet as this one.
We're here to help you navigate the best REAL options for you.
To start your research, we recommend reading over our free
Mobile Internet Overview article: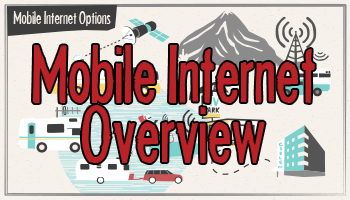 and consider purchasing a copy of the newly released :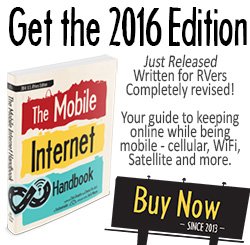 And if a magical unicorn like Millenilynx ever does become real
you'll hear about it here at RVMobileInternet.com!

Join our free monthly newsletter to 'stay in the know'.