At the end of every year we do a wrap-up of major changes in the mobile internet industry.
But this year, there's been so many significant changes since that major update that we thought it would be worthwhile to present a quick mid-year review to keep all of our readers up to date.
---
First, here's a quick video re-cap (9 minutes) going over the most significant updates:

---
Cellular Data: "Unlimited" Data Plan are Back!
In February all of the carriers introduced brand new unlimited plans.
But of course, these all come with limits hidden within the fine print - especially for mobile travelers seeking home internet replacements - a particular need cellular carriers are not yet ready to provide.
Those limitations come in the form of: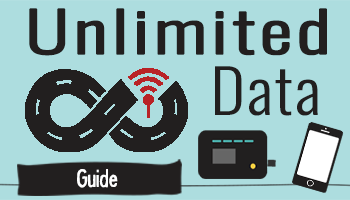 Of particular note is Verizon's heavily advertised New Unlimited Data Plan, which includes the mobile hotspot restriction. This restriction even applies to their Mobile Hotspot Jetpack / MiFi unlimited lines - essentially limiting them to 10GB usage.
This is a particular pain point that many Verizon representatives are not clearly disclosing even to this day to new customers.
After nearly 4 months of these plans being out, we're still hearing mass confusion and disappointment over hotspot usage with these plans.
Be an informed consumer before walking into your carrier's store!
Further Reading:
Cellular Data: Our Current Top Pick Data Plans
We're constantly tracking data plans, here are current top picks for mobile travelers seeking a home internet replacement:
[snippet slug = "cellular-data-plan-best-picks"]
Further Reading:
Mobile Satellite Internet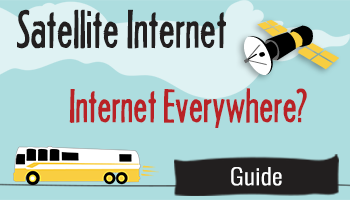 Satellite internet is now back as a viable option for mobile travelers with the launch of the HughesNet Gen-5 satellite system coming online in April - delivering amazing fast speeds.
The advertised speeds are promised at 25Mbps, but initial customers are reporting seeing as much as 50Mbps down and 3Mbps up.
Of course every satellite option comes with the normal drawbacks like latency, bulky equipment, and set up hassles.
But for those who really want to venture off into the boonies, it's great to have this option back!
But do keep in mind - to enable mobile service on the Gen5 system, you can NOT purchase service directly from HughesNet. Only certain resellers are able to enable mobile service, so do your homework and read our guides.
Further Reading:
Mobile Routers & Equipment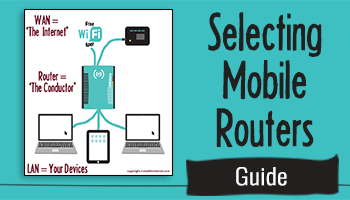 Starting at the end of 2016 and continuing into the year - most of the major mobile router manufacturers have refreshed their product lines to integrate in the latest in Wi-Fi networking and cellular technology.
Here's some of our past coverage of these product announcements:
We've had some hands on time with many of these new products, and our reviews have been updated and field testing results shared with our members.
Further Reading:
The Mobile Internet Handbook - New Version Coming
Our last edition of The Mobile Internet Handbook came out in early 2016 - and it is getting a bit dated.
We have just started a re-write and are aiming to have the new version out in fall sometime.
The 2016 edition is still packed full of relevant and useful information however, as we took a lot of time to make it more focused on the theory and less on products & plans (as those change so often).
But we are considering the old version end of life, and have priced it accordingly for now.
If you don't need this information immediately, we do recommend holding off for the 5th Edition to come out later this year (no promises yet on a date - so much will depend on how many breaking stories we need to cover between now and then.)
Once the new version is released, our premium MIA members will of course get their PDF copy update for free - and they already have access to much of the updated information in our various guides throughout the website.
If you'd like the 2016 Edition at the new 'clearance' pricing in the meantime (which includes a $5 off membership coupon should you decide to join the MIA later):
[easy-pricing-table id="15509"]