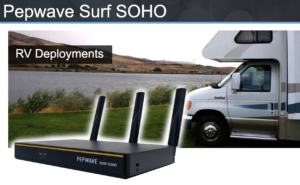 WiFiRanger isn't the only company with new routers appealing to RVers launching this week - mobile router manufacturer Peplink also has a major new release
The long awaited third generation Pepwave Surf SOHO is at last available!
Peplink is also now shipping an interesting new lower-cost addition to the MAX BR1 line of cellular integrated routers - the new MAX BR1 Mini.
Both of these are definitely worth a closer look for anyone aiming to build an advanced local network within their RV.
Mobile Router Basics:

Pepwave routers are in a class of products we refer to as 'Mobile Routers' that can help you combine multiple sources of mobile internet into one hub that all of your local devices can then share over a private Wi-Fi or wired network.

This is more of an advanced solution than just connecting to a basic Jetpack or MiFi hotspot, and not always appropriate for everyone.

For an introduction to this category of devices, please refer to our:
---
The New Pepwave Surf SOHO mk3
The Pepwave Surf SOHO (Small Office / Home Office) has for years been a popular option with RVers who had advanced networking needs. Its gigabit Ethernet ports and support for USB tethering to a range of cellular devices to share the connection made it a great hub for a mobile network.
The new third generation Surf SOHO builds on that solid foundation to add vastly faster 802.11ac Wi-Fi network support, as well as simultaneous support for both 2.4GHz and 5GHz Wi-Fi frequency bands.
The new Surf SOHO has three Wi-Fi antennas, and supports 3x3 MIMO on both Wi-Fi frequency bands to enable a maximum 2.4GHz 802.11n speed of 450Mbps, and 5GHz 802.11ac speed of a blistering fast 1300Mbps.
Across the board - this looks to be an awesome upgrade to the classic SOHO design.

Pepwave SOHO vs WiFiRanger GoAC?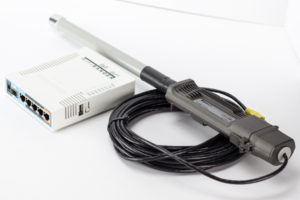 The new Surf SOHO and the new WiFiRanger GoAC on paper have very similar specifications - with five gigabit ethernet ports, USB tethering to cellular devices, and fast 3x3 MIMO 802.11ac Wi-Fi.
The one feature that sets the WiFiRanger products apart is that they can directly power and control a paired long-range Wi-Fi radio on the roof - important if if long range Wi-Fi is your goal.
You can actually use the Surf SOHO ethernet WAN port to connect to a roof-mounted CPE (even to a WiFiRanger) by using a separate POE power supply, but the integration is more complex and managing it will require two different control panels.
On the other hand...
At $179, the Pepwave Surf SOHO is half the cost of the WiFiRanger GoAC, which costs $349. The Surf SOHO undeniably offers a lot of capability for the price.
We've been testing an early release of the WiFiRanger GoAC since September, and expect to have the new Surf SOHO in our ongoing testing arsenal shortly.
We will be sharing our head-to-head performance testing results and impressions in our member forums and in our mobile routers review center.
The MAX BR1 Mini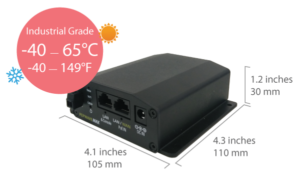 The Pepwave MAX BR1 has been one of our top picks for a cellular-integrated router since the "Universal" version came out in February 2015.
The BR1's integrated cellular radio eliminates the need for a separate cellular hotspot or USB modem, providing a more integrated cellular-focused solution.
The original BR1 costs $549, but the new BR1 Mini offers almost all the same functionality in a smaller box that costs just $299 - putting it in reach of a lot more RVers.
The BR1 Mini sacrifices one of the three ethernet ports found in the larger BR1, and drops support for WiFi-as-WAN and automatic connection failover - though these features can be added back by purchasing a $100 software license, bringing the total cost to $399.
The MAX BR1 Mini however has all the limitations of the full-size BR1 - no 802.11ac Wi-Fi, no USB port for tethering, no gigabit ethernet, and the cellular modem does not support LTE-Advanced speeds or cellular carrier aggregation.
But if you are OK with the downsides - for just $299 the MAX BR1 Mini paired over ethernet with a more conventional residential 802.11ac router to share the connection can prove to be a potent and affordable combo.
In theory Pepwave will soon have an entire new generation of MAX routers featuring 802.11ac and Category 6 LTE-Advanced cellular modems. If you want the latest and greatest technology, it is probably worth continuing to wait for this jump.
Getting the Latest Pepwave Routers
The Pepwave Surf SOHO shipped earlier this week and has already sold out at 3G Store (we exclusively gave our members a heads up in advance of the launch), and the MAX BR1 Mini is also now for sale at 3G Store and they have published a detailed hands-on preview.
We will keep our pages in the review center updated as these products become available via other online retailers as well.
Further Reading:
Related Articles: