Key Points:
The InvisaGig is an unusual cellular adapter designed to give almost any Ethernet device a 5G cellular connection.
The InvisaGig is not a router and only has Ethernet for connecting to other devices.
The InvisaGig uses the Quectel RM520N-GL 5G modem module - a good-performing module based on the Qualcomm X62 cellular modem.
The InvisaGig is a new and unusual device designed to do one thing - provide a 5G cellular connection via Ethernet.
While the InvisaGig looks like a router, it has no router capabilities. In terms of functionality, it is roughly analogous to a USB modem or USB cellular adapter, only using Ethernet instead of USB.
It combines a 5G modem module and an Ethernet sled with custom firmware in a case with cellular antenna ports.
Hobbyists have done this for years - combining a modem module and an Ethernet or USB sled to make their own cellular adapters - but the trick with going the DIY route has always been controlling and programming the modem. The "secret sauce" of the InvisaGig is custom firmware on the modem module itself that provides a basic text-based user interface that is much more approachable to an average consumer than the complicated AT commands of a DIY setup.
It's currently available from The Wireless Haven for $649.99. We have an evaluation unit in for testing courtesy of InvisaGig and The Wireless Haven and our members can follow along with our testing and will have access to our comprehensive review once it's complete.
InvisaGig First Look Video
InvisaGig Features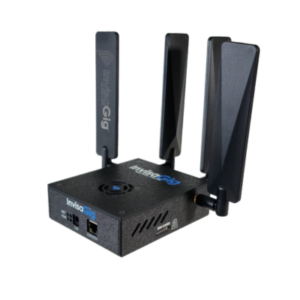 Since the InvisaGig is entirely focused on cellular connectivity, the Quectel RM520N-GL modem module is the system's heart.
It has a single 2.5 Gigabit Ethernet port to provide cellular connectivity to other devices with no option for Wi-Fi or USB. Additionally, it has four SMA antenna ports for 4x4 MIMO connectivity. It comes with basic paddle antennas, but it can be paired with any 4x4 MIMO antenna system.
Besides Ethernet and the antenna ports, the InvisaGig has a 12v power port and a single standard-size SIM slot.
Cellular
The InvisaGig comes with the Quectel RM520N-GL 5G cellular module, which uses the 4th-generation Qualcomm Snapdragon X62 cellular modem.
Fourth-generation 5G modems like the X62 are ones we consider to be much more future-proof compared to older designs. The RM520 is currently the most popular module and is also used in the Spitz AX, the 5G Insty Connect, a MOFI 5500 5G model, and several third-party router options. It supports just about every sub 6 GHz 5G and LTE cellular band:
5G Sub-6 Bands: n1, n2, n3, n5, n7, n8, n12, n13, n14, n18, n20, n25, n26, n28, n29, n30, n38, n40, n41, n48, n66, n70, n71, n75, n76, n77, n78, n79
LTE Bands (Cat-19): 1, 2, 3, 4, 5, 6, 7, 8, 12, 13, 14, 17, 18, 19, 20, 25, 26, 28, 29, 30, 32, 34, 38, 39, 40, 41, 42, 43, 46, 48, 66, 71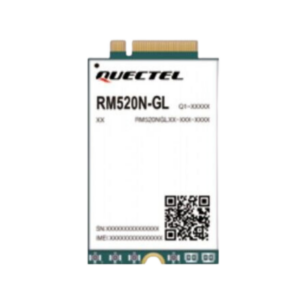 This is a fast and well-performing module.
For more information on the importance of modem design and generations, see our Fall 2022 report on cellular modem developments.
On 5G, the module supports peak theoretical speeds of 3.4 Gbps for download and 550 Mbps for upload. LTE performance is at Cat-19 for downloads and Cat-18 for uploads, providing peak theoretical speeds of 1.6 Gbps and 200 Mbps, respectively.
From testing in other devices, this modem module has performed well.
Firmware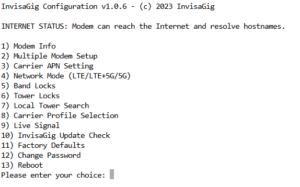 The firmware is where the InvisaGig is significantly different from other common cellular devices. Unlike a router, mobile hotspot, and most other modern devices, the InvisaGig has no CPU and circuitry to run device-level firmware and functions, including a graphical user interface.
Instead, the InvisaGig runs basic firmware on the modem module itself. The limitation is that modem modules aren't really designed for this, so the user interface is text-based and not graphical.
Additionally, this makes the setup a bit more complicated than is usually the case. Typically, in a cellular router, mobile hotspot, etc., you just need to connect to the device and go to the default IP address to access the UI. On the InvisaGig, there is a setup process which is relatively simple on Windows PC's, but it is more complicated on other platforms and phones and tablets aren't officially supported.
Once configured, the InvisaGig can be connected directly to any Ethernet WAN port to provide internet connectivity.
Cellular Features
Even with the limitations, the InvisaGig does have some advanced cellular features:
Band Locking: The InvisaGig allows the user to lock specific bands on LTE, 5G Standalone (SA) and 5G Non-Standalone (NSA)
Tower Locking: The InvisaGig can also lock to a specific cell tower, which can sometimes be useful when two towers are in range.
Tower Search: Required to use the Tower Locking feature, the modem can search for towers in range.
Carrier Configuration: The InvisaGig can auto-configure based on the inserted SIM card, but the user can also configure a custom connection.
Where to Purchase
If you're interested in purchasing the InvisaGig, here is the affiliate link where it can be purchased. Using this link helps support MIRC's mission.
If you're an MIA, please be logged in to use your vendor discounts instead - they pass along our affiliate kickbacks to you!
Member Exclusives Below:
 Bonus Member Only Content Available!
We go extra for our premium members - who make this resource center possible (did you notice the lack of 3rd Party advertising?). We have included some additional information in this news article just for our members - analysis, guidance and/or insider tips.
If you're not yet a member, please consider joining us. Extra content like this is one of the many perks we offer - in-depth content, guidance, discounts, alerts, classroom and more.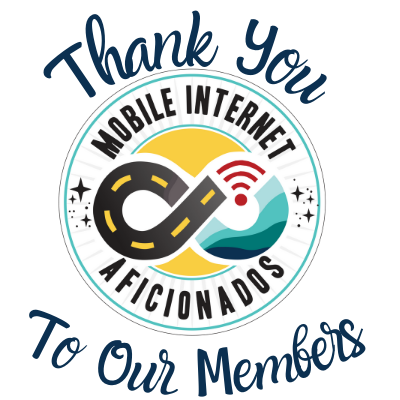 If you are already a member, please log in above to see the special content we have prepared for you.
Concluding Thoughts
The InvisaGig is one of the most unique and innovative consumer products we've recently seen. It's designed to do one thing - provide a 5G cellular internet connection to most any Ethernet device, and in our initial testing, it does that well.
But the unique design has some downsides, particularly the more complicated setup necessary to configure it for those who don't have a Windows PC. And while the text-based UI is very clear and straightforward, some may not like that style of interface compared to a point-and-click interface.
At $649, the InvisaGig is also more expensive than some cellular routers that use the same modem module. You'll want to weigh the value, advantages, and disadvantages to determine if the InvisaGig is the right product for your needs.
We have an evaluation unit in for testing and have already started sharing in-depth, hands-on experiences with our members.
For more information:
Related MIRC Content
Related News Stories: