Google Fi is Google's unique cellular service that provides coverage using a combination of Wi-Fi combined with multiple partner cellular networks behind the scenes - automatically picking the best option wherever you happen to be to deliver voice, text and data service.
Today Google announced a new plan in their Fi lineup - a new Unlimited Plan, giving users another compelling option for using the Fi service.
But of course, as we've all come to learn with the word 'unlimited' - there are limits. And in this case, the new plan is really a 22GB plan, not unlimited.
Video Version of this Story
Subscribe to our YouTube Channel
What is Google Fi?
First, a quick re-cap of Google Fi.
Google Fi uses multiple cellular networks behind the scenes - automatically picking the best partner wherever you happen to be.
The three partner networks in the USA are Sprint, T-Mobile, and US Cellular - giving Google access to the combined coverage maps of the third and fourth-largest cellular carriers in the country as well the nation's largest regional carrier.
A nice feature of the Google Fi plans is that they include international data at no extra charge (and at full speed), making it an easy option for anyone who does a lot of international travel.
Google Fi originally launched as Google's Project Fi back in 2015, and has since offered one simple plan - $20/month for unlimited talk and text, while data is charged at $10 per GB used. In 2018 they implemented Bill Protection, that capped data charges at $60/month (or 6GB) and then gave the customer usage up to 15GB of high-speed data at no extra charge.
The original plan remains the same but is now called the 'Flexible' plan.
For more on this plan, visit our Google Fi overview page.
For one example of how Google Fi can be used for long-term international travel, see this post from Gone with the Wynn's, who are sailing around the world using Google Fi to keep connected.
---
New Fi Unlimited Plan
The new Unlimited Plan announced today provides unlimited data, calls, and text, as well as free international calls from the US to 50 countries. The unlimited data continues to include mobile hotspot use at full speed at no extra charge
The plan continues to also include international data outside of the US in 200 destinations at full speed - also at no extra charge.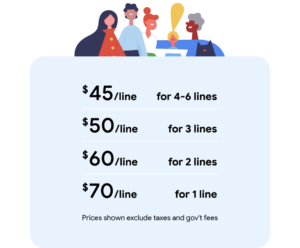 Pricing starts at $70/month (plus taxes and fees) for one user, with discounts if you add more users (up to 6 users).
Like most "unlimited" plans, Google Fi's Unlimited Plan does come with some limitations.
Data speeds will be hard throttled to 256kbps ("2G speeds") after 22GB of usage per person/line, per month.
If you want additional high-speed data after the 22GB usage cap is met, you can manually purchase more for $10/GB.
Also, video streaming may be reduced down to 480p (DVD quality) on the unlimited plan.
A new perk of the Unlimited Plan is an included membership in Google One, which provides 100GB of cloud storage. There are additional new perks such as expert support across Google and discounts on other Google products.
If you're using the current Google Fi Flexible Plan and are happy with it, don't worry - it's not going away and will still be available. You can even switch between the two plans as needed, but only effective on your billing date.
---
Phone Options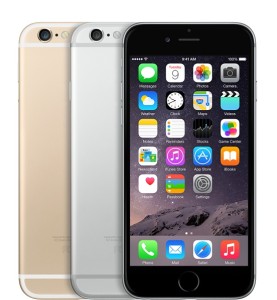 One of Google Fi's long-standing limitations is that in order to fully take advantage of their coverage, you need to use a phone designed to work with Fi. The backend technology that makes Google Fi work seamlessly between Wi-Fi and multiple carriers requires phones specifically designed to take advantage of the service.
Most phone manufacturers do not add the unique hardware and software needed to enable Google's service - so phone selection is limited.
In other words, smartphones that are not specifically designed to take advantage of Google Fi will have a more limited feature set. How limited?
Google Fi Phone Feature Compatibility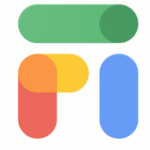 Phones specifically designed for Fi come with the following features:
Calls, texts, and data on multiple 4G LTE networks (T-Mobile, Sprint, and US Cellular) including automatic connection to 2 million secure WiFi hotspots
International roaming
Secure connections with Fi VPN and enhanced network switching (currently in Beta)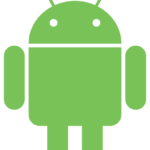 Android Phones that are compatible with Fi but not designed for Fi:
Calls, texts, and data only on T-Mobile's network.
Limited WiFi calling and texting (compatibility depends on the specific manufacturer and device)
International roaming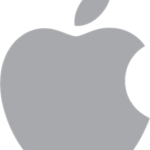 Apple iPhones (currently in Beta, requires the installation of the Google Fi app):
Calls, texts, and data only on T-Mobile's network (MMS texting requires a special configuration, but iMessage works normally)
No calls, texts, or visual voicemail over WiFi
International roaming, but no mobile hotspot data outside the US.
These limitations are a major disappointment.
Non-Fi phones lose the seamless network switching that makes Fi unique - instead, customers using a non-Fi phone will get, in essence, a limited T-Mobile-based plan via Google.
And iPhones are even more limited with no option for international mobile hotspot use.
Those considering a non-Fi device should consult Google's support article before signing up for service to discover specific device limitations.
---
Summary
Our advice for Google Fi remains the same - for data-hungry nomads and those looking for a mobile home internet replacement, Google Fi isn't a great primary option.
But it can work well as a secondary option or as a smartphone plan, particularly for those who do a lot of international travel.
The new unlimited data plan option is a nice addition to the Google Fi offerings, but with the hard throttling of data speeds - it's best looked at as a 22GB plan, not unlimited.
Google Fi customers who are consistently using more than 5GB of data a month will find it beneficial to switch to the new Unlimited Plan. That's the breakpoint where you'd be paying $70/month anyway for data usage on the Flexible plan - but now for the same price, you'll get 22GB of data at high speed instead of 15GB.
News Stories:
Related Reading: