Key Points:
Google Fi is offering a 50% discount to new customers on their Unlimited Plan for 3-months
Google Fi's 'Unlimited' plan offers 22GB of high-speed data, then throttles all remaining data to 256 kbps
Google Fi, Google's own MVNO that uses Sprint, T-Mobile, and US Cellular cellular networks paired with Wi-Fi hotspots to provide voice, text, and data service, is enticing new customers with 50% off the base price of an 'unlimited' plan for the first three months of service.
Video Story
Subscribe to our YouTube Channel
The Promo
New customers get 50% off via a Fi bill credit for the first three months of service when activating a new account on Google Fi's 'Unlimited' Plan, or adding a member who is new to Fi to an existing Google Fi Unlimited Plan.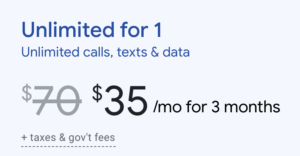 For a single line (new account), this brings the pricing for the first 3 months of service to $35/month - not including taxes and fees, which are not discounted.
A new Fi customer is defined as a person who has never previously opened a Google Fi account. Former Google Fi customers who have canceled or paused service are not eligible. For those adding a new line to an existing Google Fi account, only new members added to the account will receive the Fi bill credit. Fi to Fi transfers are not eligible for this promo.
This offer is only valid for the Google Fi Unlimited Plan and is not valid for other plans.
The promo does not have a published end date, but is currently noted to be 'while supplies last'.
Google Fi's Limited 'Unlimited' Plan
Google Fi's Unlimited Plan, like many 'unlimited' data plans available today, is definitely not unlimited by most nomads' standards. In fact, it's less unlimited than other unlimited plans with pretty hard speed caps.
On Google Fi's Unlimited Plan, data speeds are hard throttled to 256kbps ("2G speeds") after 22GB of usage per person/line, per month.
On the plus side, all data can be used via mobile hotspot.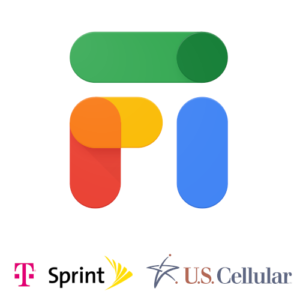 While for many data-hungry nomads, 22GB of data just doesn't cut it, Google Fi does have some perks for those who desire the flexibility of 3 carriers covered by one plan, or easy international roaming.
High-speed data use in over 200 countries is included on Google Fi plans at no extra charge, but, the majority of your data must be used within the U.S., or you risk the possibility of termination.
Google Fi does offer 5G network use on T-Mobile's network with 5G compatible phones that work with Fi and are compatible with T-Mobile's 5G network.
There are a limited set of fully-compatible phones that can take advantage of all of Fi's features. While some iPhones can now be used on Fi, mobile hotspot use and texting are not available Internationally when using an iPhone.
Google Fi does offer a data-only SIM option that can be used in mobile hotspots or tablets. These SIMs can be added on to a plan at no extra charge, and share the caps on your smartphone plan.
For more details on Fi plans and specs, see our Gear Center:
Related News Stories
Related Guides