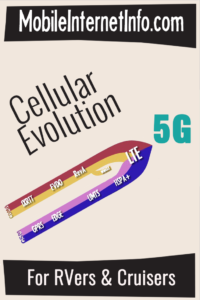 Fifth generation cellular networks have begun to roll out in 2019, but will really only begin to be majorly relevant starting in 2020 and beyond.
The goal of 5G networks will be to enable ridiculously fast peak cellular data rates eventually reaching over 10 Gbps, with network latency as low as 1ms.
This represents a 10x - 50x increase in network throughput and capacity compared to the fastest 4G/LTE networks.
5G will enable a whole range of next generation applications ranging from autonomous connected vehicles to augmented reality to ultra-HD video streaming.
5G will take advantage of many chunks of spectrum ranging from long range UHF frequencies up through short range extremely high millimeter wave frequencies.
When broadcast over long range frequencies 5G may only have a modest speed improvement over 4G/LTE, but in core urban and suburban areas that are frequently overloaded the extra capacity that 5G brings to cellular should allow for dramatic improvements.
NOTE: Be aware that 5G cellular (aka "fifth generation") is distinctly different than 5GHz Wi-Fi. In the case of Wi-Fi, "5G" is referring to a broadcast frequency band, not to cellular technology.
« Back to Glossary Index