This device has been discontinued or we consider it obsolete. While current owners of this device may continue to find performance to be adequate for the foreseeable tech-future, we do not recommend upgrading to or purchasing this device.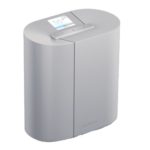 Verizon offers tiered-data plans specifically designed for home use with a valid connected home device. These plans include voice for use of a standard telephone, which can be plugged into the device.
The plans are called Single Connected Home Plans and are part of Verizon's plan lineup designed for smart devices.
This plan can only be activated on a valid "home connected device."
---
Verizon Smarthub Device Specifications
Model Number: Smarthub
Control Panel and Default Password:
Control Panel: http://my.smarthub or http://192.168.1.1
Default Password: List on the device display
USB Tethering Support: N/A
Supported Networks and Bands:LTE Bands: 4, 13 only (no 3G fallback)
MIMO Support: 2x2 internal
LTE Performance Category: Category 4
(Max Theoretical Speed: 150Mbps Down / 50Mbps Up)
Other Ports: 1x Ethernet, 1x Analog Phone Jack, 1x RJ31 Home Security port
Wi-Fi Technology / Frequencies: 2.4GHz 802.11n and 5GHz 802.11ac
Claimed Battery Life: 3.91 hours / 1.87 days on standby
Can Be Powered Without a Battery: Unknown
Dimensions: 5.87" x 5.31" x 3.27" / 26.5oz
SIM Card Type: 4FF / Nano
Retail Price: $199.99
---
Single Connected Home Plans
These data plans are paired with voice service for use via a standard telephone plugged into the Smarthub device. Voice service can be added for $20/months on top of the data price - but is not required. Prices do not include taxes and fees.
These plans can only be paired with Verizon Smarthub type devices.
10GB for $60/month
20GB for $90/month
30GB for $120/month
40GB for $150/month
---
Plan Details
Carrier Networks Used: Verizon
Carrier Relation: Direct postpaid
Plan Types Available: Voice + Data
Device Types Permitted: Smarthub device
Device Purchase Required: No, but can purchase a device - and device needs to be in Verizon's Smarthub line-up
Mobile Hotspot Use: Yes - all
Throttling: None
Network Management: None
International Roaming: No
Domestic Roaming: Yes
Plan Period: Monthly
Data Roll Over: None
Overage Charges: None
Streaming: No services included, no throttling limits
Unlimited: No
---
Review & Testing Status
We do not intend to obtain this unit or plan for testing.
---
Read More Here:
---
Potential Alternatives to Consider:
For other popular mobile routers on the market we are tracking - here are our featured options:
Learn More About Selecting Mobile Routers
---
This Review Contains Additional Member Exclusive Content

We are honored to be able to present the above overview for free without 3rd party advertising or sponsorships. We are not paid by the manufacturer of this product to provide this listing or review, and nor are we selling this equipment or plan (purchasing links are provided below as a courtesy and some may be affiliates).
Our members have funded this resource center and any extensive hands on time
we have spent with the product to review it.
The in-depth portions of this review are made available to them which might contain: hands on testing notes, field testing data, user interface tour, product analysis, comparison to alternatives, setup tips, video tutorial, insider tips, vendor discounts and fellow member experiences.
If you're a member, please log in to continue with this review.
If you're not a member.. please consider joining us!
Purchasing Options
The guides below have been hand-picked to help further your education about selecting & using mobile routers.