Synology is a Taiwan-based corporation that specializes in Network-Attached Storage (NAS) devices, but they also sell routers primarily designed for residential and business use.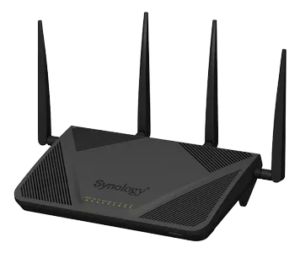 When looking for an 'all-around' functional mobile router, we consider the ability to tether via USB a key feature and both current Synology routers support this feature.
Other potentially important features for mobile routers include 12V power support and WIFI-as-WAN capabilities.
Synology routers do run on 12v power, but they only come with A/C adapters - using a 12v source would require an adapter. They do not come with WiFi-as-WAN but that could be added with an additional piece of gear.
Synology routers also come with an intuitive user interface (Synology's SRM) and companion "apps" that provide additional functionality, including:
Parental Controls & access control/scheduling
Traffic monitoring/control
Built-in VPN, media, RADIUS, and storage server
Integration with Synology ecosystem (including remote monitoring/control)
Advanced security features
The routers also come with all the usual features one would expect in a home router.
Synology currently offers two models:
MR2200ac - A mesh router system
RT2600ac - The standard home router (Reviewed in this entry)
---
Specifications:
Model: RT2600ac

Router Specs:

# of Connected Devices: 100

Wi-Fi Router:

Wi-Fi Standard: Wi-F 5 (802.11ac) Simultaneous 2.4 GHz & 5 GHz
Wi-Fi Notes: Wi-Fi 5 Wave 2 - MU-MIMO
Max Theoretical Wi-Fi Speed: 800 Mbps (2.4 GHz), 1733 Mbps (5 GHz)
Wi-Fi Antennas: 4x Dual-band RP-SMA paddle antennas
Wi-Fi as WAN: No
Claimed Wi-Fi Range: Not specified
Guest Wi-Fi Network: Yes

Default Control Panel Address and Password:
Control Panel: http://192.168.1.1 or http://router.synology.com
Default Password: synology

USB Tethering Support:

Yes

Dimensions: 3 x 9.9 x 6.7 inches (without antennas)
Other Ports:

1x USB 3.0
1x USB 2.0
1x SD-card slot

Power Source:

12v, 3.5amp (comes only with an AC adapter)

Outdoor Rated:

No
Special Features: Data Usage Tracking, Parental Controls, Dual WAN failover/load balancing, NAS Integration, VPN

Retail Price:

$199
---
News, Videos & Status
We tested the RT2600ac model over the summer in 2019. Our detailed assessment is available to our members below.
Related News:
---
---
Content included in the member area below:
Deep Dive

Hardware Features and Capabilities
Router Features
Software & User Interface
Other Features
Comparison to Mobile Routers
Purchasing Options