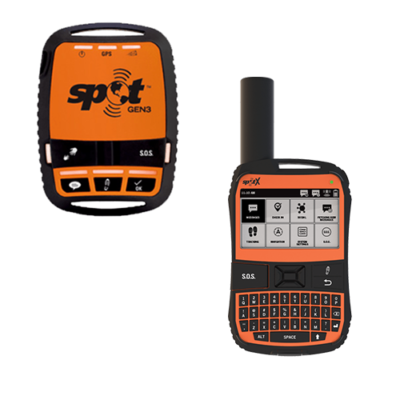 The basic SPOT Gen3 and SPOT X satellite communication devices combine a GPS with a satellite transmitter (powered by the Globalstar satellite network) that works almost everywhere in the world (there are a few gaps in coverage, but not many).
Just press a button to "Check In" or another button to "Send Help."
SPOT Gen3 ($149.99) is broadcast only – there is no way for you to receive a message.
SPOT X ($249.99) is a two-way device. SPOT X provides you with your own personal mobile U.S. number so others can message you directly from their cell phone or other SMS devices at any time. It also contains a full keyboard for on device usage.
Specifications:
Main Function: Basic Satellite Communicator
Satellite Network: Globalstar
Battery:

SPOT Gen3: Sends 1,250 messages on a single set of Lithium batteries
SPOT X: 240hrs (10 DAYS) in continuous 10 min tracking mode

Weight:

SPOT Gen3: 4oz
SPOT X: 7oz

Dimensions:

SPOT Gen3: 3.43" x 2.56" x 1"
SPOT X: 6.5'' x 2.9'' x 0.9''

Waterproof:

SPOT Gen3: IPX7
SPOT X: IPX7

Location:

SPOT Gen3: GPS accurate within 5 meters
SPOT X: GPS accurate within 3 meters

Price:

SPOT Gen3: $149
SPOT X: $249
---
Review & Testing Status:
We do not intend to obtain a setup to test.
---
Potential Alternatives to Consider:
For other featured mobile satellite options:
Learn More About Mobile Satellite Options
---
More Information Available to our Members

We are honored to be able to present the above overview for free without 3rd party advertising.
In thanks for funding this resource center our members have access to any further notes, analysis, insider info, member experiences and/or our full in-depth review of this product or offering.
If you're a member, please log in above to read the review.
---
Additional Reading
Related Articles
Related Guides
---
Purchasing Options
Find Me Spot Website: SPOT Gen3 | SPOT X
The guides below have been hand-picked to help further your education about mobile satellite: