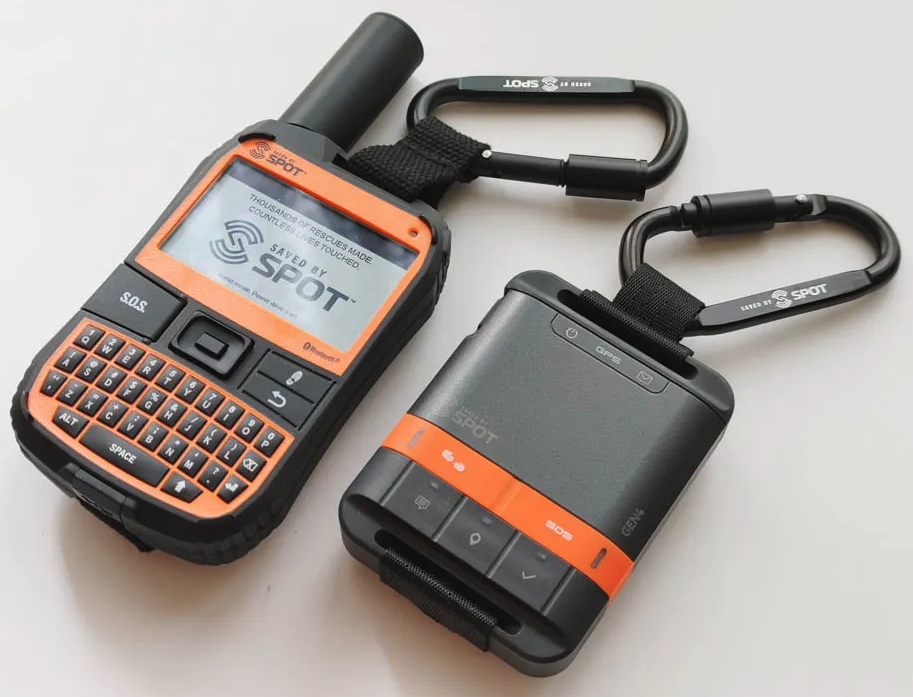 The basic SPOT Gen4 and SPOT X satellite communication devices combine a GPS with a satellite transmitter (powered by the Globalstar satellite network) that works almost everywhere in the world (there are a few gaps in coverage, but not many).
Just press a button to "Check In" or another button to "Send Help."
SPOT Gen4 ($149.99 $99.99) is broadcast only personal tracker device – there is no way for you to receive a message.
SPOT X ($249.99 $199.99) is a two-way device. SPOT X provides you with your own personal mobile U.S. number so others can message you directly from their cell phone or other SMS devices at any time. It also contains a full keyboard for on device usage.
Specifications
Main Function: Basic Satellite Communicator
Satellite Network: Globalstar
Battery:

SPOT Gen4: Sends 1,250 messages on a single set of Lithium batteries
SPOT X: 240hrs (10 DAYS) in continuous 10 min tracking mode

Weight:

SPOT Gen4: 5oz
SPOT X: 7oz

Dimensions:

SPOT Gen4: 3.48" x 2.66" x .93"
SPOT X: 6.5'' x 2.9'' x 0.9''

Waterproof:

SPOT Gen4: IP68
SPOT X: IPX7

Location:

SPOT Gen4: GPS accurate within 5 meters
SPOT X: GPS accurate within 3 meters

Price:

SPOT Gen4: $149
SPOT X: $249
---
News, Videos, & Status
We do not intend to obtain a setup to test.
Related Articles
Related Guides
---
---
---
Purchasing Options
Amazon (affiliate links): Spot 4 | Spot X