Key Points:
New "Black" data-only plans on the AT&T network
Plans are only compatible with the new BOOMFi Data Device
Boom! Mobile is an 3rd party reseller that offers cellular plans on the AT&T, Verizon and T-Mobile networks. Recently they started offering some new data-only, annual plans on the AT&T network.
Video Version
Subscribe to our YouTube Channel
New Black Plans
Boom! color-codes their plans, and AT&T plans have traditionally been their "Blue" plans. But their newest group of data-only plans are named the "Black" plans.
Even though their site doesn't specifically state that these plans are on AT&T's network, they did confirm to us via email that AT&T is the network they are on.
These new data-only plans are annual plans, meaning you must pre-pay for a year in advance. The plan lineup includes plans that provide from 50GB to 750GB of high speed hotspot data per month, with pricing that works out to be $60-125 per month. There is no month-to-month payment option.
The Black plans however are only compatible with the new data device that Boom is offering - the BOOMFi device (more details below.) The device is listed at $119.99.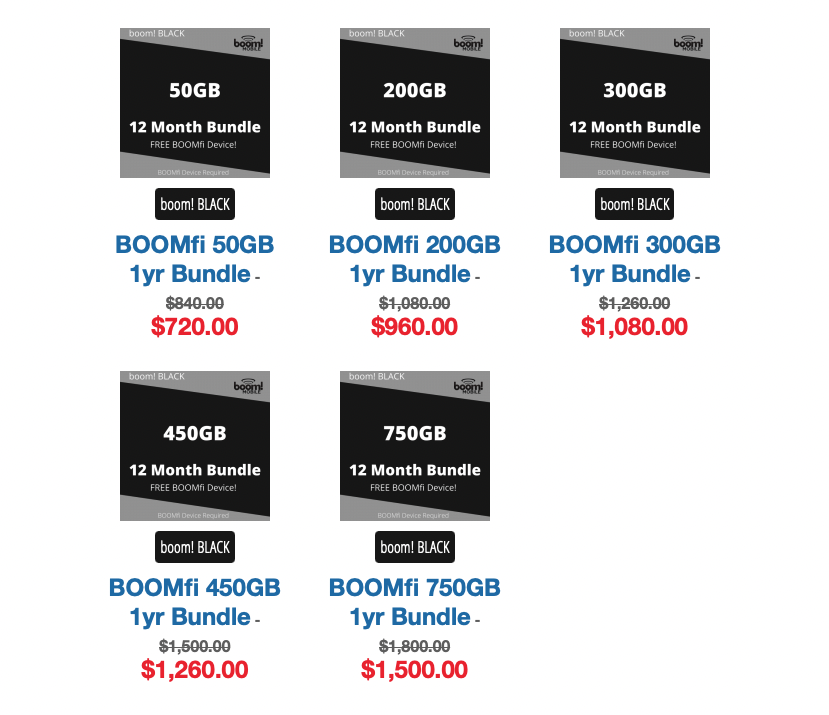 Special Device Offer and Sale Pricing
Currently boom! is offering Sale Pricing on all of the plans above, and as a "Special Offer" the BOOMFi device is included for free with the purchase of one of these plans. There is no indication how long these promotions will run.
The Sale Pricing for the plans is:
50GB/month for $720/year (regular price $840/year)
200GB/month for $960/year (regular price $1080/year)
300GB/month for $1080/year (regular price $1260/year)
450GB/month for $1260/year (regular price $1500/year)
760GB/month for $1500/year (regular price $1800/year)
Plan Details
These plans have hard data caps - once your data is used for the month, data is turned off.
These plans come with the Stream Saver feature automatically turned on. Stream Saver is an AT&T feature designed to help you save data by reducing the streaming quality of videos. With AT&T-direct plans, users have the option to turn this feature off, allowing for higher quality streaming. However Stream Saver can not be turned off on these plans, so all video will stream at 480p/DVD quality.
There is currently no information on boom!'s site about international roaming for these plans, as the device is promoted as using CloudSIM technology with Global coverage. When contacted, they told us that they "expect" to have international roaming, but are "not 100% sure at this time."
BOOMFi Device - Required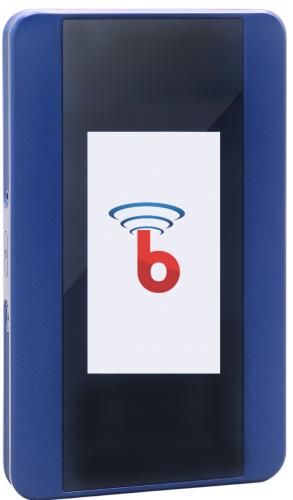 The new BOOMFi data device is a very basic model, and there are not many details on the specs on boom!'s website.
It appears to be a low end likely Cat-4 modem, covering 4G and 3G bands only, with no support for 5G. There are no antenna ports, and no advanced features such as carrier aggregation.
It supports many of AT&T's based LTE bands of B1, B2, B3, B4, B5, B7, B8, B12, B17, B19, B20, B28, but omits some key bands like FirstNet B14.
Boom!'s website states that the Black plans are only compatible with the BOOMFi device. And as this is an eSIM device, there is no option to move a SIM to a different device.
Summary
While the data buckets and pricing for these new plans is very appealing, we do think some hesitancy is warranted with the requirement to prepay for a year to a 3rd party and utilize a low end device.
As a word of reminder, in mid-2020 boom! briefly offered a 400GB "unlimited" data only plan on the AT&T network. However the plan was short-lived and disappeared from their site. Existing customers were grandfathered in on the month-to-month plan, but all of them were discontinued by the carrier at the end of 2020.
This gives us pause as to what would happen to customers who prepay for these plans for a year if AT&T pulls the plan. We really have no way of knowing what would happen in that situation.
We advise using caution before making a boom! plan your primary plan. While boom! has been around for several years, we've historically experienced some frustrations with their difficult to navigate website, lack of details on plans, and frequently changing offerings.
We do, however, strongly welcome MIA follow-up of experience with any of these plans if you have used them - or use them in the future. Please feel free to comment below or in the forums if you have any information to share.
Related News Stories
Related Guides