UPDATE: February 2017
We've received several reports that AT&T is at last rolling out Stream Saver widely to customers, even those with unlimited data plans.
If you are on a data-limited plan, this means that your AT&T plan will now last longer while watching video before running out of data.
But if you are on an unlimited plan - you will be stuck watching low-res video unless you take action and turn Stream Saver off.
Here is how you manage Stream Saver (from AT&T's FAQ page):
Stream Saver is automatically turned "On" when it is first added to the lines on your account. If you want to turn it off (or later back on), you can do so at att.com/myatt or through the myAT&T app. After you change Stream Saver settings, please wait 5 minutes and then restart your device so the change can take effect.
Do keep in mind that AT&T is turning ON stream saver by default, so if you want HD video be sure to check your settings.
Our original news story from November continues below.
---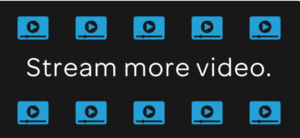 AT&T has a knack for taking good ideas from T-Mobile, and then copying them in a way that makes things just a bit worse for customers.
First it was with rollover data - when T-Mobile's "Data Stash" came out allowing customers to bank unused data for up to a year, a month later AT&T debuted its own Rollover Data program with unused data expiring after just a month - making it a lot harder to actually take advantage of.
Now AT&T is lining up to copy T-Mobile yet again, this time announcing a new feature called Stream Saver that at first glance seems to be a clone of T-Mobile's Binge On that launched a year ago.
Only in practice, it is not nearly as interesting.
What Is Stream Saver?
AT&T describes Stream Saver this way:
"Stream Saver lets you watch more video on your wireless phone or tablet while using less data, by streaming most higher definition video at standard definition quality, similar to DVD (about 480p). Stream Saver helps your data go further.

That means more emailing, surfing, shopping, navigating, listening to music, and of course, more video.

The best part: it's your choice. You can still stream video in higher resolution, when available, whenever you choose. You control Stream Saver and can turn it off or back on for any qualified line at any time at myAT&T or Premier for business customers. There is no charge to disable or enable Stream Saver."
AT&T's FAQ explains that the feature works by capping the speed of detected video streams:
"If Stream Saver is turned on, data speeds for content that is recognized as higher definition video will be capped at 1.5 Mbps, which generally is equivalent to Standard Definition quality, similar to DVD (about 480p)."
This is in essence copying the video optimization feature of T-Mobile's Binge On - but it is missing the best part that made us such big fans of T-Mobile's take on binging:
On T-Mobile, watching optimized video does NOT count against your monthly data plan. But on AT&T, it does. Stream too much, and you risk running out of high-speed data for the month!
T-Mobile's T-Mobile One plan and Sprint's Unlimited Freedom Plan also feature video optimization that limits streaming resolution - but both of these plans feature unlimited data that will let you stream as much as you want.
The only way to get unlimited streaming on AT&T (optimized or not) is to have an unlimited data plan that is only available to customers who also subscribe to DirecTV satellite TV service.
Getting Stream Saver
AT&T's announcement yesterday is just a tease - Stream Saver will not actually be rolling out to customers until "early 2017" when it will become available for most current and grandfathered AT&T plans, including the pre-paid GoPhone service.
When it does roll out - AT&T will be turning Stream Saver ON by default for all customers, even those with unlimited data plans where lowering resolution to "save" data is actually a negative customer experience.
If you do not want AT&T optimizing your video, you will have to manually turn it off at this time.
AT&T plans to notify customers via text message when Stream Saver rolls out to them, so keep your eyes out for this feature next year.
Despite the limitations - overall Stream Saver is a good thing. Everyone benefits from having more tools to keep data usage under control.
For more information, check out AT&T's Stream Saver page.
Read More: