(UPDATE 4/5/17) Boom! Mobile Verizon plans now allow mobile hotspot from Android devices as well as iPhone.
(UPDATE- 11/11/16) Boom! Mobile is now offering Sprint and T-Mobile based plans in addition to it's Verizon based offerings. Unlike the Verizon plans, Boom!'s Sprint and T-Mobile based plans can utilized both iPhone and Android phone hotspots. Verizon based plans continue to require the use of an iPhone for hotspot capability.
In addition Boom! is now offering some Verizon plans which provide throttled (2G speed) data after initial plan data cap has been met. Sprint based plans are currently hard capped. However, Boom! now offers a 90 day roll-over for any 'top up' data purchased. There is no roll-over of initial data on any of the plans.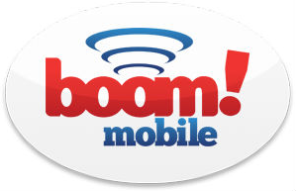 New plans which may be of interest to mobile internet users include:
Sprint- $39.99 - 5GB of hard capped 4G LTE data (plus unlimited talk and text)
---
(UPDATE- 8/31/16) Boom! Mobile, a fairly new MVNO, is offering prepaid plans which may be of interest to nomads seeking a bit of extra data. These plans are on the Verizon network and offer both voice and LTE data roaming at no extra charge (cool!).
Making these plans even more relevant to mobile internet users is their support of the use of a hotspot, but only from an iPhone. With that caveat in mind, these plans also offer voice, visual voicemail (iPhone only), call forwarding, and text.
Two notable hard capped plans being offered are:
$29.99/month for unlimited talk and messaging & 2GB of data for LTE phones only.
$39.99/month for unlimited talk and messaging & 5GB of data for LTE phones only.
Data is hard capped on the above plans, without the new Always-On Data feature recently introduced on direct Verizon Prepaid plans. The option of adding additional high speed data to a plan comes at the price of $10/1GB, $14/2GB, or $30/5GB.
Seemingly in response to the recently popular unlimited, throttled data feature (i.e. Always-On Data feature), that many companies are now offering, Boom! has introduced two new prepaid plans that include unlimited throttled data as well. In line with competitors, data after use of initial allotment is throttled to an unlimited 128kbps, which is just fast enough for basic web tasks such as checking email. Both new 'unlimited' plans are $5 more per month.
The two notable 'unlimited' plans offered are:
$34.99/month for unlimited talk & messaging & first 2GB of data at high speed for LTE phones.
$44.99/month for unlimited talk & messaging & first 5GB of data at high speed for LTE phones.
Boom! Mobile currently includes more data than any other Verizon based MVNO. Boom is also unique among Verizon MVNOs in offering the ability to hotspot (iPhone only) as well as providing both voice and data roaming. We can only hope that this is a sign of changes coming for other resellers.
As with all Verizon MVNOs, all data is throttled to 5Mbps (before any additional throttling by the MVNO), whereas Verizon Prepaid's high speed data is delivered at up to maximum LTE speeds. Still, 5 Mbps is fast enough for most everything (except big screen HD video streaming and online console and PC gaming). Boom! is $15 cheaper than direct Verizon Prepaid and includes voice and data roaming, which Verizon Prepaid lacks.
Other plans through Boom Mobile that could be of interest to the nomadic data user include:
$29.99/month for 3GB of data only
$39.99/month for 4GB of data only
These plans both have an initial $6.99 charge for shipping of a sim card. Both 'data only' plans come with the options of either adding data once the allotment is used ($15.00/1GB), throttled access (128Kbps) after initial allotment for an addition $5.00/month, or having data cut-off after allotment is used at no additional charge. In comparison to the prepaid Boom Mobile plans discussed above, the 'data only' options are not competitively priced. However, in comparison to data only offerings from Verizon directly ($60.00/3GB) or MVNO StraightTalk ($25.00/2GB), these prices are reasonable.
As with any MVNO or reseller, caution is advised. Terms and pricing are subject to change; the "no contract" terms go both ways. However, as a prepaid offering (only pay for service when you need it!), this plan may appeal to those looking for a 'data bump' every so often, or when looking at doing some 'roaming' on the Verizon network.
Related Info:
The Four Major US Carriers- Which is Best for RVers?
MVNOs, Resellers & Prepaid Cellular Data Options – What You Need To Know
Cellular Carrier Data Pricing and Plan Guide (member only)