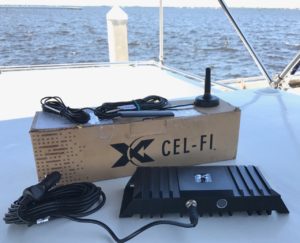 We've been tracking Nextivity's unique Cel-Fi cellular boosters for years now - but their technology in the Unites States has only ever been used in residential boosters that were a very poor match for mobile and RV installations.
But last summer a Nextivity product manager called us up to confidentially share tentative plans for an upcoming mobile version of their booster, wanting our input.
It was a great conversation - and we gave a lot of feedback around how RVers use cellular boosters, and what features matter most.
Nearly a year later, Nextivity has followed through on their vision to go mobile - and the brand new Cel-Fi Go M is about to hit the market.
And we've just received one to test.
Cel-Fi Go M - "Smart" Signal Boosters?
What makes Cel-Fi boosters different is that they are digital boosters that interact with a cellular network actively, rather than analog boosters like all the previous cellular boosters we have tested.
Cel-Fi describes their technology this way:
"Cel-Fi is the most sophisticated signal booster in the market. It is completely digital and powered by two custom-made system-on-a-chip processors with 38 digital signal processors. Integrated smart antenna technology tirelessly analyzes the indoor environment and automatically adjusts in real time to provide the best coverage and overall value. Cel-Fi ensures optimal cellular coverage – even with only one bar of signal from the mobile operator."
This technology theoretically opens the door for increased gain and indoor coverage, since the booster is actively repeating and recreating the digital signals from the tower - not just amplifying an analog signal along with all the accompanying signal noise.
This is why the Cel-Fi Go M is allowed by the FCC to deliver 65dB of gain in the Go M, well above the 50dB max legal limit of conventional mobile boosters.
There is a downside however.
Because the Cel-Fi booster is working interactively with the carriers network, it can only be boosting one carrier at a time. For example - if it is in Verizon mode, AT&T devices will not see any benefits at all.
Analog boosters on the other hand work with all carriers at once.
Compatibility Note: Verizon 3G NOT Supported
One other side-effect of Cel-Fi being digital - it does not have the necessary radio circuitry to recreate a CDMA signal, meaning that if you are in a rare area where Verizon 3G exists and LTE does not, the Cel-Fi booster will NOT be able to boost the signal.
The Cel-Fi booster only supports LTE (bands 2,4,5,12/17,13) - as well as HSPA+ and WCDMA/UMTS transmissions. This means that AT&T and T-Mobile's legacy networks are supported, but Verizon's can not be.
This also means that if you have a Verizon phone that is not using Voice-Over-LTE, your voice calls might not benefit from the Cel-Fi booster at all!
The Wave App & Carrier Switching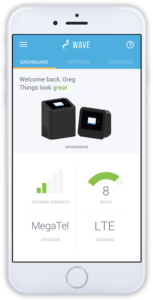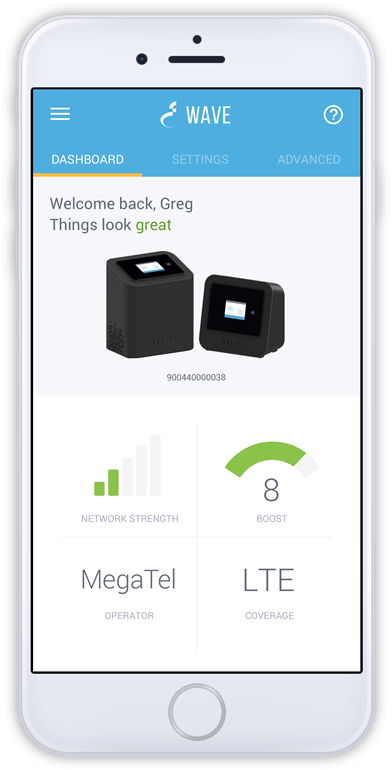 Older Cel-Fi residential boosters were sold in carrier specific models (and some carriers like T-Mobile even gave them for free to customers in weak areas) - but the new third generation Cel-Fi boosters are multi-carrier devices that can be changed between carriers via the Cel-Fi Wave control app, which actually connects to the booster using Bluetooth.
The Wave app will show you the carrier and LTE band that you are connected to, the signal strength, and the amount of boost - directly on your iOS or Android device.
This sure beats having a single status LED for sure.
The Wave app is also required to change which cellular carrier is being boosted - currently AT&T and Verizon are supported, and T-Mobile support is due in June.
Sprint support is NOT planned.
There is a catch with the current version of the Wave app though - your cell phone needs to be online to download the updated settings to change the selected cellular carrier to boost.
If the signal is too weak, this may be a problem - exactly when you might benefit from the booster the most.
Nextivity tells us they are aware of this issue, and hopefully they are working on a fix so that you can change the boosted carrier even while offline.
Pricing and Availability
The Cel-Fi Go M kit has a $600 MSRP - and it includes a 12V vehicle power supply, mag mount roof antenna, and a small indoor antenna.
Production is just ramping up - and the Go M should be for sale sometime in June 2017.
Video Preview
Cel-Fi sent us one of the very first production units of the Cel-Fi Go M to test.
Here is our unboxing video and first impressions:

Stay Tuned: Testing In Progress
Cel-Fi has made a lot of bold claims with the Cel-Fi Go M, and we are very eager to test out how well this new type of booster performs in the real world.
We are heading off later this week on a cross-Florida cell booster testing excursion - intentionally seeking out some notoriously bad coverage areas to test out all the latest RV cellular boosters.
In addition to the Cel-Fi Go M, we will be testing:
As always, we will be sharing our results with our premium members first here:
[Next Project] Cellular Signal Enhancing Field Testing Results (2nd Quarter 2017)
---
UPDATE: We have published our first impressions of the Cel-Fi Go M in our gear guide page, with some deeper analysis and details reserved for our members.