Verizon's CDMA voice network has never supported the ability to be on a voice phone call while maintaining a data connection at the same time.
This means that if a phone call comes in, your cellular data connection drops - making it impossible to surf the web or look up directions online while still on a call.
And of course, this makes using your Verizon phone as a portable hotspot especially limiting.
All currently sold Verizon Android phones have gotten around this fundamental limitation by essentially embedding an entire second radio and antenna, so that the voice call does not need to cut off the data connection.
But that sort of hack has never been Apple's style, meaning that iPhones on Verizon (and Sprint - which has the same type of CDMA voice network) have never been able to support simultaneous voice and data.
Until now.
Verizon has at last deployed what they have dubbed "Advanced Calling 1.0" - a nationwide Voice Over LTE (VoLTE) service that enables higher quality voice calls, and which allows for voice calls to be made over the same LTE network providing data service.
For iPhone users - this is a huge improvement. Verizon supporting simultaneous voice and data on the iPhone at last eliminates one of the big advantages AT&T held.
The catch - only the brand new iPhone 6 and 6 Plus support VoLTE. And of course, this only works in LTE service areas. In the remaining Verizon 3G areas, the old limitations remain.
Two Verizon Android phones are also getting Advanced Calling 1.0 and VoLTE support initially as well - the LG G2, and the Samsung Galaxy S5. I expect that most future Verizon phones will support VoLTE as well, but few older models have the necessary VoLTE support built in and thus will likely not get upgraded.
Verizon seemingly isn't turning on VoLTE automatically - you have to log in to the Verizon website and add the free "Advanced Calling 1.0" feature to your account.
And you should also make sure that both Voice and Data are enabled in the LTE section of the Cellular settings panel. Here is what it looks like on an iPhone: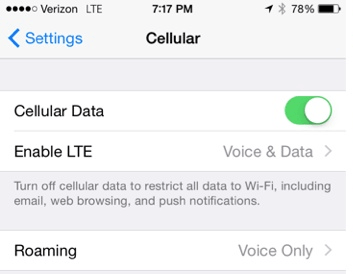 This is big news, especially for Verizon iPhone fans. Is it enough to justify an upgrade to an iPhone 6? MIA members, let us know if the comments!