Key Points:
Project Genesis is Dish Wireless's new 5G cellular service - and it is now available in 120+ cities, covering 20% of the US population.
Thanks to the terms of the Sprint and T-Mobile merger, Dish Network (the satellite TV streaming service) was given spectrum licenses that will eventually enable it to become the fourth nationwide cellular network.
Until Dish Wireless native coverage expands, nationwide cellular coverage will be provided via roaming onto AT&T and T-Mobile.
The new Dish data plans are very aggressively priced, but device compatibility and future-proofing are a major concern - and it may be wise to wait until the next round of devices come out before considering adding Project Genesis to your connectivity arsenal.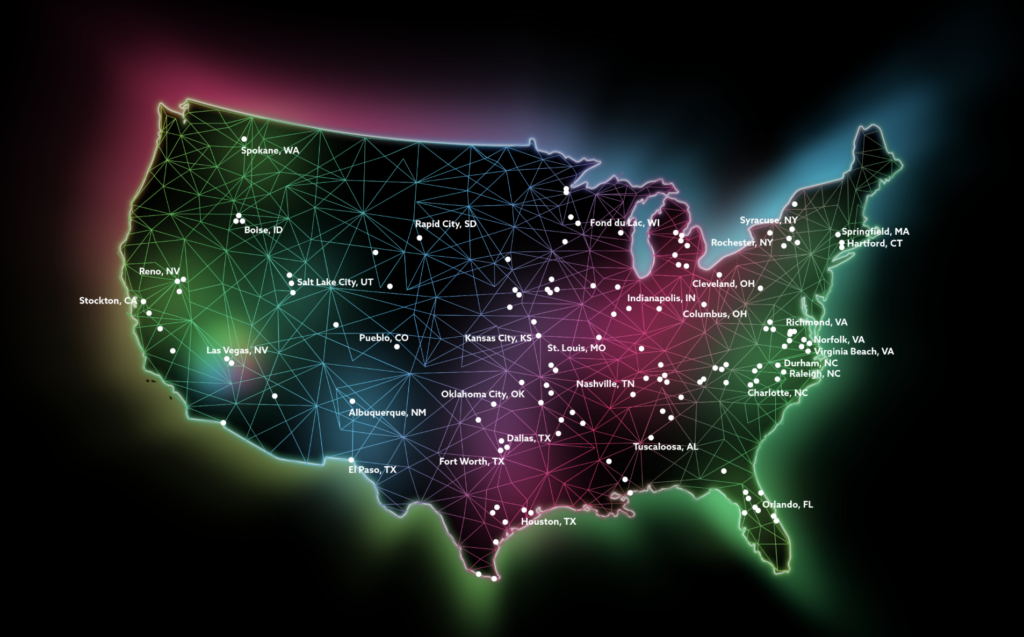 Dish, as part of the T-Mobile and Sprint merger deal negotiated with federal regulators in 2019, was given the spectrum rights necessary to take Sprint's place as the new fourth nationwide cellular carrier.
Ever since then - Dish has been on the clock, facing a deadline to launch a network covering at least 20% of the US population by June 2022, and 70% by June 2023. If Dish was unable to start offering service, it would risk substantial fines and even the forfeiture of its spectrum rights.
With just hours to spare before a mid-June deadline, Dish yesterday officially opened up "Project Genesis" to customer orders.
After debuting as a beta service in the Las Vegas, NV market last month, Project Genesis (PG) is now officially available in 120+ cities. And though Dish's native coverage is still extremely limited, customers in supported markets can order Project Genesis plans that will roam nationwide thanks to deals Dish has cut with AT&T and T-Mobile behind the scenes.
Dish is bragging that it is launching the "First True 5G" native network in the nation, and it is heading out the gate with some extremely aggressive pricing on unlimited data plans, even for mobile hotspots.
But Dish's launch was driven by a deadline - and it shows signs of being rushed.
Customers interested in Project Genesis are advised to wait and let the dust settle to see how well it actually performs, and if this new network turns out to be truly worth adding to a mobile connectivity arsenal.
Project Genesis Video Overviews
Project Genesis Plans and Devices
Dish is launching Project Genesis with two data plans, and two supported 5G devices.
Initial voice service is only available on a single smartphone - the Samsung Galaxy S22.
Service for the S22 costs $30/month for unlimited voice, text, and data. Project Genesis also offers the Motorola Edge+ exclusively for customers in Las Vegas, and promises to offer this and future additional compatible 5G devices (likely including the iPhone 14 this September) on the network in the future.
Much more interesting to mobile internet-hungry nomads - Project Genesis is also launching with the Netgear Nighthawk M6 Pro mobile hotspot device for $349, with an unlimited data-only plan for just $20/month!
These two devices are the only ones available from Dish at the moment - and Dish is not supporting BYOD (Bring Your Own Device) at this time, so you must purchase either a phone or hotspot when you sign up for service.
We suspect (until proven otherwise) that for now Genesis SIM cards will not work if transplanted into other devices.
Project Genesis Data Limits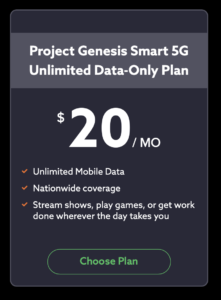 The Project Genesis FAQ claims that their plans are truly unlimited, saying:
Are there data caps in the Project Genesis Smart 5G plans?
No, there are no data caps– these are truly unlimited data plans, of course, subject to our terms and conditions (no BitTorrent please).
The terms and conditions (at least for now) make no mention of network management thresholds, video streaming limits, or speed throttles - so presumably customers will get to use their data in any way that does not get flagged as being actively abusive to the network.
An unlimited 5G hotspot plan for $20 is exciting news indeed!
Project Genesis Nationwide Roaming
Being a newly launched network - Project Genesis coverage is extremely limited (there isn't even a detailed coverage map yet), and even the cities officially covered will likely still have large dead zones that wouldn't be found on a more mature cellular network.
To fill in the gaps while the Project Genesis network matures, Dish is offering nationwide coverage via roaming agreements.
The Dish press release states that the Project Genesis devices will actually roam onto multiple networks at once:
Project Genesis voice and data services on the Samsung Galaxy S22 take advantage of the DISH Smart 5G network, while simultaneously connecting to our partner network, a first of a kind in the U.S. Supported by a network of networks, the Galaxy S22 seamlessly switches between networks providing DISH customers with voice and data services from multiple networks at any location and at any point in time. This solution takes advantage of eSIM and multi-SIM technologies.
The partner networks behind the scenes are not disclosed, but are likely T-Mobile and AT&T - both companies that have known roaming agreements with Dish.
The specific roaming details and limitations around roaming are not yet available. The terms and conditions imply that limits may be coming:
"When we talk about "roaming," we are talking about coverage on another carrier's network. Your Device generally lets you know when you're roaming. Our right to provide coverage on another carrier's network may change from time to time, and roaming coverage may change without notice and may not always be available. Whether your Device can roam depends on your Device, your Services, and the availability of roaming coverage. Certain Services may not be available or work the same when roaming (for example, data Services, voicemail, call waiting, etc.). Separate charges or limits for voice or data Services may apply while roaming."
The details on how roaming is implemented, and what the limits prove to be, will be critical in determining just how useful Project Genesis is to nomads who will often be far from native PG coverage.
Project Genesis Technology and Cellular Bands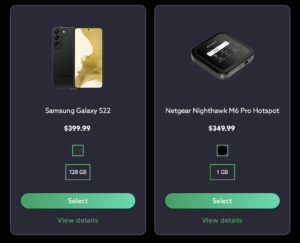 Dish is building a 5G native network that will not depend on a legacy 4G network behind the scenes.
Running 5G radios in "standalone" mode with 4G disabled can enable lower latencies and more efficient usage of the airwaves, but PG devices will still likely spend much of their time roaming onto more traditional hybrid 4G/5G networks so these advantages may be rarely realized.
Dish has licenses to the following 5G cellular bands:
n26, n29, n48, n66, n70, n71
Other than n66 (also used by Verizon) and n71 (used by T-Mobile), these are mostly oddball 5G bands that no other carrier in the United States is using.
And that brings up the big gotcha for Dish - device compatibility.
Since Dish is the only company using some of these bands, few device makers have built in support for these bands yet.
Dish disclosed that initially it is launching with devices that support just n66 (for speed) and n71 (for range) - and Dish told PC Magazine that additional "devices will become available throughout this year, including devices supporting bands 70 and 29."
Bands n26 and n48 are presumably not going to be widely supported until even further down the road.
Anyone interested in being able to take full advantage of the Project Genesis network Dish is attempting to build is advised to wait and see what newly compatible devices are announced later this year.
In other words - patience is advised.
 Bonus Member Only Content Available!
We go extra for our premium members - who make this resource center possible (did you notice the lack of 3rd Party advertising?). We have included some additional information in this news article just for our members - analysis, guidance and/or insider tips.
If you're not yet a member, please consider joining us. Extra content like this is one of the many perks we offer - in-depth content, guidance, discounts, alerts, classroom and more.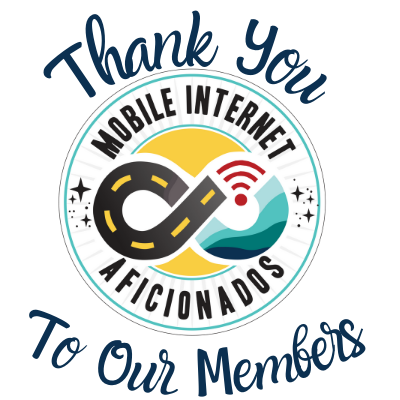 If you are already a member, please log in above to see the special content we have prepared for you.
Summary
It is great to see a new nationwide cellular network being born - and we expect there will be a LOT of growing pains as it matures.
To make these growing pains bearable, Dish is trying to turn reporting network issues into a game via the Project Genesis App:
"The app operates like a game and rewards customers for helping us fine-tune the network. The more points you earn, the more you get - from rewards like exclusive NFTs to special gear and more."
It will likely be a long while (if ever) before Project Genesis reaches the point that it can be relied on to be a primary network for data hungry nomads.
But at just $20/month for unlimited data - we hope that PG is on the verge of becoming a great new secondary carrier to keep on hand.
We'll be looking to test Project Genesis in the near future - and will be watching closely as it continues to evolve.
Additional Resources
Related News Stories
Further Reading and Related Guides