Update (10/23/17): Unlimitedville is offering a one time coupon code available to affected members of 4GCommunity plans to cover the Unlimitedville's $99 membership fee. You will need documentation of membership in order to partake in this offer. Contact Unlimitedville for more info.

Update (10/26/17): Non-profit Sprint reseller, Calyx Institute's Executive Director Nicholas Merrill has stated that their unlimited plans will be available for the foreseeable future. When asked if what caused 4GCommunity to fail will affect Calyx's plans, he responded:

"No. The first thing we did when we heard about it was call our contacts from whom we get our 4G data contract. They assured us and re-assured us that whatever caused 4GCommunity to lose their access is specific to them. They said that we are not in any jeopardy. We don't know precisely what caused them to lose their Internet access but reading between the lines it seems like they must have violated their agreement somehow."

However, he also confirmed that, at this time, Calyx is not able to allow you to use the hotspot's purchased and used with 4GCommunity's plans on Calyx plans. You will still need to purchase a Calyx hotspot if you choose to switch to their services. He claims this is due to the "powers that be".
Original story from 10/23/17 continued below:
4GCommunity, a retailer of Sprint non-profit unlimited plans, will have to discontinue plans soon.
If you have a 4GCommunity plan, it is time to seek another option.
You can review options for other / replacement unlimited plans in our Unlimited Data Guide.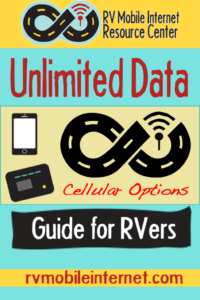 ---
Video Version of this Story:
Enjoy Video? Subscribe to our YouTube Channel
---
4GCommunity sent out an email to customers and contacts regarding this service termination this morning:
---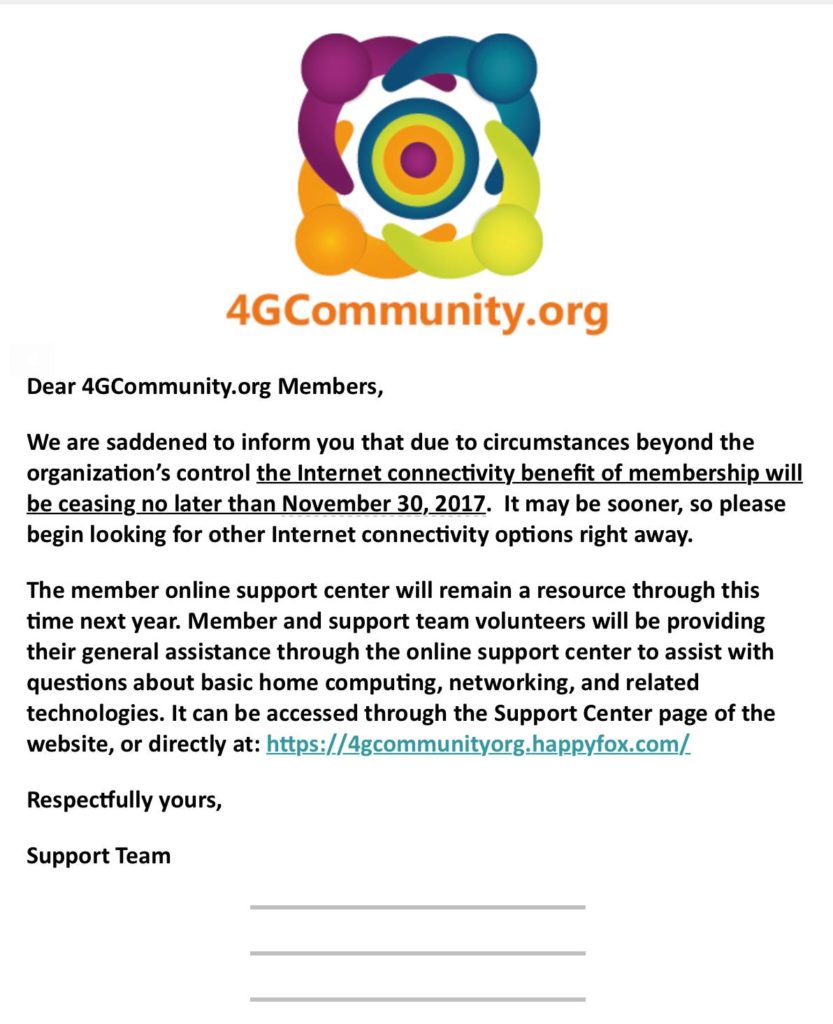 ---
Again, if you are utilizing 4GCommunity as your service provider, we highly recommend starting your search for a new plan / provider now.
We do not know what the 'plan' of action (i.e. refunds?) from 4GCommunity is for those who have paid for a service chunk which will go past the November 30th date. However, we do know that even if your service provision is not yet up, your plan service will end.
And, in 4GCommunity's TOS, they state:
You understand your support and membership in the organization is not a guarantee of any particular benefit for any duration of time. You understand you are supporting an organization mission. You understand we reserve the right to cancel any Internet connectivity Service as a member benefit at any time without notice, for any reason. You understand that your membership charges may not be refunded or prorated if the Internet connectivity benefit is terminated or modified regardless of reason at any time.
The above terms may make receiving a refund for unused services difficult. A payment dispute through your PayPal or credit card account may be worthwhile.
As of this writing, other Sprint non-profit providers continue to have active order forms for their plans. However, we do not currently know if these plans will also be impacted. Please proceed in purchasing any Sprint not-for-profit plans with caution.
Other Sprint not-for-profit plans currently still available include:
Calyx Institute - Requires a first year membership fee of $500, which includes the mobile hotspot use. Additional years are $400, resulting in a cost of about $33/month.
PCs for People & Connectall.org - Available to only qualifying low income households. Monthly service comes out to about $10/month if prepaid for a year.
freedata.io - Open to all, three tiers of service are offered with pricing schemes from $449 - $679 for the first year, then a renewal fee of $249 for the next year. Unlimited, un-prioritized and un-throttled Sprint based data. Premium and Ultra packages offer 3G data in addition to 4G.
If a Sprint plan is of interest to you, but the shakiness of the MVNO market is not, we recommend going directly through Sprint for the plan. However, there are stipulations of current Sprint plans - like mobile hotspot restrictions. Again, you can view your unlimited Sprint options in our Guide to Unlimited Data.
As always, we recommend caution when purchasing a plan through an MVNO - the biggest downside of MVNOs is that the offerings may not last. Always have a back up ready to go.
Every so often a reseller comes along with an offer that seems too good to be true. And all too often – these offers, and even the MVNO itself, do not last for long once the underlying network provider starts to object or they realize their costs to deliver the service are higher than anticipated.
Remember these?
We can now add 4GCommunity to that list. (RIP)
Related Info: