September 1, 2016 Updates:
4GHS / AT&T Plans No Longer Available: 4G Antenna Shop has informed us they are out of stock of AT&T lines, and they are only fulfilling orders as available from a waitlist. You can write them at help@4gantennashop.com to get on that wait list (their current T-Mobile based customers will have priority).
T-Mobile based Plans: On their 4GAntennaShop.com site, they are now offering plans similar to T-Mobiles new 'T-Mobile One' plans, but with lower pricing. They also continue to offer a range of data only plans with higher data caps than you can get with the carrier direct. These plans remain only available to businesses.
We're always keeping an eye out for interesting cellular data plans that are a good fit for the needs of RVers. In particular, we have been on the lookout for a reasonable AT&T based offering since the sudden demise of Harbor Mobile a couple months ago.
Earlier this week we had a reader contact us asking about a newer unlimited data plan they had seen - offered by 4G Antenna Shop using the AT&T/Cricket network behind the scenes, for $60/month.
We investigated further and reached out to the 4G Antenna Shop (also known as 4GAS) for more information.
According to their website, the company was founded in 2011 by Robert Villanueva with the focus on helping those in rural areas keep connected.
RVers have similar needs to rural customers - since we are also often in areas where cellular wireless connections are the only viable option for getting online.
We wanted to know - are the 4G Antenna Shop plans also suitable for RVers?
4GAS: T-Mobile Option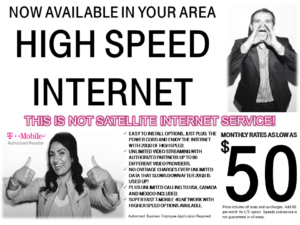 Up until recently, 4GAS's primary offering has been a T-Mobile based plan available ONLY to businesses.
Current pricing is 20GB of high speed "4G" data starting at $50/month for a smartphone plan that includes mobile hotspot use. For $5 extra per month, customers can upgrade to full LTE speeds.
The plan seems to include many of the T-Mobile perks including Binge On unlimited video streaming, unlimited slow speed data, international roaming, and Data Stash.
In researching 4GAS on Howard Forums, it seems the company has offered many different price points over the past year, and even some exclusive deals not advertised on the website.
While prices fluctuate on a regular basis, once a customer signs on they are locked into their rate for as long as they keep the plan - which is on a month-to-month basis with no contract of commitment required.
4GHS: AT&T/Cricket Unlimited Option
Under a different website and name of 4GHS.com is where you'll find the newer AT&T-powered option from the 4G Antenna Shop called 'Rural America Internet', which representative Jessica told us has been available for several months now.
She also confirmed with us that the plan is in partnership with Cricket Wireless, AT&T's prepaid subsidiary.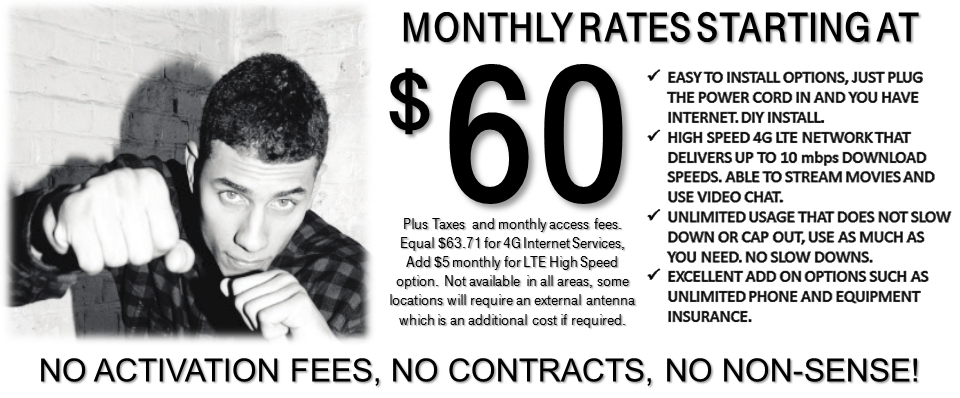 The plan starts at $60/month for HSPA+ (or 4G) speeds which can be 'up to' 5 mbps down.
For $5/extra per month the plan can be upgraded to LTE speeds, which are capped at 'up to' 10 mbps down. Both levels are suitable for most online tasks, including video streaming. These plans are in limited supply.
All of the plans are primarily data-only lines, and various hotspots and routers can be purchased from 4GAS, or you can insert the SIM card provided into an unlocked AT&T compatible mobile hotspot you already own.
4GAS also does sell routers that can plug in a traditional phone handset, and they offers unlimited calling that can be added for an additional $5/month. Taxes and fees are added at a flat rate of $3.71 per month.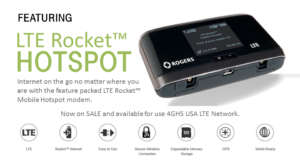 All plans are on a month-to-month basis, there is no credit check involved, and anyone with a valid credit card qualifies to sign up.
Unlike the T-Mobile plan, these plans are NOT restricted to business customers.
All billing is made automatically to the credit card on file monthly until the plan is canceled. The price you sign up at is locked in for as long as you keep the plan active. If you suspend or cancel, you would need to sign back up at the then current rates if you wanted to resume service.
As a Cricket partner, these plans will have these limitations that you should know about, and 4GHS confirmed for us:
It's considered a Tier 3 level plan on the AT&T network, and is de-priortized over direct postpaid AT&T traffic.
Only so much bandwidth is allocated to Cricket Wireless customers - and at times of high usage across the nation, congestion can be observed that results in slower speeds.
The Cricket Wireless coverage map does not include any of AT&T's domestic roaming parters, all coverage is on AT&T's direct-owned towers only.
Speeds are capped at 5Mbps and 10Mbps, just like Cricket Wireless Plans (which actually advertise a lower speed cap). Direct AT&T plans are not speed capped, and we have seen speeds over 50Mbps in places.
Outside of these limitation - usage is unmetered and unlimited.
There are no overage fees and 4GAS tells us there are no restrictions on usage. However it is important to note that this disclaimer is listed on the bottom of their website:
"Network Management: Service may be slowed, suspended, terminated, or restricted for misuse, abnormal use, interference with our network or ability to provide quality service to other users, or significant roaming."
We specifically did ask 4GAS what would qualify as abnormal use, and were told there are (currently) no limitations.
Our General Reseller Warning
We've been tracking this industry for a number of years. We've seen a lot of these great deals come and go.
These offers, and even the resellers themselves, sometimes do not last for long once the underlying network provider starts to object or they realize their costs to deliver the service are higher than anticipated.
Remember these?
The important lesson here is to be ready to jump on great offers when they come along, but to be cautious and to keep in mind that they might not last.
Always have a backup plan in place in case service gets cut off suddenly. Always keep in mind that the "no contract" terms go both ways!
And always resist the temptation to break existing contracts or give up irreplaceable grandfathered plans with the major carriers for a reseller's offer which may not last for the long haul.
For more: MVNOs, Resellers & Prepaid Cellular Data Options – What You Need To Know
4GAS seems to have been in business for a while, we've read a lot of positive feedback on them in various forums, and they seem to have a clean BBB record. They told us they do not anticipate any risk in AT&T or Cricket shutting down this partnership (but of course, all of the above said similar things).
Members - Did you decide to give 4G Antenna Shop a try? If so, we'd love your feed back in our Cellular Data Plans Review Center
Bonus Member Only Content Available!
We go extra for our premium members - who make this resource center possible (did you notice the lack of 3rd Party advertising?). We have included some additional information in this news article just for our members - analysis, guidance and/or insider tips.
If you're not yet a member, please consider joining us. Extra content like this is one of the many perks we offer - in-depth content, guidance, discounts, alerts, classroom and more.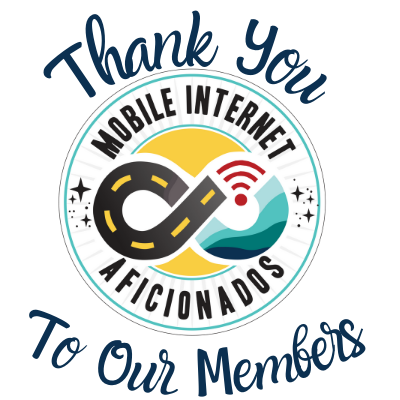 If you are already a member, please log in above to see the special content we have prepared for you.
Related Articles: