Key Points:
The new versions of Winegard's Air 360+ 5G dome and Gateway 5G router are significantly upgraded models of the existing Air 360+ domes and Gateway routers.
The new Air 360+ 5G dome and Gateway router work as a system and are not designed to be used separately.
The new 5G Gateway is not compatible with existing Air 360+ domes, which only have two cellular antennas.
Winegard has finally jumped into the cellular 5G world with a significant upgrade to its ubiquitous Air 360+ and Gateway router system.
Winegard's Air 360+ system is a product designed to offer several things at once - an amplified TV antenna along with cellular and Wi-Fi antennas to allow an easy upgrade path for connectivity by adding a cellular router. The Air 360 + domes have come preinstalled on many new RVs for several years and offer simple plug-and-play cellular connectivity by adding an optional Gateway or Osprey router.
However, up until this point, Winegard only offered a low-end Cat-4 LTE Gateway router. After acquiring WiFiRanger, that company created the Osprey router for the Air 360+ system, which offers Cat-6 and Cat-12 options and WiFiRanger's interface and features.
But now Winegard has jumped up to 5G and introduced a new Air 360+ dome - the "Air 360+ 5G" - and a much more advanced Gateway router with a modern 5G cellular modem, making this a potentially attractive connectivity option, but on that does come with some downsides.
Video Story
Gateway 5G Router Features
The new Gateway 5G router looks largely the same on the outside but features all-new internals that improve just about everything compared to the original Cat-4 LTE Gateway.
Original Air 360+ Dome Incompatibility
One important aspect to note is that the new 5G Gateway will not work with the thousands of existing Air 360+ domes mounted on RVs. The reason is that the original dome only has two cellular antennas, and the new 5G Gateway requires four. So customers with an older dome will have to upgrade to the newer Air 360+ 5G dome to use the new 5G gateway.
Fortunately, upgrading should be relatively easy but is an additional cost.
5G Cellular Modem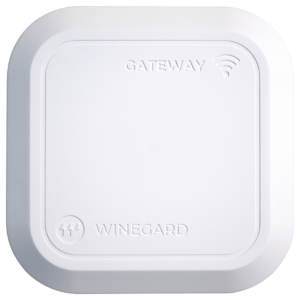 The main feature of the Gateway 5G is the cellular modem. The router contains a Quectel RM502Q-AE 5G modem that also offers LTE connectivity at Cat-20.
The router supports the following cellular bands:
5G - n2, n3, n5, n7 ,n8, n12, n20, n25, n28, n38, n40, n41, n48, n66, n71, n77, n78, n79
LTE - 1, 2, 3, 4, 5, 7, 8, 12/17, 13, 14, 18, 19, 20, 25, 26, 28, 29, 30, 32, 66, 71
This covers every major sub-6GHz cellular band in use today in North America. The modem and router utilize four antennas in the new Air360+ 5G dome and will support 4x4 MIMO. Winegard tells us the antennas in the new 5G dome covers the full sub-6 spectrum from 600MHz to 6GHz.
The Quectel modem, like most all 5G cellular modems in routers this year, is based on Qualcomm's Snapdragon X55 chipset, which is a fine modem but does have some limitations. Notably, this router will not be compatible with AT&T's upcoming "Andromeda" n77 spectrum that will begin to be deployed later this year, and it also cannot combine low and mid-band 5G spectrum.
However, those limitations currently apply to all 5G cellular routers on the market. The Gateway 5G overall has a solid 5G modem that should perform well.
For all the details on cellular modems for routers and the limitation of the X55 - see our recent story: Cellular Modem Update: Fall 2022 5G & LTE Developments.
Like most cellular routers on the market, the Gateway 5G does have two SIM (Mini/2FF) slots, allowing users to switch from one plan to another, although the switching is not instantaneous and requires the modem to reboot.
Wi-Fi Connectivity
Wi-Fi 5 is supported (802.11ac), but the design of the system is not ideal and will likely negatively impact Wi-Fi performance.
Typically, Wi-Fi 5 routers will use two or four antennas to provide Wi-Fi connectivity. Multiple antennas allow for MIMO and other performance and reliability-enhancing features. The Gateway 5G does support two Wi-Fi antennas, but there is only one in the router itself, while the other is in the Air 360+ 5G dome on the RV roof. And each antenna supports both 2.4GHz and 5GHz Wi-Fi.
Separating the antennas so that one is inside the RV and one outside is not an ideal configuration and could be especially problematic for RVs with metal roofs or metallic insulation.
Wi-Fi-as-WAN supported
Like the previous Gateway, the new Gateway 5G supports Wi-Fi-as-WAN to connect to campgrounds and other public Wi-Fi for an internet connection. But this is only available for the 2.4GHz frequency. The 5GHz Wi-Fi is for LAN only.
Another downside is that conducting a scan for Wi-Fi-as-WAN will drop the local 2.4GHz LAN connection and then reestablish it when the Wi-Fi-as-WAN scan is completed and connected. This will disconnect any 2.4GHz Wi-Fi devices during this process.
The performance will also be impacted because the 2.4GHz radio and router will be doing "double duty," servicing both a WAN and LAN connection over the same frequency. This is a common problem with many Wi-Fi-as-WAN routers but taken together, this system is likely best used for occasional Wi-Fi-as-WAN connectivity and not as a dedicated Wi-Fi-as-WAN solution.
And that is Winegard's intention with this system, as it's designed to appeal to a wide range of RV users and RV manufacturers.
Ethernet
The Gateway 5G includes a single Gigabit Ethernet LAN/WAN port, although using Ethernet will be inconvenient because the Gateway is mounted on the RV ceiling. Depending on the location where you install the rooftop dome (or where it is preinstalled by the RV manufacturer), you may need to string an Ethernet cable across the RV ceiling to take advantage of the LAN port.
Firmware
The new Gateway 5G utilizes Winegard's firmware, not the WiFiRanger Firmware that is on the Osprey router. This firmware provides simple and basic connectivity features. More advanced users will be disappointed in the lack of advanced settings.
The Gateway can also be set up and managed with the Winegard Connected mobile app.
Air 360+ 5G Dome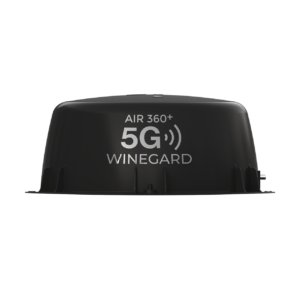 The new dome design is very similar to the previous Air 360+ dome, but it includes two additional cellular antennas (for a total of four) to give the new 5G Gateway 4x4 MIMO capability.
The dome also includes a single Wi-Fi antenna and the same omnidirectional Over-The-Air antenna for TV and radio as the original dome.
Additionally, the configuration and setup will be the same. The dome is permanently mounted on the RV roof with the Gateway router mounted directly beneath it on the RV ceiling. In most cases, the dome will be installed at the RV factory or by a dealer. While a DIY installation is still possible, it's complicated because installing it requires running cables to and from at least three separate locations in the RV to provide power, the TV/Radio cable, and antenna cables).
This cabling complexity is a big reason why this system is usually installed by manufacturers or dealers.
Winegard tells us the new dome is shipping to OEMs, so these will become available pre-installed on new RVs in the future.
Compatibility With Older Gateways
For those who aren't ready to spring for the new and more pricey 5G Gateway, the new dome can be used with the Osprey router and the original gateway. Since those devices are 2x2 MIMO, two of the antennas in the new dome will remain unused. Like the old dome, the cables are color-coordinated, so it's easy to know which cables to connect to your Osprey or original LTE Gateway.
Upgrading From The Old Dome
For an RV with an old dome, upgrading to the new 5G dome is fairly simple. Winegard tells us that the hole in the RV, the power cable, and the ceiling bracket all remain the same, and the footprint of the new dome is also the same so that it will cover all of the screw holes from the previous dome.
So replacement only requires removing the old dome, installing the new one, dropping the new antenna cables through the existing hole, and sealing and reconnecting everything.
Cellular Plan Options
The 5G Gateway is currently certified for use on AT&T and T-Mobile. Verizon certification is in progress. The system will work fine on Verizon, but you'll need to activate a plan on a different device and then swap the SIM to the Gateway to use it with Verizon.
Winegard will continue to offer its own line of FreedomGo plans, which are expensive small data-cap plans that are really geared toward occasional weekend and summer holiday use - which is how most RV owners use their RVs. Winegard can connect customers with popular data plans from all three carriers on its website for those who want more robust options, or you can bring your own existing data plan that is compatible with use in a mobile router.
Concluding Thoughts
Overall, it's great to see Winegard jump into 5G, especially considering their previous Gateway is a technological dinosaur.
The new 5G Gateway and Air 360+ dome are designed to work together as a system and come with similar advantages and disadvantages as the previous models, but with much better cellular performance.
On the positive side, the new Gateway 5G includes a modern cellular modem that should provide great performance on 5G and LTE. And the system design is simple for consumers who have a dome preinstalled on their RV - adding 5G connectivity is plug-and-play.
For the downsides, this is a system and neither component is designed or intended to work with other antennas or routers. So upgrading equipment will require upgrading everything. You cannot easily use a different router with the dome, and the Gateway is not easily used with a different antenna system.
And the 5G Gateway is only compatible with the new Air 360+ 5G dome, not the existing dome that is installed on thousands of RV's. So the additional expense of a dome upgrade is needed to take advantage of the 5G Gateway.
Additionally, while the ceiling-mounted router is convenient for installation and results in short cable lengths for better cellular performance, it's often not the best location for mobile internet gear, especially for those who plan to utilize the Ethernet port. And, while Wi-Fi should work fine for most basic needs, the design of putting a single Wi-Fi antenna in the dome and one in the Gateway is not ideal and could have some performance impacts, especially when connected to a fast 5G connection.
But overall, this looks to be a decent choice for general mobile internet needs of consumers who order an RV with the Air 360+ 5G dome already installed. Purchasing a Gateway or Osprey is a plug-in-play way to add cellular data capability. However this sort of setup lacks the ability to bridge multiple internet sources together, for the increased reliability that power users are seeking.
Both the Air 360+ 5G dome and 5G Gateway are available for preorder on Winegard's website, with an expected ship date of late October or early November. The Air 360+ 5G dome is listed for $199, and the 5G Gateway is priced at $999.
Winegard is kindly providing us with an evaluation unit of the 5G Gateway and 5G+ dome for review, which we will test and compare with the original dome and the Osprey router we previously tested. Our members will have access to all our testing data, as well as our final results, conclusions, and recommendations.
For more information:
Related MIRC Content
Related News Stories: